Pesticide News - July 31, 2021
MSU Extension Drought Resources in Montana
Cecil Tharp, MSU Extension Pesticide Specialist; Jane Mangold, MSU Extension Invasive Weed Specialist; Adam Sigler, MSU Extension Water Quality Specialist; Hayes Goosey, MSU Extension Forage Specialist; Kevin Wanner, MSU Extension Crop Insect Specialist; Kate Fuller, MSU Extension Agricultural Economy Specialist; George Haynes, MSU Extension Agricultural Economy Specialist; Clain Jones, MSU Extension Soil Fertility Specialist; Megan Van Emon, MSU Extension Beef Cattle Specialist; Michelle Grocke, MSU Extension Health and Wellness Specialist
View original Ag Alert: MSU Extension Drought Resources in Montana
On July 1st, 2021, Governor Greg Gianforte issued an executive order declaring a statewide drought emergency in Montana. The U.S. Drought Monitor indicates 98.7% of Montana faces drought conditions as of July 29th. Approximately 49% of the state is in either D4 (exceptional drought) or D3 (extreme drought), 31% in D2 (severe drought), and 19% in D1 (moderate drought). Conditions are expected to worsen over the next eight to ten weeks. Conditions are forcing agricultural operations to make difficult decisions due to high nitrates in forage, contaminated and limited water sources, lack of forage for livestock, insect infestations and many other related issues. This Ag Alert is a reminder of the many resources through MSU Extension that are available to assist individuals making difficult drought decisions across multiple disciplines.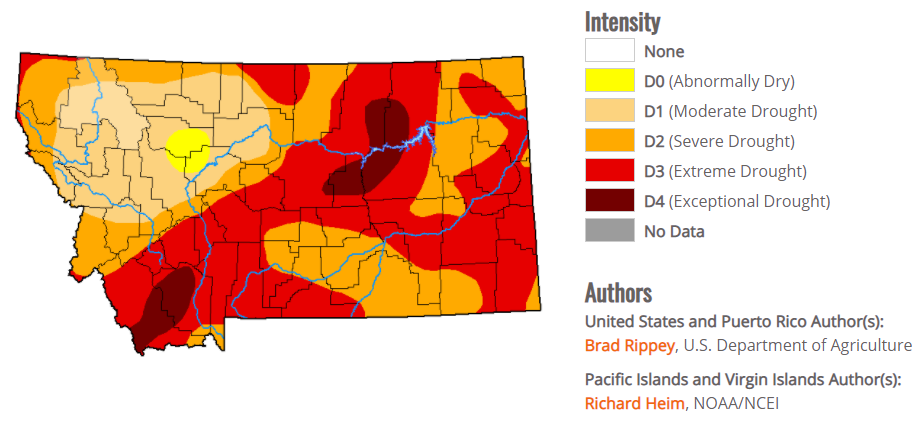 Figure 1. US Drought Mitigation Center Conditions for Montana as of July 29, 2021. Brad Rippley, USDA. Montana drought map available online.
Agricultural Economics, Assistance, and Policies
Drought decisions can be difficult and costly if not well understood. See the Montana College of Agriculture and MAES Drought Ag resources. Another great resource from the University of Wyoming & RuralTax.org is the website titled Tax Implications of Disaster Losses and Weather-Related Sales of Livestock. See the many disaster resources and services for those navigating economic assistance at Disaster Resources for Public Lands and Ranchers.
Beef Cattle
This is a difficult year for beef cattle producers due to poor range conditions and lack of water. Numerous cattle have been sold in the recent months due to these conditions and the lack of hay available in their local area. Input costs will be greater this year due to rising hay prices and the need to purchase additional hay. Selling beef cattle and purchasing additional, more expensive hay will have implications for your future operation. Please contact your local Extension agent, state specialist, or other resource for more information.
Blister Beetles
Blister beetles are being found in higher frequencies in 2021 forage/hay across Montana. Blister beetles may cause health problems and death in horses and other livestock. Two common blister beetles in Montana, spotted and black blister beetles, are less of a concern than striped blister, which has not been found in Montana. Beetles should be monitored in suspected hay fields using a standard sweep net and identified to determine the species. Identification can be completed on site or specimens can be sent to the MSU's Schutter Diagnostic Lab: To minimize beetle mortality, conditioners should be opened to reduce beetle mortality during harvest. Blister beetles can be sprayed, however, there are no economic thresholds to use as guidelines. See the MSU Extension MontGuide on Montana blister beetles for more information.
Drought Ranching Systems Webinar Series
See the MSU Extension webinars providing information on drought and livestock production, reproductive strategies, forage cattle and range management.
Forage and Nitrates
Nitrates are a concern to livestock producers because of reduced animal performance, abortions, and even death. Forage nitrate is elevated in hot, dry conditions especially in annual hay crops (oats, barley, wheat) and, to a lesser extent, perennial grasses so producers should have any hay containing part or all grass or cereal tested for nitrate. In addition, drought often results in more nitrate-high weed growth in hay fields which are either directly grazed or are swathed, baled and then fed to livestock. Using a lab to determine nitrate levels is the best approach, but there are a couple quick methods to know whether nitrate is likely to be an issue or not. For nitrate testing information see the MSU Extension Montguide and consult your local MSU Extension office.
Fertilizer Usage
Producers should adjust fertilizer rates in a drought year. Soil testing becomes more important because drought can leave more nitrate behind, and hence nitrogen fertilizer amounts can often be reduced following a drought. Sulfur can be more important when coming out of a drought because less sulfate is released during drought. Phosphorus and potassium both help with drought tolerance. Here is a presentation Dr. Clain Jones gave early in 2021 on fertilizer management during and after drought.
Forest Health and Wildlife Safety
See the MSU Extension Gallatin County Forest Health and Wildfire Safety – Financial Assistance and Technical Support Program to access a variety of wildfire resources, or see a compendium of fire resources from many agencies at the state "FIRE" website.
Grasshoppers
Grasshopper densities are a threat across the state due to prolonged drought conditions. When grasshoppers are moving into an alfalfa field, border sprays can be applied to protect against feeding damage (up to 150 feet for moderate populations; larger borders at high populations). If an entire alfalfa field is infested, the crop can be harvested, and the second cutting regrowth protected with an insecticide spray (blanket coverage or RAATs skip pass strategy to reduce costs). Another option is to leave a few small uncut strips to attract the grasshoppers and apply insecticide only to those strips to reduce populations in the field and protect the new growth. For more information on treatment thresholds and chemicals see the High Plains IPM Guide.
Emerging winter wheat may be vulnerable to damage by grasshoppers. The larger adult stage grasshoppers are more difficult to control and can move into emerging winter wheat fields from surrounding grassy areas. Damage thresholds for emerging winter wheat are lower, 3-7 per square yard within the field, or 11-20 per square yard around the margin. Border treatments applied as insecticidal sprays or seed treatments are the main recommendation for protecting emerging winter wheat. Typically, spraying up to 150 feet beyond the edge of the crop (carbaryl or pyrethroid) or 1-2 passes with treated seed (thiamethoxam and imidacloprid) around the perimeter of the field is a sufficient border at moderate grasshopper populations. Adult grasshoppers are more difficult to control, and the higher end of label rates are recommended. However, if grasshopper populations are high they are difficult to control, borders up to ¼ of a mile and repeated applications may need to be considered. See the previous news release regarding grasshoppers and winter wheat.
Mental Health Resources
See the MSU Extension Montana Ag Producer Stress Resource Clearinghouse, Western Regional Agricultural Stress Assistance Program, and MT Dept of Ag news release about upcoming efforts to support producer mental health.
Water Quality
The current drought has dried up many livestock water sources and has left many remaining sources too salty for use. Livestock producers facing poor water quality can test water sources with a simple handheld meter that can be purchased from a variety of online providers for
around $75. Many county / tribal Extension offices have these meters. Samples can also be submitted to one of the certified testing labs in MT to get more accurate salinity numbers and to test for sulfate and nitrate. If producers are hauling water and storage tanks are available, it may be possible to mix higher quality water with poor-quality water to reduce the amount of hauling necessary. Mixing would require testing both water sources by sending samples to a lab or at least testing with a simple handheld meter to
ensure the mixed water is diluted enough. More information on water quality for livestock is available on the MSU Extension Water Quality website. If producers are concerned about harmful algal blooms (HABs) in their stock water, they can submit a picture of the suspect algal bloom to the Montana HABs website for a professional to assess whether the algae is cyanobacteria, which can produce toxins, and potentially get assistance with toxin testing as resources are available.
For More Information
Contact your local MSU Extension office for further guidance. You may also view the Montana Drought Impacts site containing information on crop condition, crops production, livestock production, water supply, recreation and more. Drought.gov has information regarding the impacts of drought on the agriculture sector including interactive maps, stats, and links to a wide variety of other resources.