Pesticide News - August 27, 2021
The 2021 Montana Pesticide and Waste Disposal Program Sites
Amy Bowser, MSU Extension Pesticide Education Technician
Cecil Tharp, MSU Extension Pesticide Education Specialist
Pesticide applicators should be aware of the 2021 Montana Pesticide and Waste Disposal Program sites. Delaying removal of unused pesticide products often leads to corroded containers that pose unnecessary risk towards the environmental and human health. By following a few simple steps applicators can ensure unused pesticides are discarded and disposed of legally and safely.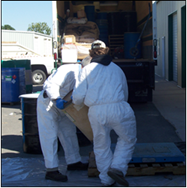 Pesticide waste disposal event (C.Tharp, MSU, 2011).
Disposing of Pesticide Waste
Applicators should use the Montana Pesticide and Waste Disposal Program if they have unknown pesticide products due to worn or lost product labels, unregistered pesticide products or unusable pesticides. The Montana Pesticide and Waste Disposal Program began in 1994 and has collected more than 719,000 pounds of waste pesticide from more than 1,800 participants since its onset. Common pesticide active ingredients collected include DDT, pentachlorophenol, dinoseb, and strychnine. Costs for participating in the program are significantly lower than other pesticide disposal alternatives. There is no fee for the first 200 pounds. For amounts greater than 200 pounds there is a $1.00 per pound fee with a minimum of $5.00. Dioxins, dioxin precursors, or any product that requires special packing may result in a higher fee.
Details
The 2021 pesticide waste collection dates and locations are:
September 21 – Havre
September 22 – Great Falls
September 23 – Lewistown
September 24 – Bozeman
Participants must pre-register with the Montana Department of Agriculture (MDA) by September 16th. Late registrations are not considered. Acceptances are on a first-come, first-served basis. You can register online, view a list of accepted materials and other information on the MDA Pesticide Waste Disposal Program website.
For More Information
Contact Carli Davis for additional information regarding the MDA Pesticide Disposal and Container Recycling Programs at (406) 465-0531 or email [email protected]. For any other questions contact Cecil Tharp, Pesticide Education Specialist (406) 994-5067, [email protected].