Pesticide News - January 21, 2022
MSU Extension Pesticide Education Program Hosting Multiple Programs in 2022
Cecil Tharp, MSU Extension Pesticide Education Specialist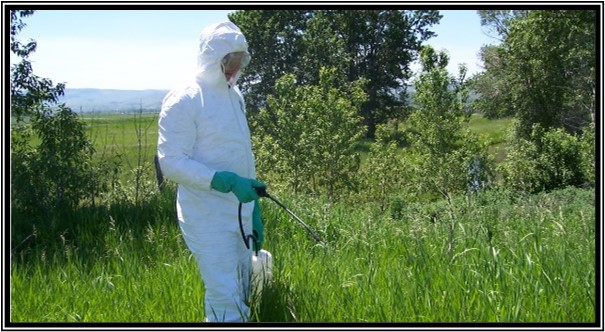 C. Tharp, MSU, 2011
The Montana State University Extension Pesticide Education Program (MSU PEP) and participating Extension offices are coordinating multiple training opportunities for pesticide applicators and pesticide trainers in 2022. This includes the 2022 PEP Update targeting pesticide trainers on April 7th and 8th in Bozeman, as well as fumigant trainings in Valley and Chouteau counties and Initial Private Pesticide Applicator Trainings in Dawson, Madison, and Valley counties.
2022 Fumigant Training Tour
Human fatalities spurred EPA and pesticide product registrants to implement new phosphine fumigant restrictions beginning in 2010. These include:
Prohibiting all uses of the product on single and multi-family residential properties, nursing homes, schools (except athletic fields), daycare facilities, and hospitals.
Increases in buffer zones to 100 feet for treatment around non-residential buildings potentially occupied by people or animals.
Requirement of completed fumigant management plans (FMPs) prior to fumigant applications, and much more.
MSU PEP is offering two trainings in Montana to assist private applicators (also known as farm applicators) in effectively managing pests with phosphine fumigants, while using them in a safe manner. Some common examples (not all inclusive) of products containing aluminum or magnesium phosphide include Fumi-cel, Fumitoxin, Magtoxin, Phostoxin, and Weevil-cide.
Fumigant training sessions are offered on March 23rd in Glasgow and March 24th in Fort Benton. These half-day sessions will focus on managing rodents with fumigants, presented by Stephen Vantassel, Montana Department of Agriculture (MDA) Vertebrate Pest Specialist, and managing insects in agricultural structures, presented by Dr. Cecil Tharp, MSU Extension Pesticide Education Specialist.
Event Details
March 23rd. Glasgow, MT. Cottonwood Inn, 54250 US-2, Glasgow, MT 59230. $20 fee at the door; cash or check made out to MSU Extension Pesticide Education Program.
March 24th. Fort Benton, MT. Agricultural Center, 1205 20th St., Fort Benton, MT 59442. Free.
For either event register online or contact Amy Bowser (406-994-5178; [email protected]) by March 20th.
Initial Private Applicator Trainings
These seven-hour training opportunities are for individuals desiring to learn more about pesticides, while qualifying for a Montana Private Applicator license. A private (farm) applicator pesticide license allows individuals to apply restricted use pesticides on land they own, rent or lease. Recertifying applicators may also attend the entire event for six private applicator credits. Each program will cover many subject areas including integrated pest management, pesticides in the environment, pesticide safety and toxicity, pesticide law, calibration of pesticide spray equipment, the private applicator license and reading the pesticide product label.
Event Details
Full details, location, and agendas are available online under "Initial Private Applicator Trainings."
March 8th. Glasgow, MT. Cottonwood Inn, 54250 US-2. 8:00 am to 5:30 pm. Register by March 7th with Shelley Mills, MSU Extension Agent – Valley County, (406) 228-6241,

[email protected]

.
March 9th. Glendive, MT. Dawson County Courthouse Conference Room, 207 W. Bell St. 8:00 am to 5:30 pm. Register by March 1st online or contact Amy Bowser at (406) 994-5178 or

[email protected]

. There is a $30 fee which includes lunch and materials.
March 16th. Alder, MT. Alder Fire Hall, 29 Upper Ruby Road. 8:00 am to 5:00 pm. Register by March 10th with Kaleena Miller, (406) 287-3282,

[email protected]

, No fee. Lunch is provided.
2022 Annual Pesticide Education Program Update
MSU PEP is hosting the 2022 PEP Update on April 7 – 8 at the Springhill Suites in Bozeman, MT. This event is a train-the-trainer update for MSU Extension staff, MDA staff, Weed District representatives and other government and private (farm) pesticide leaders across the state. Topics include a pesticide update (i.e., new paraquat requirements, delisting of chlorpyrifos, dicamba and GMO's), new tools for delivering exams and monitoring attendance, drought and impacts on pesticides, managing cheatgrass with indaziflam, understanding applicator behaviors when teaching, and managing grasshoppers and blister beetles in forages. $100 registration fee with lunch provided. Register by April 1st. Details, agenda and registration are available online.
For More Information
Contact your MSU Extension agent for more information regarding programs in your area, or to assess your private applicator credits. For any other pesticide education question contact Cecil Tharp, Pesticide Education Specialist, at the MSU Extension Pesticide Education Program office (406-994-5067, [email protected]).