Pesticide News - September 22, 2022
Pesticide Education Program Offers Fall Webinar Series
Amy Bowser, MSU Extension Pesticide Education Technician
Cecil Tharp, MSU Extension Pesticide Education Specialist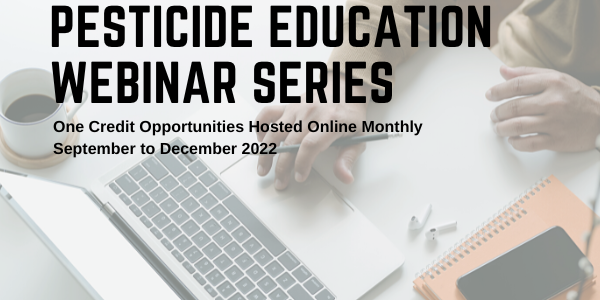 The Montana State University (MSU) Pesticide Education Program is offering a fall Pesticide Education Webinar Series on the third Thursday of the month from September to December. Each of the four, one-hour webinars is free to attend. You must register in advance online to attend.
The webinar series offers opportunities for Montana pesticide applicators to attain credits towards their pesticide license and learn about specialized topics. Each webinar is worth one private (farm) applicator credit, as well as various commercial category credits (details available online). Speakers for the webinars include MSU Extension and Montana Department of Agriculture (MDA) Specialists on various pesticide and pest management topics.
Webinar Details
September 22 (6:00 to 7:00 pm): Maintenance, Cleaning and Storage of Sprayers, Dr. Cecil Tharp, MSU Extension Pesticide Education Specialist
October 20 (12:00 to 1:00 pm): Herbicide Resistant Weeds and IPM in Crops, Dr. Tim Seipel, MSU Extension Cropland Weed Specialist
November 17 (9:00 to 10:00 am): Managing Mice In and Around Structures, Stephen Vantassel, MDA Vertebrate Pest Specialist
December 15 (12:00 to 1:00 pm): Rangeland Weed ID and IPM, Dr. Jane Mangold, MSU Extension Rangeland Weed Specialist
Registration and More Information
For more information and to register please visit: https://pesticides.montana.edu/events/webinar.html. For questions regarding this event please contact Amy Bowser at (406) 994-5178 or [email protected].