Student Chapter of Institute of Industrial and System Engineers (IISE) - Montana State University, Bozeman
Finding Ways to Make the World a Better Place.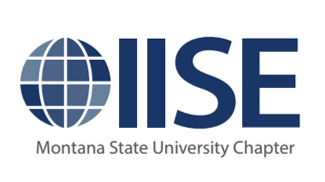 Mission Statement
The Montana State University Chapter of the Institute of Industrial & Systems Engineers is devoted to the professional development, education, and engagement of its members and MSU.
What We Do
MSU IISE provides students the opportunity to further understand industries, management, and systems outside the classroom and textbook. How does MSU IISE do this? We provide the opportunities to engage with:
Tours of local businesses and manufacturing facilities
Guest speakers from industry
Volunteer work with MSU and the community
IISE annual conference delegation from MSU
Mentoring academically and professionally
Buy a NACOE T-Shirt!

Get yours today for $15! All proceeds help fund club activities and events for all to enjoy and learn more about IMSE and other great fields and careers!