More Success Stories
Pardue Grain, Inc, Cut Bank, MT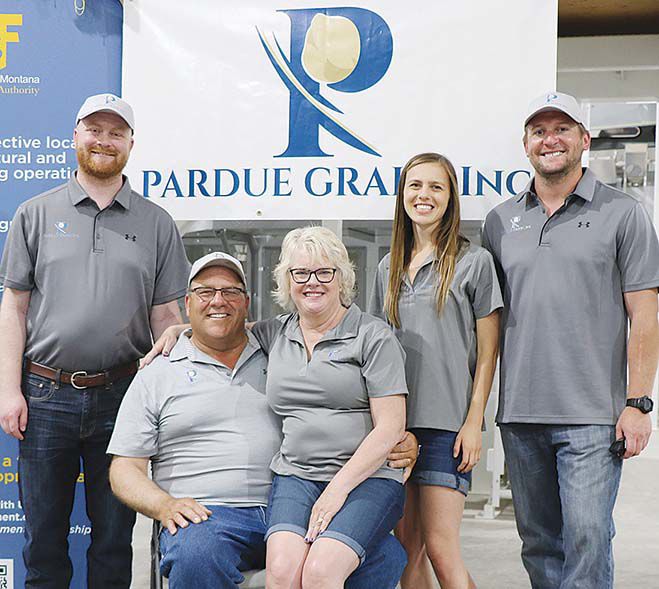 Roger and Lisa Sammons, seated, were thrilled their children, Sage Sammons, left, and Sierra Sammons and her boyfriend, Mike Ferriter, could make the trip to Cut Bank for the ceremonious groundbreaking of Pardue Grain's new $5.7 million state-of-the-art pulse crop processing facility. Photo by Pioneer Press' Brian Kavanagh
Press Release
Roger and Lisa Sammons are definitely overachievers. When the owners of Pardue Grain invited dignitaries, local business owners and customers, vendors and contractors to the "groundbreaking" of their new pulse crop processing facility, they forgot to mention the facility's construction is well underway! Last Friday's ceremony was merely a formality as the Sammons and their hard-working crew are looking forward to doing business in the new state-of-the art facility in September, just in time for the 2018 harvest.
"Pardue Grain is going to be able to increase Montana producers' access to foreign and domestic markets for value-added and Montana-branded products. We are creating jobs and paying higher wages on the Blackfeet Reservation and in Glacier County," said Sammons. "It's a solid-based agricultural business and any time that we can add value to our crops before we send them out of Montana, it's a win-win," he said.... read the rest of the story
SIMMS Fishing Products, Bozeman, MT
Case Study:
Simms Wades Deep into Energy Efficiencies
6-2014--As the leading manufacturer of waders and related apparel for the fishing industry, Simms Fishing Products has long been trying to conserve energy and do the right thing for the environment, which is such a big part of its business. The Montana Manufacturing Extension Center (MMEC) worked with Simms to develop an energy intensity profile for both its former and now its latest facility prior to the July 2012 move.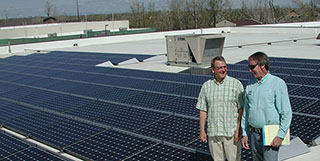 About this photo: Robert Gibson of Simms (left) and Mark Shyne of MMEC pose near Simms rooftop solar array.
MMEC helped investigate upgrades to lighting and other beneficial energy conservation measures for the new building. MMEC introduced Simms to an energy initiative, through NEEA (National Energy Efficiency Alliance) and the center's national affiliate, the Manufacturing Extension Partnership (MEP), designed to introduce low-cost energy saving strategies to small firms that, because of their size, must keep resources focused on production...Read the rest of the story
Willie's Distillery, Ennis, MT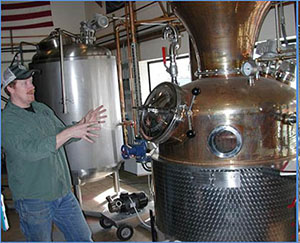 Willie and Robin Blazer opened the doors to Willie's Distillery, Ennis, in December 2012, selling the first of many bottles of Moonshine.
Case Study:
About this photo: Willie Blazer working his magic at the German Bavarian Holstein copper pot still which can be seen from the distillery window.MMEC/Deborah Nash photo.
More products have since been added. And, in just one year, the business ranked third in wholesale distribution sales of the fifteen licensed craft distilleries now operating commercially in Montana. New to manufacturing and distilling, its owners had turned to Headwaters RC&D in Butte to assist with developing a business strategy and tap into a network of resources. Montana Manufacturing Extension Center (MMEC) was one of the teams of resources involved in the distillery's startup phase... Read the rest of the story
Neuralynx, Bozeman, MT
Case Study:
3-2011--Neuralynx, a high-tech firm in Bozeman, is on a journey to becoming a medical device manufacturer where its signature products may provide information that will lead to effective future treatments for debilitating ailments. Assistance from the Montana Manufacturing Extension Center (MMEC) has helped the company achieve the quality system and certification for medical devices needed as the foundation to comply with U.S. Food and Drug Administration (FDA), CE Medical Device Directive Mark and other regulatory requirements for safety. These requirements must be met to sell its products into the medical device market here and abroad. Neuralynx manufactures…Read the rest of the story
Northwest Factory Finishes, Bonner, MT
Case Study:
Fall 2010 -- Conveyors are moving product once again inside the plywood plant at Bonner, Mont. where the historic Stimson Lumber Co. closed one of its mill sites more than two years ago. This time, instead of plywood, the products are freshly painted LP Smart Side®, a Louisiana Pacific building product, and Certainteed® fiber cement siding. Conveyors move these products into large drying ovens as they are readied for shipment to customers by the new tenant, Northwest Factory Finishes (NWFF), a division of Missoula-based Northwest Paint, Inc. Read the rest of the story
Granrud's Lefse Shack, Opheim, MT
Case Study:
The Granrud's Lefse Shack has been an important business in the northeastern Montana community of Opheim since its start in 1977. The company manufactures lefse, Norwegian potato bread similar in appearance to a tortilla and a favorite treat when served with butter and sugar. Today, the product is growing in popularity as a wrap as well. It is sold in all 50 states.
The operation is ideal for a rural farm and ranch community. The plant opens at the end of the harvest season, runs four-day, nine-hour shifts and finishes up operations just when spring planting, branding, and home gardens need attention starting in mid-April.
A shortage of available workers in Opheim (population est. 85) for the labor-intensive business is the result of a declining population, a phenomenon that is occurring in communities all across the rural West. Granrud's current owners Twyla Anderson and Alice Redfield are trying creative solutions to overcome this shortage and grow the business including seeking assistance from MMEC...Read the rest of the story.