Every day, we all rely on our communications and information technology systms to manage our operations and grow our business. But,
One cyberattack could bring operations to a complete stop and be very expensive to resolve.
One data breach could undo years of trust and goodwill developed with clients.
MMEC can help you find and use effective business management tools to safeguard your critical data and systems.
In 2022, IBM Security reported that manufacturing was the most targeted industry for cyberattacks.

IBM Security
Types of Services
Risk Assessment – We can help you learn how to inventory your systems and identify your potential vulnerabilities.
Plan Development – We can help you develop a plan to implement an ongoing program to identify risks, implement protections, detect threats, and respond to and recover from cyberattacks.
Cybersecurity education – We can connect you to training programs and resources for personnel throughout your organization.
Cybersecurity compliance – We offer resources to help federal contractors meet cybersecurity standards of the Department of Defense (such as the Cybersecurity Maturity Model Certification or CMMC program).
In 2019, the average cost of a data breach for a small business was more than $100,000.

ProWriters Insurance
Outcomes and Benefits
Methods to access or steal sensitive data are constantly evolving and becoming more sophisticated. Our goal is to help you implement secure systems, integrate strong cybersecurity policies throughout your operations, and engage all of your staff in your ongoing cybersecurity practices.
By establishing a pro-active, holistic program, firms can reduce the risk of a major security breach and restore operations more quickly when problems occur.
Resources for Starting or Strengthening Your Cybersecurity Program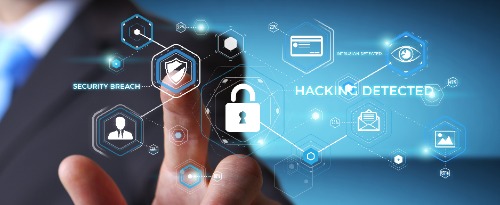 Manufacturers' Guide to Cybersecurity for Small and Medium-sized Manufacturers. A step-by-step guide (downloadable PDF) for establishing a cybersecurity program that addresses the five elements of the NIST Cybersecurity Framework: Identify, Protect, Detect, Respond, and Recover
NIST Small Business Cybersecurity Corner. This NIST resources page offers planning guides and videos, plus new pages focused on popular topics such as phishing, ransomware, and multi-factor authentication.
CISA Toolkits. The U.S. Cybersecurity & Infrastructure Security Agency (CISA) has developed a Cyber Essentials program to help small businesses, including the downloadable Cyber Essentials Starter Kit and Cyber Essentials Toolkits. The Cybersecurity Awareness Program Toolkit also provides valuable tip sheets, best practices and training resources to share with your employees.
Small Business Cybersecurity. The Federal Trade Commission's Cybersecurity for Small Business site has a Cybersecurity Basics webpage with tips on getting started, please a series of clear, concise webpages on specific topics, such as Business Email Imposters, Cyber Insurance, Tech Support Scams and Secure Remote Access.
The Essential Eight. The Australian government recommends 8 key mitigation strategies for organizations to implement as baseline measures to strengthen the security of data and systems. The Essential Eight FAQ webpage provides a summary of the 8 strategies and links to more detailed guides.
CyberSecure My Business. The National Cybersecurity Alliance offers this national program to help small and medium-sized businesses learn to be safer and more secure online through in-person workshops as well as webinars, online resources and monthly newsletters.
Employee Training and Resources. The Center for Internet Security developed this downloadable guide to creating and updating strong passwords, implementing password policies, and using related tools such as multi-factor authentication. There are many affordable awareness and training resources available online, such as KnowBe4, which can provide valuable education and even some fun and friendly competition for your staff without having to re-invent the wheel.
The Cybersecurity Maturity Model Certification (CMMC) program. The Department of Defense (DOD) has an "About CMMC" webpage that provides an overview of the program, the requirements for DOD subcontractors, and the implementation timeline. The "CMMC Implementation" webpage provides an overview of actions, milestones, and "5 steps to make your company more cyber-secure." For a quick introduction to CMMC program changes and who needs to comply, read this First Call Blog Post.
Contact Us!
Want some personal guidance on which services are the best fit for your business? Contact one of our Business Advisors directly or drop us an email.