All students, faculty, and staff are automatically enrolled in MSU Alert and do not need to opt-in. MSU welcomes all family, friends, visitors, and local community members to opt-in to the system.
Please view the below content for detailed MSU Alert Opt-In steps.
MSU ALERT
Family, Friends, Visitors, and Local Community Opt-In Steps
Step 1:
Open a new text message window on your cell phone. In the "To" section, enter 888-777. Do not include an area code. Only enter 888-777 as depicted below.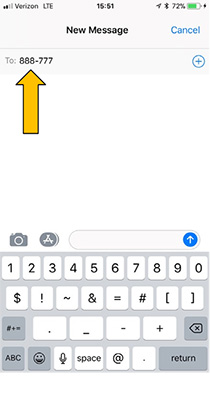 ** PLEASE BE AWARE: Some cell phone have a spam filter blocking all non 10-digit number. This issue must be corrected on the users end. **
Step 2:
In the message box type "MONTANASTATE". Please ensure "MONTANASTATE" is all one word. Hit the send button.
** While images depicted are for the iOS Operating System, the same steps are taken to enroll on an Android device. **
Step 3:
Upon successful enrollment, the user will receive a confirmation reply as depicted below.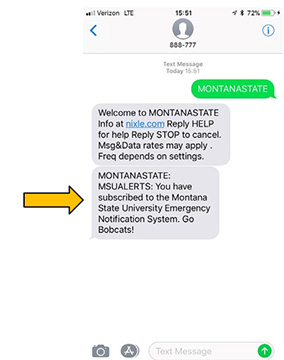 Additional Assistance:
If you require additional assistance regarding MSU Alert, please contact Hayley Tuggle, MSU Emergency Management Coordinator.
Hayley Tuggle
Director of Emergency Management
University Police
Office: (406) 994-5724
Email: [email protected]