Lights on Montana Hall 2020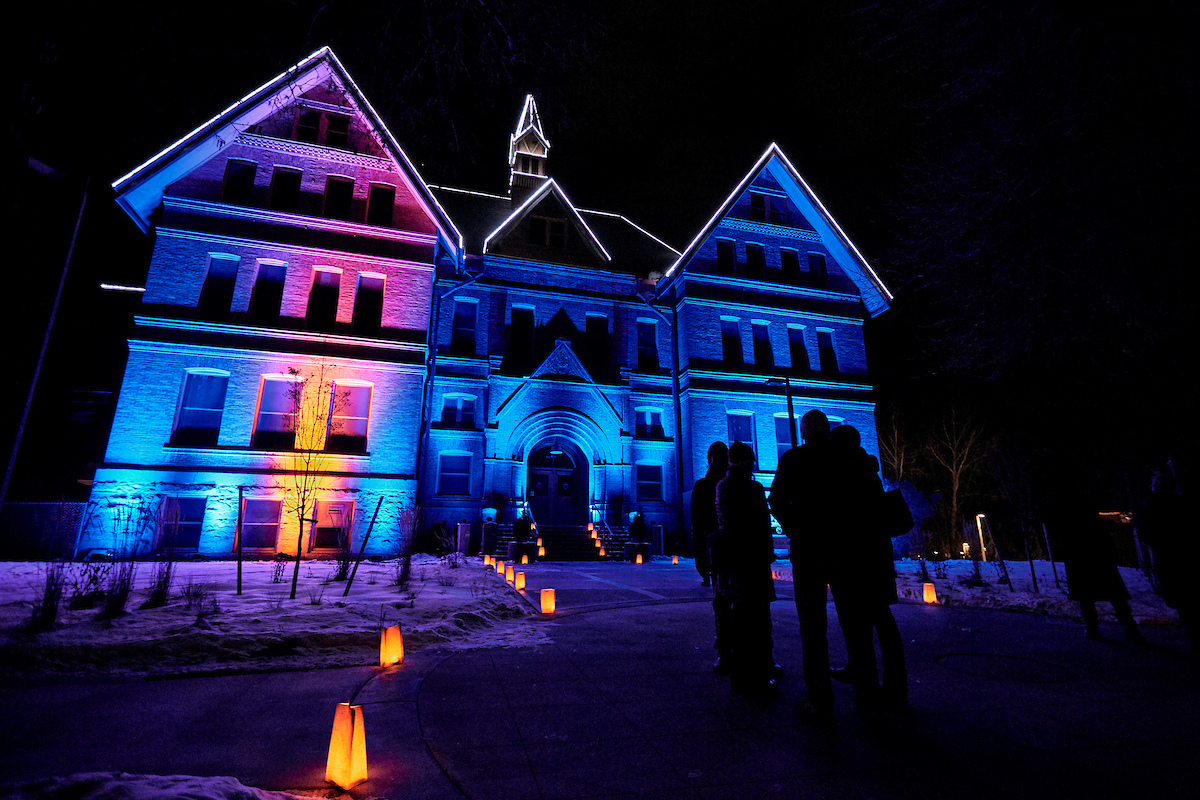 Dear MSU Community,
Life on colleges and universities is founded on a deep respect for tradition and for history. Celebrations, customs, cyclical dates: There is something comforting about the structure they bring and we thrive on those repetitions.
Six years ago, your university started a new tradition with "Lights on Montana Hall." For those of you who have not been part of this event, let me paint the picture for you: On the Wednesday before the start of final exams, we congregate at dusk around the emblematic statue of MSU Spirit. Students, faculty, staff, alumni and neighbors join us for a brief celebration in which we announce that, during the following weeks, the darkest nights of the year will be illuminated by having lights shine on one of the oldest buildings on campus, Montana Hall. On that evening, there is caroling and camaraderie, cocoa and cookies, as well cotton candy for the children and for the not-so little ones. Champ, MSU cheerleaders and the Spirit of the West drum line complete the scene. And above all, suspended on the chilly air, there is an invisible ribbon bringing us together, with love for each other and for Montana State University.
The evening culminates with my announcement to the jubilant crowd that lights on Montana Hall will shine every night until the first day of the New Year. I always add that we will light Montana Hall on every February 16th in celebration of Founders Day. And, yes, I conclude by announcing -- with mischievous delight -- that lights on Montana Hall will be shining brightly every time the Bobcats defeat the rival team in our state. Then, in one voice, we would join in a countdown -- "10, 9, 8 ..." -- and when we get to blastoff time, magically, lights on Montana Hall illuminate the night, bringing a special joy to our Blue and Gold hearts.
While this year I will not be able to personally communicate my best wishes to you at this ceremony before final exams, or thank you for your work, or wish you and your family a happy holiday season, while we might not be taking selfies together with some of the most iconic backgrounds on our beautiful campus, please know that I cherish each one of you and value your contribution to MSU. Above all, I am grateful for the fact that, in good as well as in difficult times, we have been together and we have stayed together.
This year we won't be able to gather to celebrate our "Lights on Montana Hall," but our tradition will endure. Proudly, the lights will be turned on, beginning at 5 p.m. on Wednesday, Nov. 18, and will be on every night through the holiday season.
I hope each one of you will be able to take a break from your studies, from your work duties or from keeping yourself and your family safe, to pause and enjoy the lights that will be blinking on our big and majestic sky. Memories like these are what our students will take with them when they graduate from Montana State. Fond moments like these are what make us recognize and salute each other as members of one and the same community.
May you enjoy the lights on Montana Hall and may their beauty and the promise they symbolize remind you that, soon, the darkness of this period will fade away... and a brighter future will come for us all.
I wish you a safe and peaceful holiday.
Sincerely,
Waded Cruzado
President, Montana State University