Derivation of human induced pluripotent stem cell line (HUSTi001-A) from a 40-year-old patient with idiopathic infertility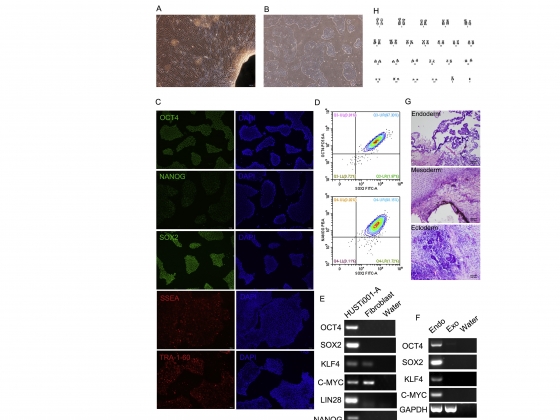 Authors
Fang Fang, Zili Li, Qian Zhao, Zhen Ye, Kai Zhao, Xiuli Gu, Shiliang Shen, Renee A. Reijo Pera, Chengliang Xiong
Publication
Stem Cell Research
Abstract
Human fibroblasts were isolated from foreskin of a clinically diagnosed 40-year old patient with idiopathic infertility. The fibroblasts were reprogrammed with the Yamanaka KOSM transcriptional factors using the retroviral vectors. The obtained induced pluripotent stem cell (iPSC) line showed pluripotency verified by the expression of pluripotency markers, NANOG, SOX2, OCT4, TRA-1-60, and SSEA-4. And the iPSC line was demonstrated to have the three germ layers differentiation capacity in vivo by teratoma assay. The iPSC line also showed normal karyotype. This patient-specific iPSC line can be used to explore the mechanism for idiopathic male infertility.
Links
How is this information collected?
This collection of Montana State authored publications is collected by the Library to highlight the achievements of Montana State researchers and more fully understand the research output of the University. They use a number of resources to pull together as complete a list as possible and understand that there may be publications that are missed. If you note the omission of a current publication or want to know more about the collection and display of this information email Leila Sterman.