TechLink is the Department of Defense's only national "partnership intermediary" for technology transfer. Since 1999, TechLink has been helping companies nationwide to license DoD inventions for conversion into new products and services. To date, it has helped transfer over 1,000 DoD inventions to industry. TechLink brokers or facilitates approximately 60 percent of all DoD license agreements nationwide.
To support this licensing activity, TechLink has developed the only complete database of all DoD patents issued since 1997. This database of approximately 9,000 patents is accessible on the Defense TechLink website and is easily searchable by companies seeking DoD inventions. Other key Defense TechLink activities include (1) conducting "Innovation Discovery" workshops at DoD labs to increase the quantity and quality of patents, and (2) undertaking economic-impact studies of DoD technology transfer and SBIR programs to determine their overall impact on the U.S. economy and defense mission. For more information, visit https://techlinkcenter.org/
Video: MSU TechLink helps Spika Design and Manufacturing of Lewistown, Montana, license defense technology to produce welding carts for the commercial market.
TechLink hosts top DoD lab officials in Bozeman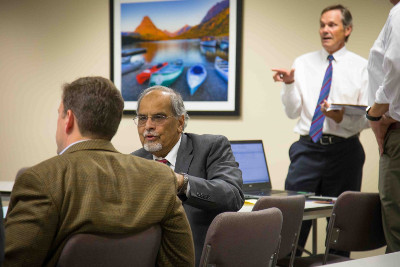 Dr. Syed Shah, deputy director of laboratories and STEM Office in the Office of the Under Secretary of Defense for Acquisition, Technology, and Logistics, speaks to Dr. Van Blackwood, assistant to the Air Force's chief scientist in the Air Force Office of Scientific Research. Shah and Blackwood attended TechLink's annual program review on Wednesday, September 6 in Bozeman, Montana. (Troy Carter/TechLink)
BOZEMAN–TechLink Executive Director Will Swearingen hosted on Wednesday technology transfer officials from the Office of the Secretary of Defense and all three military branches for an annual program review.
Swearingen hosted the event at TechLink's offices behind Montana State University's Bobcat Stadium, supported by TechLink staff, with 14 policymakers and key staff from the military for six hours of detailed briefings on TechLink's nationwide efforts to move patented inventions from military labs into the private sector.
Swearingen reported that TechLink had exceeded its goal of brokering 35 patent license agreements between the Department of Defense and private companies, mostly small businesses, which is the organization's top performance metric.
"We closed out the year with 61 license agreements, with a few more that we expect to close by the end of the month," Swearingen said.
The attendees included Syed Shah, deputy director of laboratories and STEM Office in the Office of the Under Secretary of Defense for Acquisition, Technology, and Logistics, Dorothy Vincent, technology transfer program manager at the Office of Naval Research, Keith Quinn, program manager for the Air Force Technology Transfer Program, and Tom Mulkern, chief of the Army Research Laboratory Technology Transfer and Outreach Office.
TechLink is a federally authorized and DoD-funded partnership intermediary, which helps businesses navigate the process of licensing inventions and technologies created in DoD laboratories.
TechLink reported exceeding its targeted number of tech transfer agreements during the 2017 fiscal year.
The meeting with the DoD officials on Wednesday included staff briefings and discussions on emerging technologies developed in military laboratories and TechLink's efforts to attract industry partners into the technology's development.
"TechLink's here to support the military by marketing their technology, brokering license agreements, and promoting the cutting-edge science and technology generated by DoD scientists and engineers, said Brett Cusker, associate director of defense programs, noting that this also expands the DoD's supply base.
"We bridge a knowledge gap for companies that want to grow with military technology."
TechLink is an integral part of MSU's Office of Research and Economic Development and the university's main outreach arm to the technology sector in the state, region, and nation.