Adobe Creative Cloud for Students
Description
The Adobe Creative Cloud collection of software is available to all MSU students (graduate and undergraduate) at no additional cost through MSU's Adobe Enterprise agreement.*
Adobe Creative Cloud Software
After Effects
Animate Audition
Bridge
Ilustrator
InDesign
Photoshop
Spark
Audition
Acrobat Pro
Dimension
Dreamweaver
Lightroom
Premiere Pro
XD
See FAQ for answers to questions about your Adobe Creative Cloud account, assets, stock images, etc.
*Stock images are not included in MSU's Adobe license.

Download Creative Cloud
NOTE on Installation: While it is possible to run older Adobe CS software side-by-side with Adobe CC software, we do recommend uninstalling it to avoid confusion.
1. Go to Adobe.com.
2. Click Sign In in the upper right hand corner of screen.
3. Click Sign in with Enterprise ID under the Sign In button (highlighted in the image below)
4. Enter @student.montana.edu in the email address field then hit the Tab key. See image below.
(You can enter your full MSU address if you want but the important part is the @student.montana.edu - do not enter a personal address).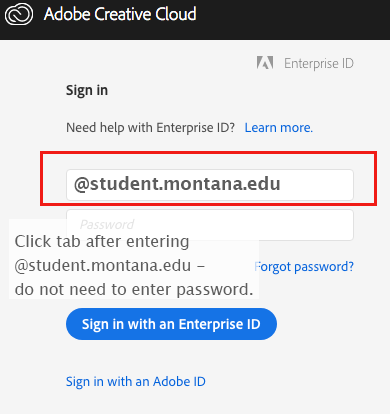 MSU's Web Login page opens.
*NOTE: If you are prompted again with the screen shown in the image below, select Enterprise ID.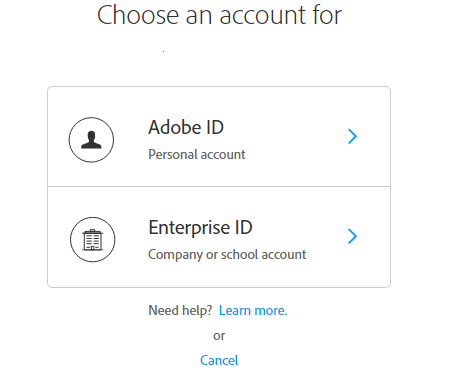 This may occur if you already have an AdobeCC account connected to your @student.montana.edu email address.


6. Enter your NetID and NetID Password when presented with the MSU Web Login page.
7. Click under the Creative Cloud Apps heading.
8. Scroll down to Creative Cloud app and click Download.
You need to do this BEFORE downloading other apps.
10. Follow the onscreen instructions to install.
Once you have installed the Creative Cloud App you will use it to access, install/update other Adobe CC software to your desktop.
1. Open the Creative Cloud application on your computer by either clicking the CC swirly cloud icon located in the menu bar on the top right of screen (Mac) on the desktop tray (Windows) or open it from your Applications/Programs folder.
2. Sign in using Enterprise ID by following the same steps as you did above.
3. Click the Apps tab.
4. Scroll through the listed apps and choose those you'd like to install or update. Download and follow onscreen instructions when prompted.
To avoid confusion we recommend uninstalling Adobe CS software before installing Adobe CC although they can run side-by-side.
To uninstall Adobe CS please follow these directions:
1. Open the Control Panel on your computer.
2. Click Add or Remove Programs or Programs and Features.
3. Scroll to Adobe software on your computer (will include CS6, CS5, etc. in name of program)
4. Click the software you want to uninstall.
5. Click the Uninstall button that appears near top of the list of programs.
For more information visit Uninstall or Change programs in Windows.
1. Go to the Finder.
2. Navigate to Applications folder.
3. Select the app you want to uninstall.
4. Drag application icon to the Trash or right-click on select "Move to Trash".
5. Right-click on the Trash can and select "Empty Trash".
Creative Cloud Asset Migration Tool
Take your Creative Cloud Assets with you!
Don't leave your assets behind when you leave school. You can now take all the creative artifacts that you so painstakingly created at school.
Use Adobe's Student Asset Migration portal to automatically transfer most of your creative assets from your assigned school account to a personal account that you create.
The tool enables Students to migrate your assets from MSU-assigned accounts to new Creative Cloud free membership accounts.
Here's what it takes for students to participate:
You must still have access to your school-assigned accounts.
You will need to sign up for a new personal account where your assets are migrated

All the information you need is available at this link: https://helpx.adobe.com/enterprise/using/migrate-student-assets.html
Start the process by clicking on this link: https://graduation.adobe.com/
Limited Time Offer From Adobe!
Adobe is offering 4 months complimentary Creative Cloud All Apps access to graduating students who have existing access to Creative Cloud All Apps through MSU Bozeman.
To receive the redemption code for 4 months complimentary Creative Cloud All Apps, students should go to www.graduation.adobe.com
Here, students will be able to transfer their work from their school-owned account to a new personal account. Following asset migration,students will automatically receive their redemption code in a follow-up email.
Students who have already completed asset migration will not be able to access the portal, and will not be able to receive an automated redemption code. Those students should reach out to Adobe Customer Support for manual deployment of a redemption code.
Students will receive a redemption code if they complete Student Asset Migration before August 15th. Four months of complimentary access begins at time of redemption. If not redeemed, redemption codes expire 6 months after they are issued. Replacement codes will not be provided for expired codes.
Training
NOTE on logging into Lynda.
After clicking one of the Lynda tutorial links above follow these instructions:
Click the Sign In button (not Sign Up), then click Continue(see image below).
Log in with your MSU NetID and password.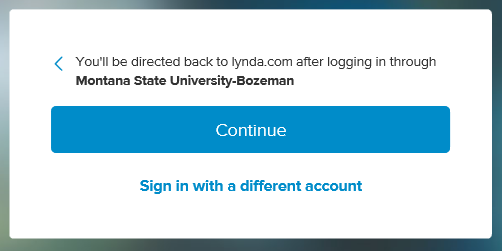 IMPORTANT: If you are not prompted with the box shown above, go to http://guides.lib.montana.edu/lynda. Enter your NetID and Password when prompted. When the Lynda page opens enter Creative Cloud into the Search field to find tutorials.