Funded by the U.S. Department of Energy as a companion project supported in-part by the Wind Applications Centers, the Wind for Schools project facilitated installation of small wind turbines at rural K12 schools. With more than 145 systems in place across 12 states, this program is making a positive contribution to students and their communities by providing an accessible, working wind turbine to support educational efforts.
Montana has a total of 11 Wind for Schools turbine installations. Five units were installed in 2008; one on the MSU campus and additional turbines at schools in Livingston, Stanford, Cascade, and Fairfield. In 2018, six additional installations were completed, at schools in Townsend, Lewiston, Valier, Forsyth, Wolf Point, and Glasgow.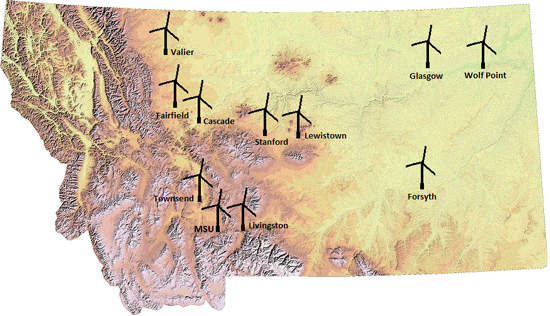 All of these MT installations are Skystream 3.7's, developed by Southwest Windpower (acquired by Xzeres, Inc.) These small turbines feature a nacelle-mounted integrated power inverter and quiet operation, ideally suited for residential applicaiton. Designed to operate in Class 2 wind locations, it is capable of generating 2.4 kW in a 29 mph wind. To learn more about the turbine and Wind for Schools program, see the links below.
For More Information: