Bobcat Spirit
The Bobcat Spirit webpage is dedicated to promoting school pride and MSU and Bobcat merchandise.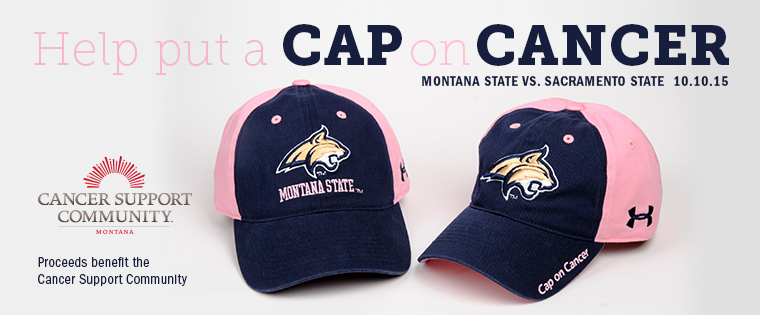 Get your limited edition hat at the MSU Bookstore, Universal Athletic, Bob Wards, and Scheels.
Cap on Cancer 2015
Montana State University and Bobcat Athletics announce the third annual Cap on Cancer program. The promotion coincides with breast cancer awareness month and allows friends and fans to support the Cancer Support Community, a Montana organization committed to helping families impacted by cancer.
The Cap on Cancer promotion features a limited edition pink and blue Under Armour Bobcat hat that helps generate resources for the Cancer Support Community. Both a men's and ladies hat are available for $20 each at the following retail outlets:
MSU Bookstore: Strand Union and Bobcat Stadium
Universal Athletic: Billings, Bozeman, Butte, Great Falls, Helena and Kalispell
Bob Wards: Bozeman
Scheels: Billings
All Bobcat coaching staff will wear the hat on the sideline at the Cap on Cancer game, slated for October 10 at Bobcat stadium versus Sacramento State. All proceeds will benefit the Cancer Support Community, an organization that ensures that all people affected by cancer are empowered by knowledge, strengthened by action and sustained by community.
Facebook Fan Page
Looking for deals on MSU gear? Our new Facebook page links MSU fans with retailers, new products and special offers.
Visit: www.facebook.com/MSUGearUp and "Like" our page. And be sure to tell your friends.