Gold Rush 2015

Gold Rush T-shirt Design Announced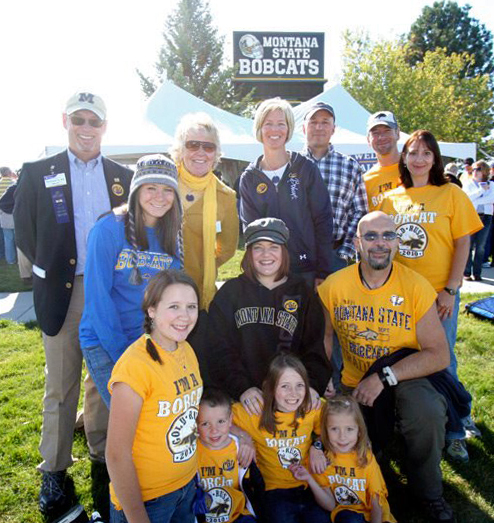 Mark Johnson, designer of the 2015 Gold Rush Shirt, with his family at Gold Rush.
The 2015 Gold Rush game will be played Thursday, Sept. 3, against Fort Lewis in Bobcat Stadium. Now in it's ninth year, the Gold Rush game kicks off the Bobcat home football season and is designed to inspire fans to showcase their Bobcat spirit by filling the stadium in a sea of gold.
This year's winning T-shirt design was created by Mark Johnson of Billings. A lifelong bobcat fan, Johnson has attended every Gold Rush game. He drew on his love for Bobcat football, love of design, and countless memories from past Bobcat games as the inspiration for his winning design.
"We have a great view of the Bridger Mountains from our seats at the games, so that's one of the first things that came to mind for this design," Johnson said. He added that in addition to the game day experience, Gold Rush is an opportunity for the family to come together from all over Montana and kick off the season.
The limited edition Gold Rush T-shirts will be available for purchase for $12 at the MSU Bookstore and at Universal Athletic stores in Billings, Bozeman, Butte, Great Falls, Helena, Kalispell and Missoula. Gold Rush shirts will also be available online at www.msubookstore.org and at http://www.universalathletic.com/.
Tradition
Gold Rush is Bobcat tradition that kicks off the new season of Bobcat Football. On the first home game, fans fill the stadium in a sea of gold wearing a custom t-shirt design proclaiming their Bobcat pride.