Promotions

The President's Collection
Introducing the President's Collection, a premium line of MSU branded clothing.
Kick off the season with an updated look, featuring new sportswear and accessories for men and women, perfect for the work day and game day. The signature Bobcat scarf and tie are appropriate for all business and social occasions. The collection is available exclusively at the MSU Bookstore and Universal Athletics. Start your collection today.
Now Montana State University and Bobcat fans can fly in style.
MSU is one of the newest additions to Horizon Air's fleet of aircrafts that are university-themed. The MSU plane is painted in blue and gold and displays the bobcat head mark on the tail, the collegiate "M" at the back of the plane, Go Cats text on the wings, and the university logo near the front of the plane.
"This is certainly one of our biggest promotional opportunities to date," said Julie Kipfer, director of marketing and creative services at Montana State University. "We are excited to increase our exposure and visibility in the Northwest region where many of our students, alumni and fans live and travel."
The first flight of the freshly painted Q400 Turboprop will be from Seattle to Bozeman on November 30, 2010. After that, the plane will travel on all Horizon routes and may be seen all over the Northwest region.
Free Go Cats Signs
The Bobcat Spirit program was created to engage the community and rally support for Montana State University and the Bobcats. MSU is keenly aware of the role we play in our local and statewide community. To recognize this partnership and continue to build excitement, MSU is offering a limited number of free "Go Cats" signs for anyone wishing to show their Bobcat pride. MSU is thrilled to be a part of the community and MSU invites you to show your support of the Bobcats during the sports seasons.
Businesses and individuals are invited to decorate their businesses and homes with blue and gold. Ask your employees to wear Bobcat gear on game weekends. There are a limited number of free Go Cats signs available, so pick them up at one of the following distribution points:
Bozeman Area Chamber of Commerce
Downtown Bozeman Association
MSU Alumni Office
MSU Bobcat Club Office
Drive with Pride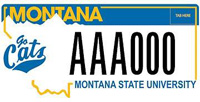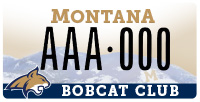 Show your support of Montana State University by choosing an MSU license plate.
Choose a Montana State University, Go Cats, or Bobcat Athletics themed plate when you renew your vehicle registration. Not only do you get to show your MSU and Bobcat pride, the cost of the plates and renewing them each year includes a donation that goes directly to scholarships for MSU students and student-athletes.
To find out more about collegiate license plates, visit:
https://doj.mt.gov/driving/plate-designs-and-fees/collegiate/