Bobcat Gear Holiday Gift Guide

Our annual holiday gift guide featured on www.facebook.com/MSUGearUp includes ideas for every Bobcat fan in your life. A special thanks to our retail partners who participate each year to help make this social media promotion a success. This year's gift guide features merchandise provided by:
MSU Bookstore
Bob Wards
Shirtworks
Wear Your Roots
UpTop
Action Lighting
Montana Silversmiths
College Vault by Fanatics
Cap on Cancer
Montana State University and Bobcat Athletics are sponsoring the fifth annual "Cap on Cancer" promotion to coincide with breast cancer awareness month. To participate in the promotion, individuals are invited to purchase a cap or beanie and wear it to the Oct. 28 Bobcat football game vs. Idaho State. Kickoff is set for 1:30 p.m.
The promotion features two hat styles for 2017, a limited edition Bobcat baseball cap and a limited edition knit beanie, both by Under Armour. The cap will retail for $20 and the beanie for $25. For each hat or beanie sale, participating retailers will donate $9 to Cancer Support Community, a local organization that is committed to raising awareness and resources to assist individuals and families impacted by cancer.
"Cancer Support Community is honored to once again be a part of the MSU and Bobcat Athletics' Cap on Cancer promotion," said Becky Franks, executive director of Cancer Support Community. "All funds raised will allow us to provide support, education and hope for our community members affected by cancer, through programs that are offered free of charge."
Hats will be available at the following locations: MSU Bookstore (both its SUB and Bobcat Stadium locations) and online; Bob Ward's in Bozeman; and Scheels in Billings. Hats will also be on sale at the stadium during the Bobcat football game on Oct. 28.

Bobcat fans at the September 30 Homecoming game need to be sure their game day apparel lines up.
Check the stadium map to find out whether you need to rock the blue or rock the gold at the annual Stripe the Stadium promotion.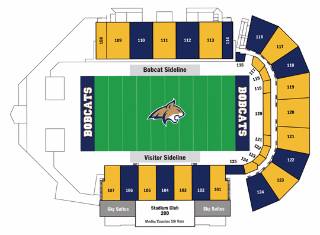 Find a full selection of both blue and gold Bobcat gear at your favorite Bobcat retailers.
College Colors Day 2017 - United We Fan
College Colors Day 2017 is set for Friday, September 1 to mark the beginning of a new college football season.
The annual College Colors Day celebration will kick off as fans unite to show their spirit and pride.
Bobcat fans are encouraged to show their camaraderie and support for Montana State University to all college football fanatics across the social media landscape. Share images and video in Montana State colors across Facebook, Twitter and Instagram while using the hashtag #UnitedWeFan.


Check out collegecolorsday.com for more information and enter to win a trip and tickets to the College Football Playoff National Championship. Don't forget to stand up and share which colors you'll be representing all year.
Bobcat Batter Ice Cream
Thanks to Livingston based Wilcoxson's Ice Cream, Bobcat Spirit is now available at your local grocery store. Bobcat Batter features a cake batter ice cream with a blue frosting wave. The partnership began in MSU's Miller Dining Hall as part of the Made in Montana Program. At the time, the new ice cream flavor didn't have a name, so the university sponsored a community-wide naming contest.
Matt Schaeffer, president of Livingston-based Wilcoxson's Ice Cream, said he is proud of the partnership that has been developed between his company and MSU. "I feel privileged to be a part of this," Schaeffer said. "I like being associated with MSU. I think it's a great combination."
Support this Montana Made product and get your Bobcat Batter ice cream at a grocery near you.
Now Montana State University and Bobcat fans can fly in style.
MSU is one of the newest additions to Horizon Air's fleet of aircrafts that are university-themed. The MSU plane is painted in blue and gold and displays the bobcat head mark on the tail, the collegiate "M" at the back of the plane, Go Cats text on the wings, and the university logo near the front of the plane.
"This is certainly one of our biggest promotional opportunities to date," said Julie Kipfer, director of marketing and creative services at Montana State University. "We are excited to increase our exposure and visibility in the Northwest region where many of our students, alumni and fans live and travel."
The first flight of the freshly painted Q400 Turboprop will be from Seattle to Bozeman on November 30, 2010. After that, the plane will travel on all Horizon routes and may be seen all over the Northwest region.
Free Go Cats Signs
The Bobcat Spirit program was created to engage the community and rally support for Montana State University and the Bobcats. MSU is keenly aware of the role we play in our local and statewide community. To recognize this partnership and continue to build excitement, MSU is offering a limited number of free "Go Cats" signs for anyone wishing to show their Bobcat pride. MSU is thrilled to be a part of the community and MSU invites you to show your support of the Bobcats during the sports seasons.
Businesses and individuals are invited to decorate their businesses and homes with blue and gold. Ask your employees to wear Bobcat gear on game weekends. There are a limited number of free Go Cats signs available, so pick them up at one of the following distribution points:
Bozeman Area Chamber of Commerce
Downtown Bozeman Association
MSU Alumni Foundation Office
MSU Bobcat Club Office
Drive with Pride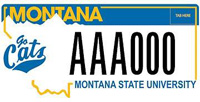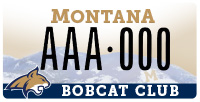 Show your support of Montana State University by choosing an MSU license plate.
Choose a Montana State University, Go Cats, or Bobcat Athletics themed plate when you renew your vehicle registration. Not only do you get to show your MSU and Bobcat pride, the cost of the plates and renewing them each year includes a donation that goes directly to scholarships for MSU students and student-athletes.
To find out more about collegiate license plates, visit:
https://doj.mt.gov/driving/plate-designs-and-fees/collegiate/