EHHD Annual Report 2013 - 2014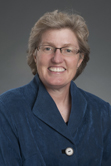 Greetings Friends of the College of Education, Health and Human Development (EHHD):
Welcome to our attempt to "go green" and publish our annual report online. In the two years that I have served as Dean, I have noticed an increasing number of college annual reports online with interactive, "clickable" links that enable viewers to drill down into the areas in which they are most interested. Therefore, we decided to hit the 21st century head-on and try our hand at an online report. To accomplish this directive, we hired Justin Shanks, an individual with significant skills in web design, who is serving as the Director of Learning Technologies for our college. I think you will agree with me that he has done an outstanding job developing this report and presenting our accomplishments online!
As you can see, we have accomplished a number of things this year including a new strategic plan, the hiring of several new faculty, a jump to becoming the top producer of licensed, certified teachers in the state of Montana, a significant increase in the number of grants submitted and funded, growth in the number of scholarships awarded to our students, and unprecedented growth in many of our academic programs, among other things. It has been a remarkable year of achievement for the College of EHHD. I hope you will enjoy reading this information as much as we have enjoyed compiling it. I'm sure that you will appreciate the significant difference that our faculty, staff, and students, and alumni are making throughout Montana and beyond.
We look forward to receiving your feedback regarding this report! Please direct any questions, suggestions, or compliments to justin.shanks@montana.edu or EHHDDEAN@montana.edu.
Have a wonderful year!

Dean, College of Education, Health and Human Development