Professional Development & Training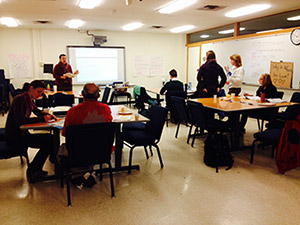 Established in 2013, Professional Development & Training (PD&T) is housed in Human Resources and offers a range of programs and services designed to meet a wide variety of MSU professional and classified employee development needs. PD&T provides services to all four MSU campuses. We welcome your ideas and input.
MSU Human Resources PD&T's strategic purpose is "to grow our people," by building the skills and capacity of MSU employees of all types. By providing ongoing personal and professional development opportunities, we strive to increase MSU employee effectiveness and each employee's ability to excel and contribute to the overall MSU mission.
PD&T Offerings:
By request, PD&T provides customized training to units on the four MSU campuses. Offerings have ranged from facilitating strategic planning sessions, meeting facilitation, team building, conflict resolution among teams, and personality inventories (DiSC, Real Colors). For more information, click on the link for the list of developed workshops.
"We enrich lives by building a supportive environment that inspires excellence in everything we do."
Service Excellence aims to align the quality of our service environment to the excellent education we offer. We're aspiring to provide a great experience outside the classroom so students and faculty can focus on being successful inside the classroom.
PD&T coordinates Service Excellence workshops and provides leadership to the Service Excellence Team.