Professional Development & Training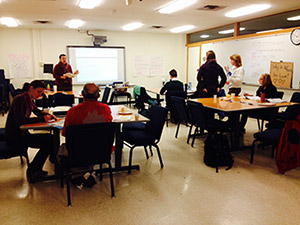 Established in 2013, Professional Development & Training (PD&T) is housed in Human Resources and offers a range of programs and services designed to meet a wide variety of MSU professional and classified employee development needs. PD&T provides services to all four MSU campuses. We welcome your ideas and input.
MSU Human Resources PD&T's strategic purpose is "to grow our people," by building the skills and capacity of MSU employees of all types. By providing ongoing personal and professional development opportunities, we strive to increase MSU employee effectiveness and each employee's ability to excel and contribute to the overall MSU mission.
PD&T Offerings: PLEASE NOTE RECENT COURSE CANCELLATIONS
A Monthly PD&T Series is offered with varying topics. We welcome your suggestions for topics and presenters. Register for these 2-hour sessions via the MSU Registration. Examples include Project Management, Designing and Delivering Impactful Trainings, Today's College Students, Managing Conflict, Real Colors, and more. SEVERAL CANCELLATIONS
Management Development Certificate: This is a 50-hour certificate that builds the skills of managers and supervisors and those aspiring to these positions. Sessions include Leading Change, Managing Conflict, Coaching for Performance, and more.
Financial Development Certificate: This is a 19-hour certificate that informs financial and accounting practices at MSU. Sessions include Budget Basics, Asset Management, Reconciliation, Procurement, and more.

Diversity & Inclusion Development Certificate: The Diversity & Inclusion Development program provides training to students, staff, and faculty to expand their awareness, knowledge, and skills related to diversity and inclusion to better serve in their role at MSU. The program is tiered in structure and flexible in that it allows participants to enroll in course offerings of interest either individually or in pursuit of the certification program. Requirements for those wishing to earn any of the Diversity & Inclusion Level certificates are outlined in this webpage link. Presently, Level 1 Foundations of Diversity & Inclusion and Level 2 Dimensions of Cultural Identity certificates are offered. Level 3 Cultural Fluency Skills is in development.

Crucial Conversations: Crucial Conversations is a 16-hour copyrighted course (developed by VitalSmarts) that teaches skills for creating alignment and agreement by fostering open dialogue around high-stakes, emotional, or risky topics – at all levels of the university.

Supervisor Training Program: The Supervisor Training program is comprised of 4 sessions totaling 14-hours of training. This course is designed to help people transition from an individual contributor role to a supervisory role.
What a Dean Needs To Know: Deans receive timely information to help them be successful leaders in their academic units. "What does a Dean need to know about…" Topics include Title IX, Sexual Harassment, ADA, Performance Management, Conflict Styles, and more.
Leadership Development training experiences through Leadership MSU. In partnership with LMSU, PD&T provides experiential training and content to enhance the LMSU experience.
Communication Development Certificate: Year-long commitment develops public speaking, listening, and leadership skills by participating in one-hour weekly Toastmasters club meetings. Club dues are $51 semi-annually plus a one-time $20 new member fee for materials. Meetings are Tuesday at noon in SUB 168.
By request, PD&T provides customized training to units on the four MSU campuses. Offerings have ranged from facilitating strategic planning sessions, meeting facilitation, team building, conflict resolution among teams, and personality inventories (DiSC, Real Colors). For more information, click on the link for the list of developed workshops.
Service Excellence aims to align the quality of our service environment to the excellent education we offer. We're aspiring to provide a great experience outside the classroom so students and faculty can focus on being successful inside the classroom.
                         Montana State University's Service Philosophy
We enrich lives by building a supportive environment that inspires excellence in everything we do. 
Professional Development and Training coordinates the Service Excellence workshops along with the Random Acts of Excellence recognition program; while providing leadership to the Service Excellence Team.
"We are what we do repeatedly; therefore, excellence is not an act, but a habit." by Aristotle