Internationalization Laboratory
There are exciting plans for the future of international education at Montana State University!
With the encouragement and support of President Cruzado and Provost Martha Potvin, MSU has accepted the invitation of the American Council on Education (ACE) to join its Internationalization Laboratory (IL). The IL is a structured eighteen month program designed to enable universities to achieve "comprehensive internationalization". Comprehensive internationalization means multi-faceted, in-depth international education elements across the institution, providing the opportunity for students to develop international skills and knowledge essential to modern borderless careers.
MSU will go through three major initiatives during the IL process. The first is a comprehensive survey of international activity to get a good understanding of the current extent of internationalization at MSU. The second is the development of international student learning outcomes. Beyond counting up the number of students studying abroad, the IL will challenge us to define what we want students to learn during their studies at MSU and assess whether they are obtaining it. Finally, the IL will require development of a strategic international plan to achieve the goal of comprehensive internationalization. The academic colleges, research, extension, student affairs, with input from the campus community, will play a critical role in the IL project and its outcomes. We encourage and welcome the involvement of the MSU community.
American Council on Education (ACE) Site visit to Montana State University (MSU):
November 19, 2013
Internationalization Laboratory Recommendations for an Action Plan
The American Council on Education (ACE) is based in Washington, DC and consists of over 1800 member institutions of higher education. ACE is providing MSU with resources and guidance as we navigate a comprehensive review of international activities on campus as a member of the 2011-2012 cohort. Being a member of the cohort has allowed MSU to connect with other institutions taking part in the same cohort, allowing us to learn from one another. As we wrap up the process, ACE staff member, Dr. Barbara Hill, Senior Associate for Internationalization – will be coming to MSU along with 2 other outside evaluators to advise MSU on how we can efficiently create and execute an internationalization strategy/plan that works well for our institution. (bios of evaluators below).
Dates/Times for meetings that will be held with the 3 visiting evaluators – we are inviting ALL faculty, students and staff to the 2 open meetings at 9am and 11am – in the Animal Bioscience Complex
9:00am – Open meeting (faculty, students, staff) in AB 138

11:00am – Open meeting (faculty, students, staff) in AB 138
Link to the ACE Internationalization Laboratory page: http://www.acenet.edu/news-room/Pages/ACE-Internationalization-Laboratory.aspx
The 3 outside evaluators coming for the site visit are Barbara Hill from ACE, Susan Buck Sutton from Bryn Mawr College and Bill Lacey from UC-Davis.
Barbara Hill, Ph.D., ACE Senior Associate for Internationalization
Barbara Hill is currently senior associate for internationalization, working with U.S. and international institutions to promote global learning and to help leaders think strategically about comprehensive internationalization.
Barbara has served as a senior consultant to the Higher Education for Development program (formerly the Association Liaison Office for University Development), working to develop organizational infrastructure to serve international development through university partnerships and organizing conferences to disseminate expertise in international development. She was a participant in the Visiting Advisors Program of the Salzburg Seminar, consulting with universities in Russia and Eastern Europe about governance, management, finance, academic structure and program quality. Barbara continues to moderate the Intellectual Renewal Seminars for Leaders, begun at Radcliffe College/Harvard University, which are seminars on leadership, ethics and the good society for various professional groups. She has also served as chair of the board of directors of the Maryland Humanities Council
Barbara earned a bachelor's degree in English literature with honors from the University of Illinois, Champaign-Urbana, and master's and doctoral degrees in English literature from the University of Washington, Seattle. She has held senior level administrative positions at several higher education institutions, including acting director of admissions at Hood College (1979-1980), associate dean of the faculty at Barnard College/Columbia University (1984-86), provost of Denison University (1986-1990), and president of Sweet Briar College (1990-1996). Barbara was an ACE Fellow in 1979-80.
Susan Buck Sutton, Ph.D -Senior Advisor for Internationalization, President's Office (Bryn Mawr College)
Susan Buck Sutton is Senior Advisor for International Initiatives at Bryn Mawr College, and Emerita Associate Vice President of International Affairs and Chancellor's Professor of Anthropology at Indiana University. While at Indiana University, she focused the internationalization efforts of its urban campus, IUPUI, toward a philosophy of international dialogue and collaboration. She was honored with the 2009 Andrew Heiskell Award from the Institute of International Education and the 2011 Senator Paul Simon Award from NAFSA.
Sutton has been President of the Association of International Education Administrators, Chair of the International Education Leadership unit of NAFSA, and on advisory councils or committees for the American Council on Education, Institute for International Education, and the International Association of Universities. She has also been President of the General Anthropology Division of the American Anthropological Association, and Editor of the Journal of Modern Greek Studies. Sutton has published five books and over 60 articles on international education and the anthropology of modern Greece, including the recent Developing Strategic International Partnerships: Models for Initiating and Sustaining Innovative Institutional Linkages. She has also been a consultant to nearly two dozen colleges and universities and given numerous presentations and workshops on the changing nature of internationalization, institutional partnerships, and international service learning.
Sutton received her B.A. from Bryn Mawr College in 1969 and her Ph.D. from the University of North Carolina (Chapel Hill) – both in anthropology.
William B. Lacy, Ph.D. Vice Provost and Professor, University Outreach & International Programs (University of California-Davis)
William Lacy is the Vice Provost for the University Outreach and International Programs at the University of California Davis. He has worked with international education since 1999. He also holds positions as a professor of sociology and in human and community development at the university. His background includes being a director of Cornell Cooperative Extension, an Associate Dean at the Colleges of Agriculture and Life Sciences, and Human Ecology at Cornell University from 1994-1998; an Assistant Dean for Research for the College of Agricultural Sciences at Penn State University from 1989-1994.
Education
Ph.D., Sociology, University of Michigan, 1975
Interests
Sociology of science, organization and structure of agricultural research and extension (U.S. and international), social psychology of education and outreach, international research and higher education policy and practices.
Research Interests
The sociology of science, agriculture, education and research policy. Specific interests within those areas include biotechnology, biodiverstiy, the relationship between knowledge generation and knowledge dissemination, and the relationship between public and private sector research.
Recent Publications
Plants, Power and Profit Social, Economic and Ethical Consequences of the New Biotechnologies. Oxford, England Basil Blackwell. 1991 (with L. Busch, J. Burkhardt, and L. Lacy)
Making Nature, Shaping Culture Plant Biodiverstiy in Global Context. Lincoln, NE, University of Nebraska Press. 1995. (with L. Busch, J. Burkhardt, D. Hemken, J. Morega, T. Koponen, and J. Silva)
Empowering Communities Through Public Work, Science, and Local Food Systems Revisiting Democracy and Globalization". Rural Sociology 65(1)3-26. 2000
Related Links
Links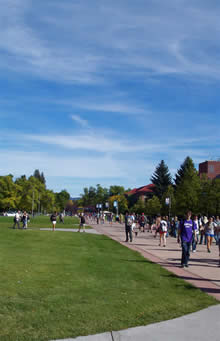 You are welcome to read the following information and share your insight and comments below.
IL Committee Structure
Reports and updates on IL Meetings
Other
Successful graduates entering today's "borderless careers" will:
Understand the international dimensions of their discipline(s).
Be able to understand issues in a global context.
Demonstrate intercultural communication skills.
Be proficient in a language other than English.
Embrace cultural differences (i.e. language, art, values, religion, ...).
Understand their own cultural identity.
Seek out international opportunities.
Be able to effectively adapt to other international contexts.
Advocate for positive international relations.