Travel & Transportation
In 2012 Bozeman gained the "Bike-friendly community" endorsement of the League of American Bicyclists, earning a silver designation, the second of five levels.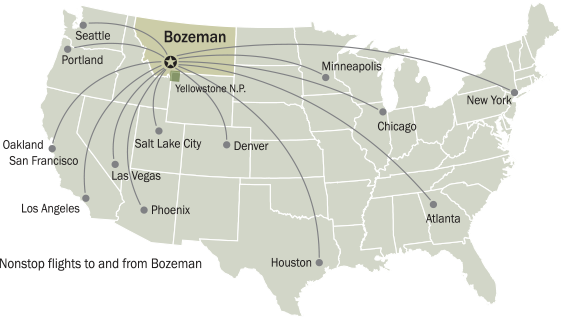 Getting around the Bozeman area is no problem, regardless of your mode of transportation-foot, bike, bus or car. Paths and bike lanes connect campus to downtown and the 60 mile Main Street to the Mountains trail system links the city to the nearby mountains. In addition to routes around town, the free Streamline Bus system runs to the slopes during ski season.
Bozeman Yellowstone International Airport is the state's largest airport.
Lodging
Bozeman has a wide variety of overnight accommodations for you to choose from. Visit bozemancvb.com/lodging for a comprehensive list. Look for the hotels that offer an MSU campus visitor discount. This list also includes a discount on Enterprise Rent-A-Car for campus visitors.
Getting Around