Online Graduate Certificate Program Overview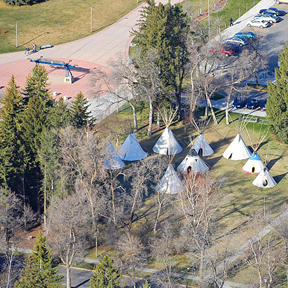 The Department of Native American Studies at MSU-Bozeman is pleased to announce that we launched our Graduate Certificate in Native American Studies Spring semester, 2010. We were proud to graduate our first cohort of Certificate students in December, 2010.
The Graduate Certificate requires 12 semester credits, available through four online classes. Although other courses may be developed and offered during any semester, the four classes presently available are:
NAS 530z: Federal Indian Law and Policy
NAS 550z: Native America: Dispelling the Myths
NAS 551z: American Indian Art Survey
NAS 552z: Indigenous Nations of Montana
We will also accept EDCI 540: American Indian Studies for Educators
Credits earned under the Graduate Certificate may be transferred to our MA program, if the student wishes to continue in Native American Studies and obtain a Masters degree. At present, the Masters program is not wholly available online.
Admission to the Graduate Certificate Program is by application.
The application includes:
A letter of intent (2-5pp), introducing yourself and your interest in NAS
A CV or resume
Two writing samples, preferably of an academic nature
Transcripts from attended colleges or universities
An MSU Graduate School application (this includes a one-time fee)
These materials may be submitted to:
The Department of Native American Studies;
2-179 Wilson Hall;
Montana State University; Bozeman, MT 59717
Attn: Francesca Pine
Questions regarding the Graduate Certificate, or the NAS Masters Degree may be directed to either:
Dr. Kristin Ruppel • 406.994.5261 • ktruppel@montana.edu, or
Francesca Pine • 406.994.3881 • francesca.pine@montana.edu.
Further information regarding the Department of Native American Studies may be found at:
Montana State University: Department of Native American Studies

The Division of Graduate Education application may be downloaded at:
The Division of Graduate Education

Enrollment and detailed information for NAS online classes is at:
MSU Extended University: Online Classes

and information regarding the transferring of credits from the Graduate Certificate to the Masters is available at:
Transferring Credits


Updated: 08/30/2011