The mission of the OpenMSU Initiative is to empower staff and faculty to optimize mission support success through long-term, sustainable changes based on thorough data collection and campus input. It can be summed up as a long-term effort to improve work efficiency and job satisfaction. Specific goals are to:
Enrich Service Providers
Satisfy Service Customers
Increase Efficiency
Improve Effectiveness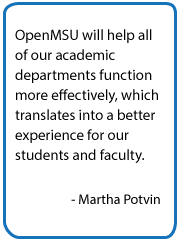 Projects
Hover over project name to view project details.