Open MSU

The mission of the OpenMSU Initiative is to empower staff and faculty to optimize mission support success through long-term, sustainable changes based on thorough data collection and campus input. It can be summed up as a long-term effort to improve work efficiency and job satisfaction. Specific goals are to:
Enrich Service Providers
Satisfy Service Customers
Increase Efficiency
Improve Effectiveness
Past Videos
Projects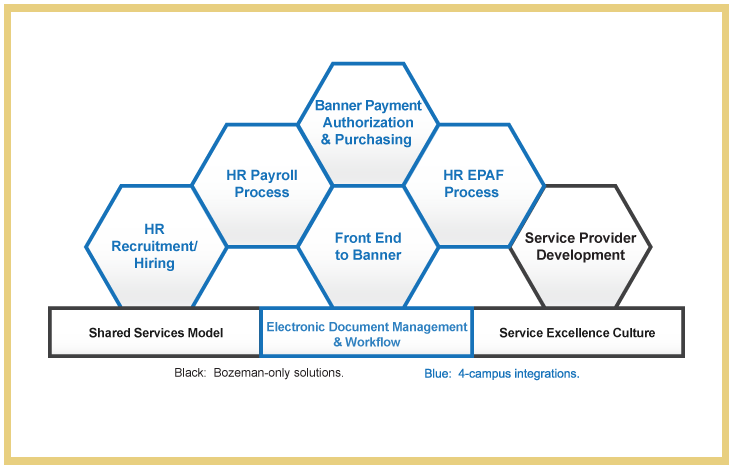 Click on a section to view details.
Stage: Planning
% Complete: 10%
Pilot Project Manager: Dave Court
Target Date: Spring 2015
Description: Moving the organization to paperless procedures is a significant enabler of efficiency and cost savings throughout the university, as well as a more environmentally responsible solution. Workflow software enables process improvement throughout the university.
Status:
A site visit to Colorado Community College took place in March 2014. Banner Document Management Suite has been deemed acceptable for MSU. Because the Banner Workflow product has not been reviewed in-depth, the project has been separated from Document Management.
Updated: October 2014
Stage: Implementation
% Complete: 45%
Project Manager: Betsy Webb
Target Date: Spring 2014
Description: Developing a culture of service excellence among staff and faculty is a vital part of a productive and efficient campus working environment. All individuals in the university community, including senior leadership, must foster a spirit of service excellence. This project will train and empower staff to provide great customer service.
Status:
Teri Yanovitch engaged as consultant for process ("Unleashing Excellence")
MSU Service Philosophy defined by MSU leaders
MSU Service Standards are safety, courtesy, reliability and competence
A Service Excellence Team formed to manage process
5 full-day workshops provided to 150 leaders on campus March 28, 29, 31, April 1, 2
15 MSU employees trained to facilitate Service Excellence workshops
Service Excellence Workshops are being offered on campus. Auxiliaries, ITC, KGLT, Extended University, Graduate School and College of Nursing are all now scheduling dates
The Service Excellence Website is live at www.montana.edu/serviceexcellence
A Manager's Tool Kit has been posted and is available on the website.
The Recognition subcommittee has developed "Random Acts of Excellence" postcards which are available to recognize excellence (template posted on the website
Updated: October 2014
Stage: Implementation
% Complete: 75%
Project Manager: Tricia Wimbish
Target Date: Spring 2014
Description: This project will analyze and improve the recruitment and hiring process to reduce time-to-hire and process inefficiencies. The project will incorporate talent acquisition management software to automate the recruitment process through a user-friendly web interface that enables ease of use for applicants, recruiters, and search committees. Automating the recruitment process will improve operational efficiency, decrease time to hire, and reduce frustration across the institution.
Status:
The implementation of Human Resource's new applicant tracking software (ATS) is well underway. The Planning Phase concluded at the end of November and the Design Phase was instituted December 2nd. The ATS implementation team met bi-weekly October to May to discuss project progress, provide feedback and define next steps. The vendor was on campus in December for onsite meetings with representatives from all four MSU campuses as well as the ATS implementation team. The vendor has designed the ATS and the system is available for testing. Demos of the program took place in March and training for users in April. The program rolled out on MSU Bozeman campus in May and was rolled out to Northern, Great Falls and Billings in June. Job postings for all four campuses are being transferred to the production sites.
Updated: October 2014
Stage: Discovery
% Complete: 5%
Project Manager: Laura Humberger
Target Date: Spring 2015
Description: Banner Finance does not provide certain user-friendly functionality that is desirable and necessary. Catbooks, an internally developed software program, is currently used to supplement Banner but it is not a viable long-term solution. This project will implement a permanent, consistent solution to accounting "shadow" systems and provide a front end to Banner Finance.
Status:
Initial scoping meetings are taking place to investigate whether new software, re-implementation of Banner Finance or some combination of these options is the best solution for the university. CatBooks will continue to be used until an alternative is found and in place. An RFI is being drafted to search for alternatives.
Updated: October 2014
Stage: Implementation
% Complete: 75%
Project Manager: Betsy Webb
Target Date: In process
Description: This project will develop and maintain ongoing structured training for administrative service providers.
Status:
A Professional Development & Training manager was hired February 25, 2013. No longer just a concept – the project is developing and maintaining ongoing structured training for administrative service providers. A Management Development Certificate and Financial Development Certificate program have been launched. Monthly PD&T sessions are being offered on various topics and customizable PD&T workshops are available for departments and teams (e.g. retreat facilitation, strategic planning, team building, etc.). Other training programs and curriculum are being developed and presented.
Updated: October 2014
Stage: Concept
% Complete: 25%
Project Manager: Lindsey Jackson
Target Date: TBD based upon other OpenMSU initiatives
Description: Streamlining payroll process will reduce administrative overhead and cost. The payroll process across all 4 campuses is extremely complex with many different drivers. All processes must be analyzed at the business level and at the software level.
Status:
Payroll Process team meetings are on hold for the summer. The team has analyzed previous payroll process improvement projects, investigated the IT onboarding process, and created a draft charter and work breakdown structure for planning purposes. The Project team is working concurrently on (1) actionable process improvements and (2) cost/benefit analysis of changing payroll frequency, potentially across four campuses. The payroll team has recently introduced enhanced online paystub, is currently redesigning dept payroll report and the Jumpstart program will significantly streamline new hire payroll/first paycheck process. The team has drafted a timeline for the rest of the project and defining various possibilities for improvement to bring to MSU Leadership for evaluation and decisions on the next steps for this project.
Updated: October 2014
Stage: Planning
% Complete: 10%
Project Manager: Laura Humberger
Target Date: : BPA process and related purchasing dependent upon Shared Services and EDM) and ther OpenMSU initiatives. Begin Spring 2015: Strategic Purchasing
Description: Area 1: A review of the procurement process, from initial request through payment to vendor, will identify inefficiencies, duplication of effort, and opportunities for automation. The outcome will simplify the procurement process and related reporting. Furthermore, the Banner Payment Authorization process is labor-intensive and addressing the inefficiencies will reduce administrative overhead. So far, implementation of Banner Approval Queues have decreased time from invoice receipt to payment. The use of APEX forms for BPAs allows for easier data entry.
Status:
In initial concept phase.
Description: Area 2: Strategic Procurement (aka purchasing) Significant efficiencies and cost savings may be possible through more strategic procurement methods, such as greater use of negotiated discounts.
Status:
Independent consultant has analyzed MSU's office supplies spend, and staff is working with them to propose specific changes to save time and money. Additional areas of spend will be forthcoming.
Updated: October 2014
Stage: Discovery
% Complete: 65%
Project Manager: Cathy Hasenpflug
Target Date: Fall 2014
Description: This project will streamline the Electronic Personnel Action Form process.
Status:
payroll has redesigned the EPAF workflow and introduced automated error notifications. In additiona, a new EPAF workflow and "mass apply" has reduced delays in student worker system access and time to 1st paychecks. HR has enabled new-hire immediate system access by redesigning EPAF workflow (Jumpstart pilot program). Other improvements are currently being evaluated as longer term solutions are created.
Updated: October 2014
Quotes
The projects in OpenMSU offer creative solutions. It's great to see that so many staff contributed to improving the university through this effort.
-Terry Leist
OpenMSU will help all of our academic departments function more effectively, which translates into a better experience for our students and faculty.
- Martha Potvin