Sympa Email Commands for List Owners
List owners can manage their lists by emailing commands to the list server (Sympa) or via the web interface. See Sympa's Web Interface:A Short Guide for Listowners for information and instructions on using Sympa's web interface.
Send commands to sympa@sympa.montana.edu in plain text format. Several commands can be sent in a single message but only one command can be entered on a line.
Command Examples
Add subscriber to list:

ADD listname john.doe@montana.edu John Doe

Add without notification

QUIET ADD listname john.doe@montana.edu Doe, John

Remove a subscriber

DEL listname jdoe@montana.edu J. Doe

Remove without notification

QUIET DEL listname johndoer@montana.edu John Doe

Review the subscriber list

REVIEW listname

Indicate the end of commands

QUIT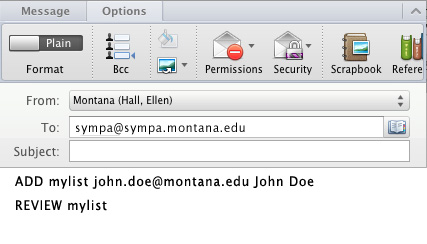 Email message with multiple commands
Commands
Command
Description
ADD
Add a member to the list
DEL
Remove a member from list
QUIET
Enter quiet before add or del command to prevent a notification message from being sent to the person being added or deleted.
QUIET ADD
QUIET DEL
Add without notification
Remove without notification
REVIEW
Use to get a review of list members
QUIT
Use as the final command so email signature will be ignored
Help
Please contact MSU List Help (listhelp@montana.edu) for additional assistance.