Law News and Announcements
PRE-LAW CLUB - Look for us at Catapalooza in August!
Regular Pre-Law Club meeting dates for Fall 2014: Thursdays 12 -1 in the SUB
August 21 & 22 - Catapalooza
September 11, 2014 - Justice Mike Wheat of the Montana Supreme Court (Procrastinator Theater)
September 25, 2014 - Lori Freeman, JD, Director of Admissions University of Montana School of Law
Wednesday, October 22, 2014 12-1 SUB 168 - Women in the Law (co-sponsored with the Women's Center)
***Watch for sign ups for tour of the Detention Center
*** NEW THIS FALL - LSAT Prep practice tests - watch for sign ups (*this event requires pre-registration)
Have an idea for a guest speaker or activity? Let us know! denise.malloy@montana.edu
Get involved in our pre-law club!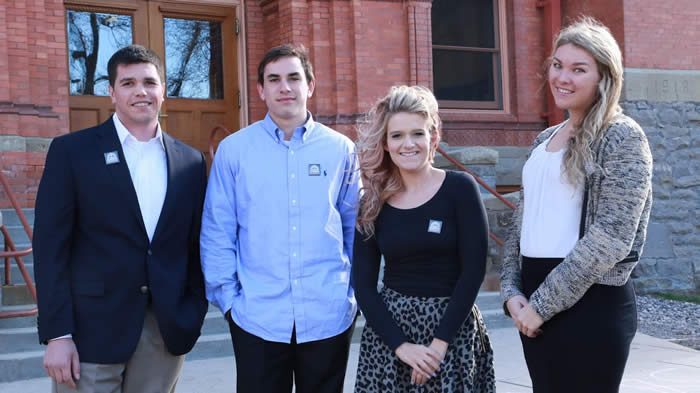 Meet your Pre-Law Club 2014 Leadership: L to R: Joe Schumacher, VP, Jonathan Schirmer, Treasurer, Alyssa Florman, Secretary/PR, Hannah Mains, President
Pre-Law Club at Catapalooza 2013

Pre-Law Club at theNot in Our House
Taskforce Graduation Ceremony 2013-14
LSAT - September 2014 Test Date and Deadlines
Test Date -Saturday, September 27, 2014
Registration Online, by Mail, or by Telephone
August 26, 2014 (receipt deadline)
LateRegistration by Mail
September 5, 2014 (receipt deadline)
Late Registration Online or by Telephone
September 5, 2014 (receipt deadline)
LSAC strongly encourages early registration!
Register here: www.lsac.org
US 140 - Intro to Law and the Legal Profession (1 credit)
This course is a great opportunity to explore your interest in law school and careers in the law. In Intro to Law and the Legal Profession, we'll explore the process of a legal education, identify areas of possible interest for careers in the law, and develop an understanding of the law school process. (offered Fall semester)