Webex Meetings for MSU Students
...meet and collaborate with anyone
School can be hectic! Make your life easier! Schedule meetings or group sessions wherever you are, whenever you want, with Webex Meetings, MSU's online video meeting service.
Student Account Details:
Access Webex Meeting Center at montana-student.webex.com (or orange login button).
Log in with NetID and password.
Meetings can include up to 1000 participants.
Audio connectIons for meetings available through:

VOIP OR
Toll calls - local charges may apply
Features include:
Screen sharing
Whiteboards and annotation tools
Video meetings
Text chat
File sharing
Instant polling
*Please note: Global calling is not available for meetings created by @montana.edu users.
Get Started:
Learn how to log into the MSU's student Webex site.
Logging in
How to log into MSU's Webex site:

1. Go to https://montana-student.webex.com.
2. Click the Log In link in the upper right of window.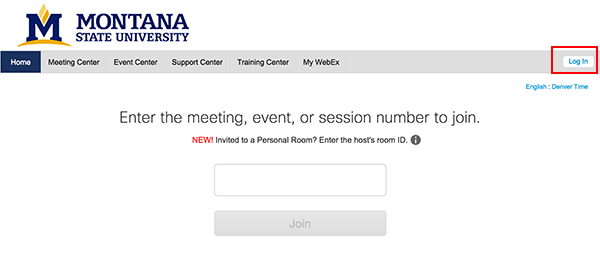 3. Enter your NetID and password.



You are now logged in a ready to schedule your first meeting.
Log in instructions for all device types:
To host and attend WebEx meetings from your smart phone you must first download and install the Cisco Webex Meetings application from your appropriate application store (such as app store, Google Play store or Windows Phone store).
To sign into the application follow the instructions below:
1. Tap the Webex Meetings app or tile
2. Tap Sign In
3. Enter your email address (this is the one you specified in MyInfo)
You will be asked for your corporate website
4. Enter montana-student.webex.com in the Webex site URL field and click Next
You will be taken to a page titled MSU Web Login
5. Enter your NetID and NetID password
6. Click Login
You will be asked to Open this page in "Webex"?
7. Click Open to open Webex.

For help with everything else visit: