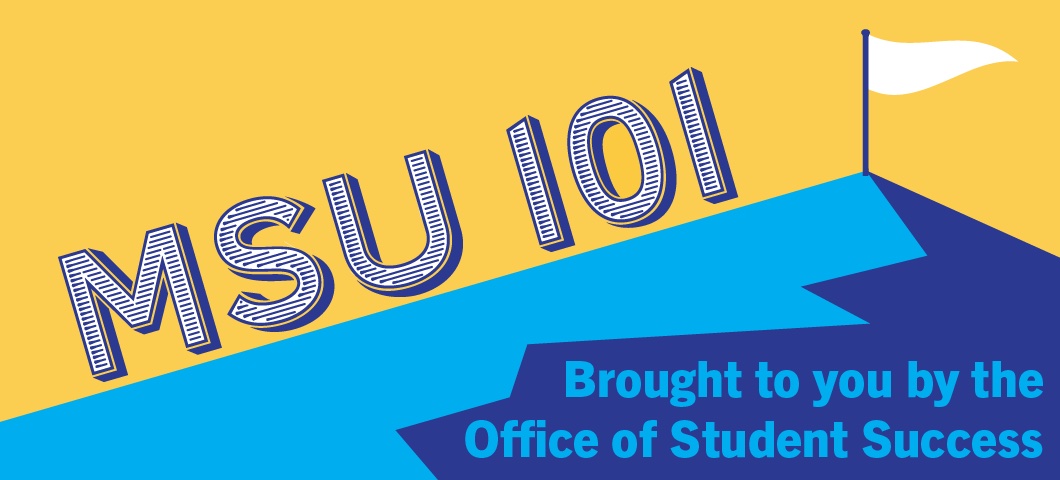 If you have been contacted to attend a MSU101 workshop:
You have been identified as a student whom we can help achieve higher academic success in the upcoming semester. Due to your GPA and/or performance in previous semesters you have been referred to MSU101 due to academic standing. There are many reasons students may be referred for MSU101, such as academic, personal, financial, health, or family issues. We want you to remember you are not alone and we are here to help.
As part of a referral, you are required to participate in MSU 101 during Fall Semester 2023. MSU101 and the academic warning process are designed to help you identify the resources, strategies, and tools most applicable to your individual needs. This will help you continue progressing towards graduation. Until your attendance in the MSU 101 program is completed, a holdmay be placed on your account.
This semester, MSU 101 workshops will be offered in-person. Space is limited! Please chose the (one) workshop date that works best for you:
Fall 2023 Schedule:
Aug 24th SUB Room 233 5pm-7pm
Aug 29th SUB Room 233 5pm-7pm
Aug 31st SUB Room 233 12pm-1pm
Don't miss your chance to attend MSU 101 and maximize your potential! We believe in your power to achieve. Dinner will be provided at the workshops.
Benefits of Attending US101:
Learn about campus resources

Further develop your academic strategies

Add to your time management skills

FREE tee shirt!

FREE dinner provided!

FREE tutoring coupons given!
We recommend that you also begin your Fall 2023 journey to success by booking an appointment with a Success Advisor by calling 406.994.7627. Your Success Advisor will assist you in developing signature strategies for your personal academic success. Students who attend MSU101 workshops and make follow-up appointments often improve academic standing by receiving this individualized support and guidance. We shape this experience based upon your needs to support your desired goals. Attending a Success Advising appointment will also meet your requirement if you do not attend a MSU101 workshop.
If you feel you have already met this requirement or if you have questions, please contact our office at 406.994.7627.
Missed MSU 101 this semester? Call the Allen Yarnell Center for Student Success (406.994.7627) or click below to request an individual appointment at a time that works for you!