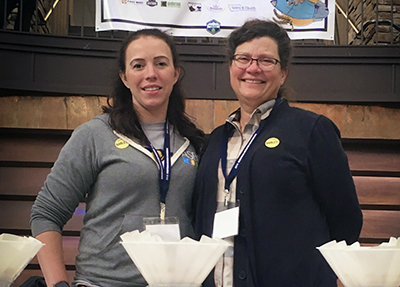 ---
2020 Virtual Field Days!
All Field Day videos can now be accessed through our resource center video library!
MSU Info about the 2020 Virtual Field Days and Links to all Field Day Videos
MSU Barley Breeding Program videos
---
Join us for upcoming events!!
October 15th

Montana Fresh Hop Festival - Bozeman Faigrounds

Lab Director Hannah Turner will be holding down the malt fort with an info table at the event - come drink some great MT fresh hop beer!

October

25th

Quaff Monthly Meeting - San Diego

Lab Director Hannah Turner will be presenting findings from current program projects

November

3rd - 6th

American Agri-Women Convention - Bozeman

The Agri-Women will be touring the Barley, Malt & Brewing Quality Lab on Nov 4th!

November

6th - 9th

ASA, CSSA, SSSA International Meeting - Baltimore, MD

Barely Program PhD Candidate Jessica Williams will be presenting findings from her barley root research

November

29th - Dec 1st

MGGA Annual Convention & Trade Show - Great Falls, MT

Lab Director Hannah Turner will be joining the tradeshow for a Value Added Panel discussion on

February

15th - 16th

Support MSU programs via donations via the annualy Giving Day! The Plant Science Department is seeking student scholarships to support student learning in labs.

March

13th - 16th

Advanced Course in Craft Malting - Portland, ME

Lab Director Hannah Turner will join Hugh Alexander to co-teach this week long course offered by the Craft Maltsters Guild

March

16th - 18th

Craft Malt Conference - Portland, ME

Join the Craft Maltsters Guild in Maine for this annual educational Gathering!

March

17th

Malt Cup Award Ceremony - Portland, ME

Join us live in Portland or virtually via social platforms to learn the winners of the 5th annual Malt Cup!

May

7th - 10th

Craft Brewers Conference - Nashville, TN
Funding Provided By:





Follow us on social channels!