Fischer Wins 6th Annual NACOE 3-Minute Thesis Competition
Patrick Fischer (PhD student in Mechanical Engineering) won the Judges Award in the 6th Annual Norm Asbjornson College of Engineering 3-Minute Thesis competition held in Inspiration Hall on February 27, 2020. The competition involves graduate students explaining, very concisely, how their research affects the average person. Patrick won the award after a great presentation describing his dissertation research aimed at understanding how cognitive distractions influence neuromuscular control in order to improve musculoskeletal injury preventions. Great job, Patrick!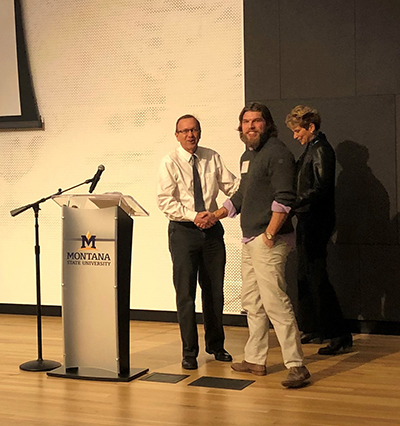 Bobcat Biomechanists Wrap Up Hosting a Successful and Eventful Northwest Biomechanics Symposium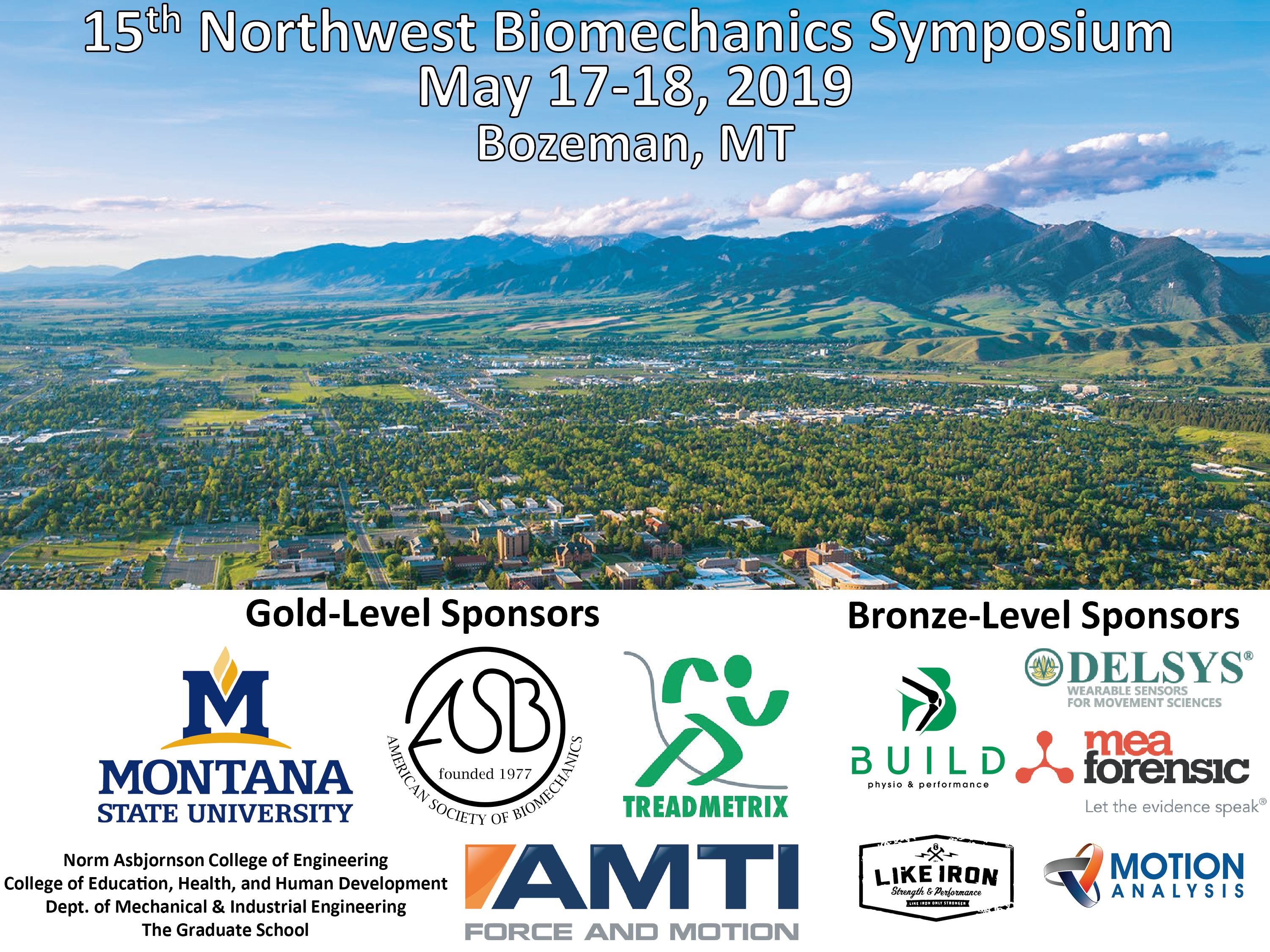 Nearly 100 biomechanists traveled from the northwest United States and Canada to Bozeman, MT to attend the 2019 Northwest Biomechanics Symposium May 17-18, 2019. This student-centered regional conference of the American Society of Biomechanics (ASB) featured podium and poster presentations from students in the new Norm Asbjornson Hall (below left) . The scientific tone of the meeting was highlighted by an exceptional keynote address by Dr. Paul DeVita, past-president of the ASB (below right).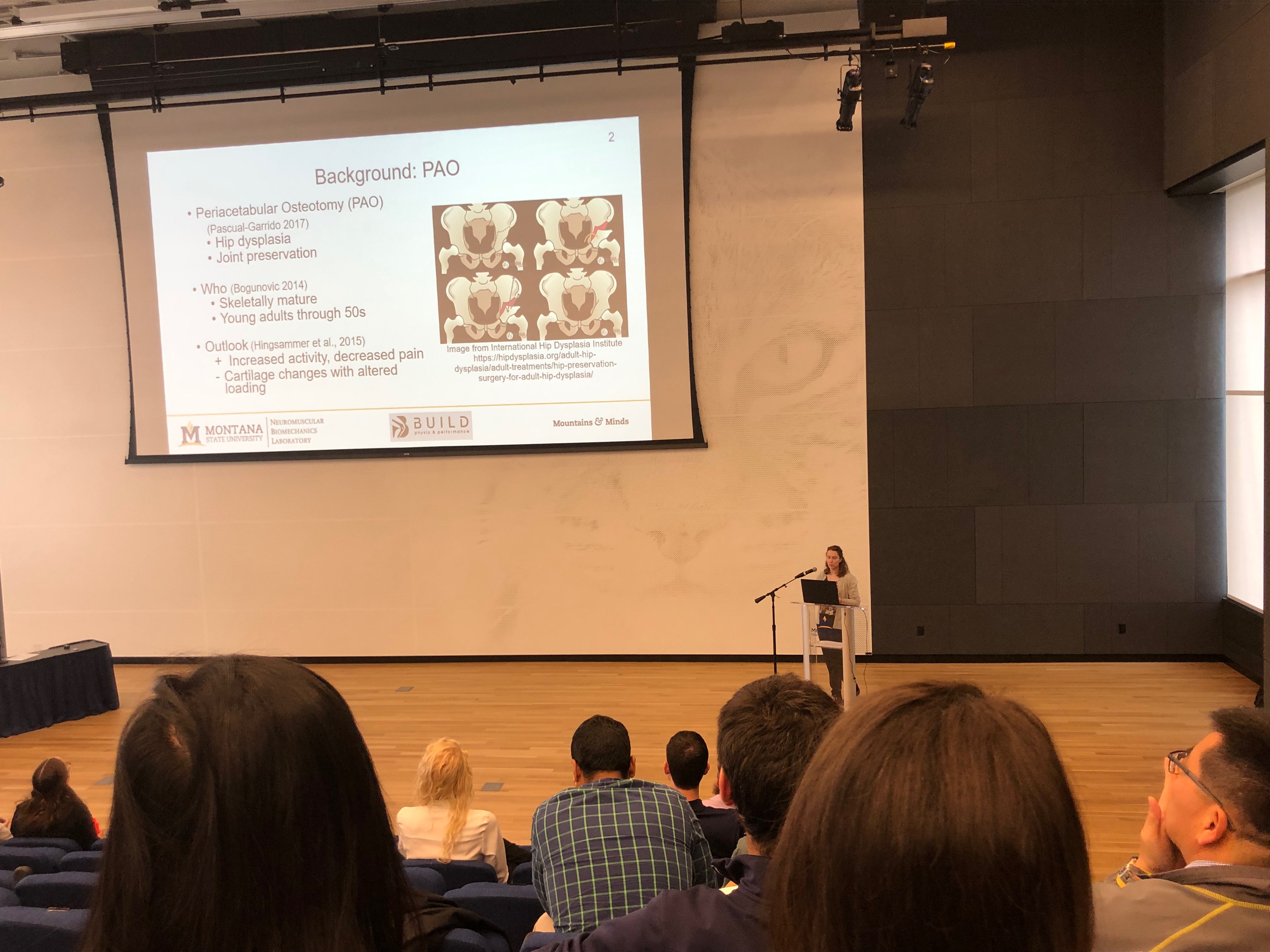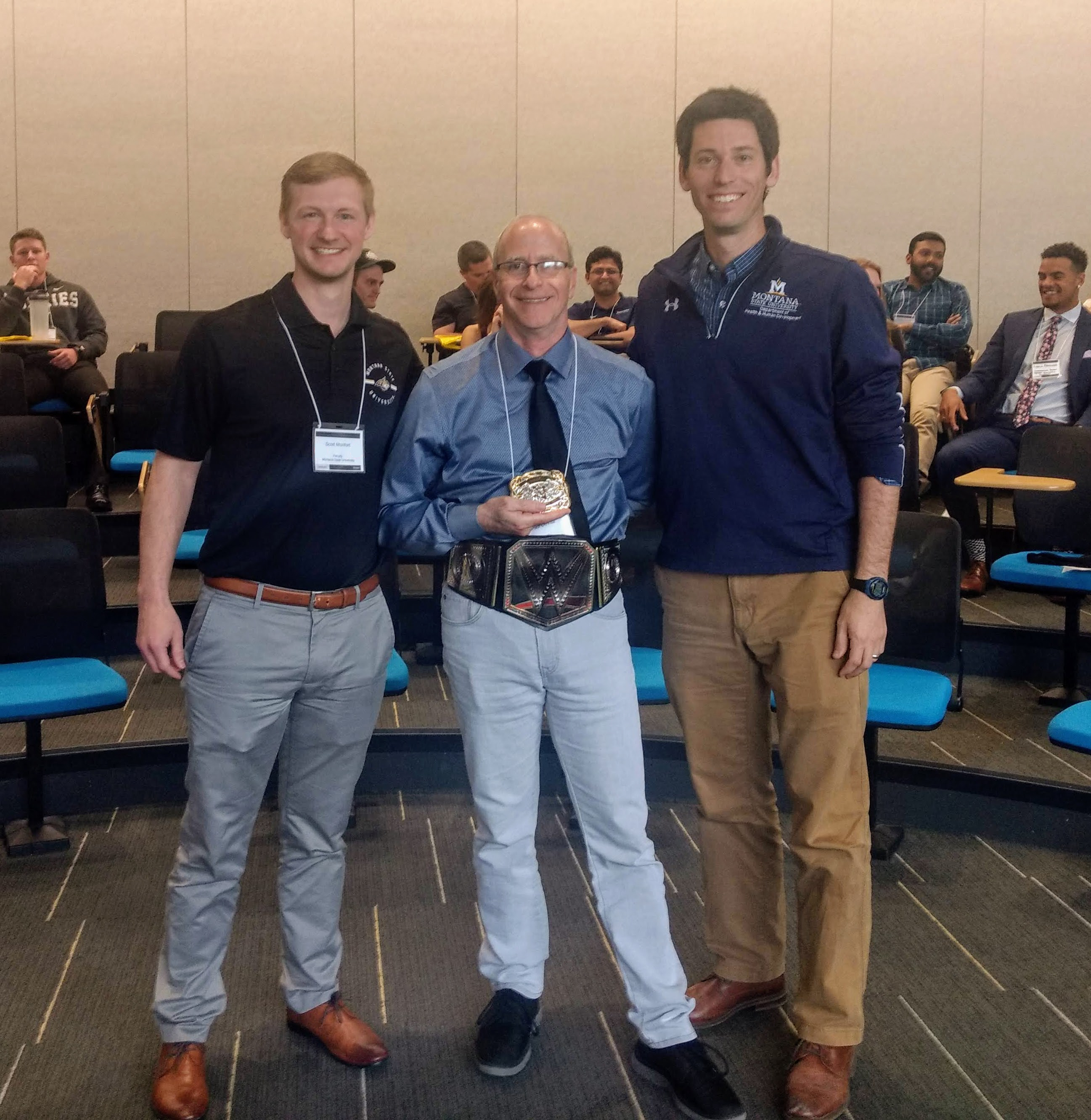 Patrick Fischer Earns an NSF Graduate Research Fellowship!
Patrick Fischer (second-year PhD student in Mechanical and Industrial Engineering) joined an elite group by receiving a prestigious National Science Foundation (NSF) GRFP. This competitive award is given to a select group every year and provides three years of funding for graduate school as well as other resources to support the development of graduate students and contribute to the broader mission of the NSF. Read more about the award and Patrick at the MSU News story at this link. Congrats Patrick!
Jaclyn Wing Earns the Exclusive MSE Gold Medal Award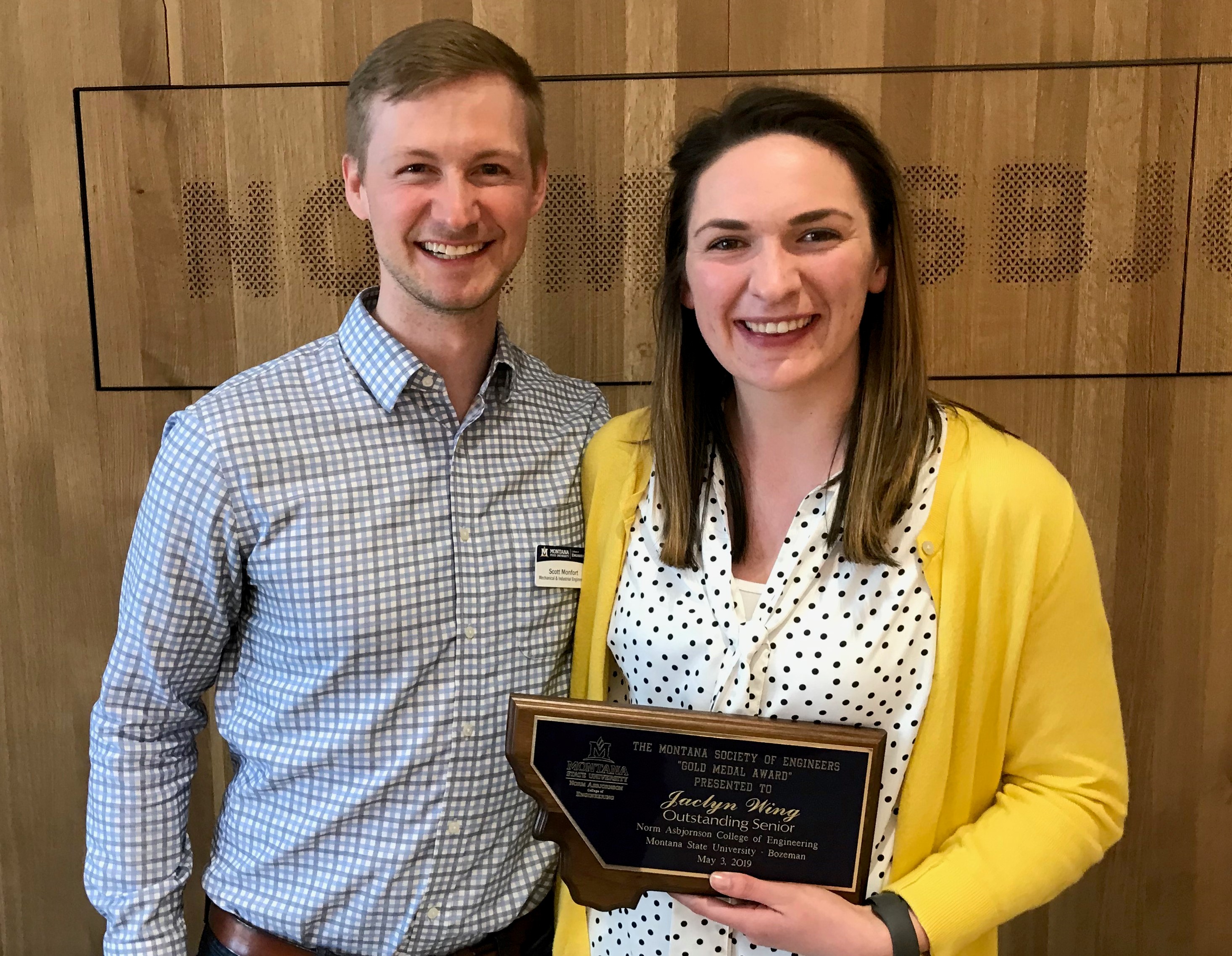 Jaclyn Wing was the Norm Asbjornson College of Engineering's (NACOE) recipient of the exclusive Montana Society of Engineers (MSE) Gold Medal Award. Every year, one student in the NACOE and is selected based on a multi-step process that includes support from MSU faculty and an in-person interview with the applicants. Congrats Jaclyn on being selected as the 2019 MSE Gold Medal Award winner and exemplifying the exceptional qualities of NACOE students!
MSU NMBL Welcomes 80 High School Students to Celebrate National Biomechanics Day
On April 11, 2019, the faculty, graduate students, and undergraduate students of the MSU Neuromuscular Biomechanics Lab welcomed 80 high school students from Joliet and Belgrade to celebrate National Biomechanics Day. The event was hosted by 20 MSU volunteers from the Department of Mechanical & Industrial Engineering and the Department of Health and Human Development. Volunteers shared their passion for biomechanics with students through 8 interactive activities to help promote science, technology, engineering, and math (STEM). Read more about this event on the MSU News story at this link.
Jaclyn Wing Earns Prestigious MSU Award for Excellence
Jaclyn Wing was honored at an MSU event as a recipient of an MSU Award for Excellence. The prestigious award is given to the top 40 seniors at Montana State University. Congrats, Jaclyn!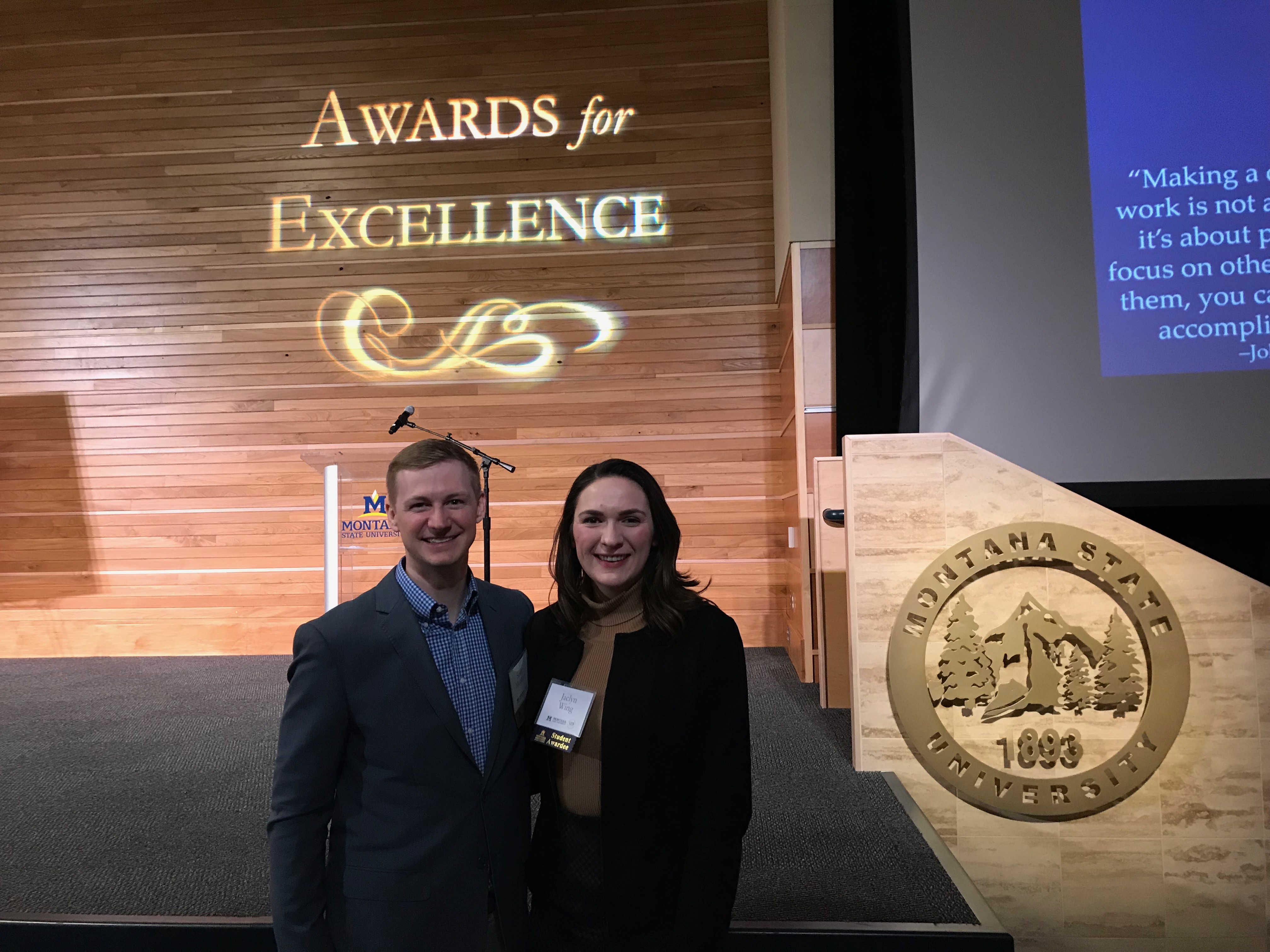 Northwest Biomechanics Symposium Comes to Bozeman
Biomechanists from the NW United States and Canada will head to Bozeman for the 15th Northwest Biomechanics Symposium on May 17-18, 2019. This student-centered event will be hosted in the newly opened Norm Asbjornson Hall and be highlighted by a keynote talk from Dr. Paul DeVita from East Carolina University. Learn more about this exciting event at MSU on the official NWBS 2019 website.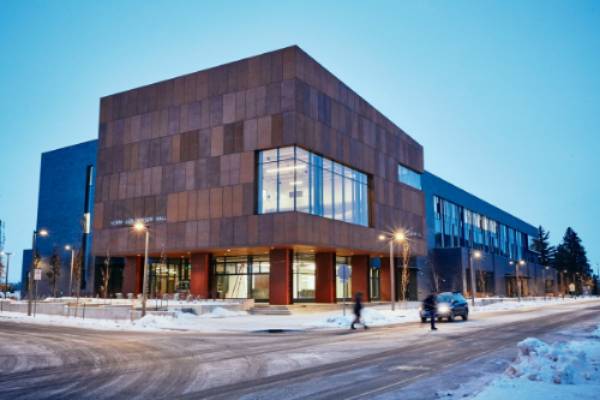 Bobcat Biomechanists Head to Ireland!
Dr. Monfort and Linnea Zavala present their research at the 8th World Congress of Biomechanics in Dublin Ireland July 8-12, 2018.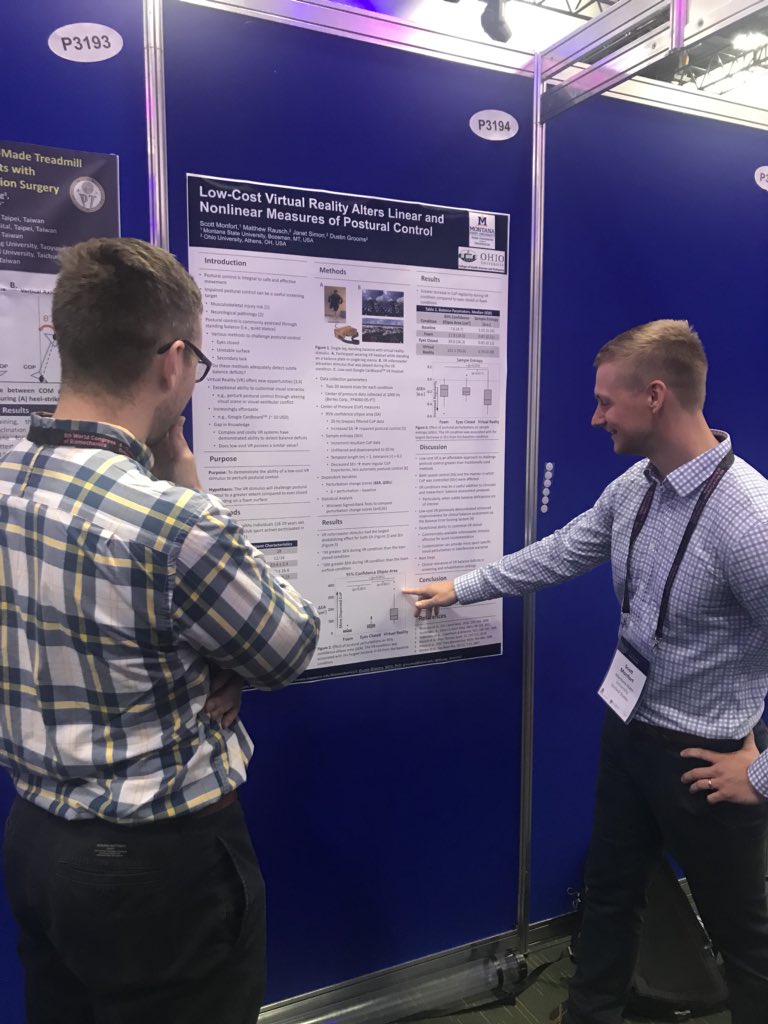 MSU Neuromuscular Lab Featured in MSU News