Research
Areas
Cellulosic nanomaterials – synthesis, functionalization and novel applications
Utilization of cellulosic materials in bio-composites
Biopolymer composites processing and characterization
Value addition of agricultural by-products for commercial application
Distillers dry grain with solubles (DDGS) and soybean oil derivatives
Understanding durability engineering of composite materials
Improving the Dispersion of Cellulose Nanocrystals in Polymer Matrices
Cellulose nanocrystals (CNCs) have attracted great interest due to their biocompatibility, low density, abundance, large surface area, and high Young's modulus (150 GPa) strength (10 GPa) in the composites. One of the main problems related to the use of CNCs as reinforcing agents is their high hydrophilicity and strong tendency to form aggregates in hydrophobic media.
My research focus is to identify chemical, physical and mechanical methods to disperse CNCs in the polymer matrices. My research group found a versatile spin-coating technology for masterbatch preparation. Addition of modified cellulose nanocrystals masterbatch prepared by spin-coating resulted in more homogenous and uniform dispersion in PLA matrix. The composites also exhibited higher crystallinity, improved mechanical properties and storage modulus.
Dispersion Techniques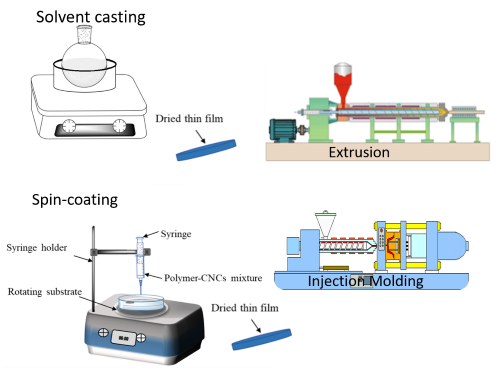 Schematic for solvent casting and spin-coating into a dried thin film to be used in extrusion or injection molding.
Findings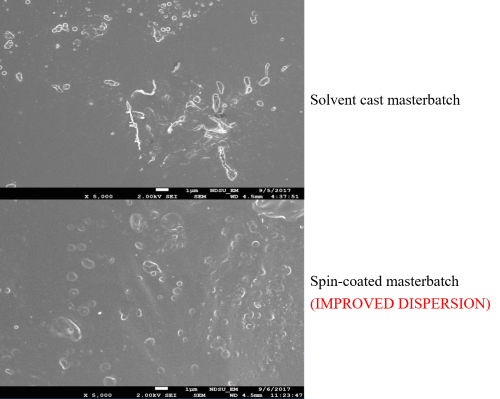 Solvent cast masterbatch and spin-coated masterbatch with improved dispersion of CNC.
Cellulose Nanocrystals for Improving Mechanical and Thermal Properties of Polymers
Polymeric nanocomposites have attracted a lot of attention due to their outstanding potential to improve physical and mechanical properties of polymers. However, a major concern with synthetic thermoplastic polymers is that under high temperatures, they can decompose, catch fire and yield toxic gases. Flammability of polymers has been recognized as an increasingly important safety problem. There are 2.4 million reported fires, resulting in 7.8 billion dollars of direct property loss, ~30 billion dollars of indirect loss, 29,000 civilian injuries, 101,000 firefighter injuries and 6000 civilian fatalities annually in the U.S.
My research focuses on development of multifunctional cellulose nanocrystal (CNC) based fire retardant system (FR) for use in polymers. The CNCs are functionalized and impregnated with metal oxides and the resultant complex is incorporated into the petroleum based polymer. The preliminary results show improved fire resistance and mechanical properties due to charring and shielding or insulating of surface due to condensed and gaseous phase reactions initiated by CNC-metal oxide complex and reinforcement by CNC respectively. CNC-metal oxide complex is also expected to improve UV resistance and impart antibacterial properties in composites.
Process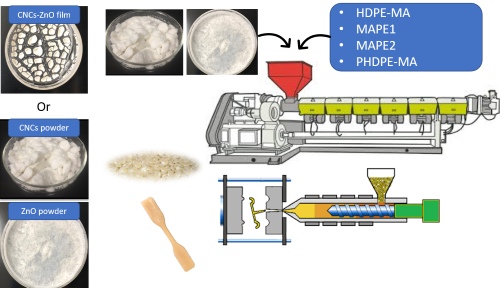 ZnO coated CNCs or separate ZnO and CNC powders are combined with a pelletized polymer for extrusion or injection molding.
Preliminary results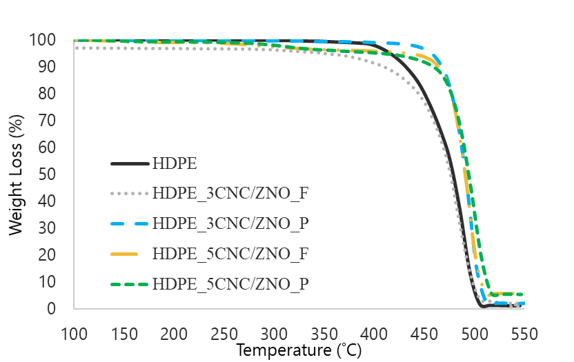 % weight loss with increasing temperature for HDPE using different concentrations of CNC/ZnO (3 or 5 wt%) shows charring (~500C) improves mechanical resistance.