Hierarchical Quality Assurance
Sponsored by Construction Engineer Research Lab (CERL) and Techlink
Montana State University works with the TSEAL team at TechLink to test software components as well as provide support for measuring the quality assurance of these software components.
MSU and TSEAL support the United States Air Force by evaluating the structures, models, analysis methods, quality and capabilities of the legacy BUILDER and Enterprise Sustainment Management System (ESMS) software applications in development by the Army Corp of Engineers' Engineer Research and Development Center, Construction Engineering Research Laboratory (CERL).
The Montana State University Software Engineering Lab (MSUSEL) helps the TSEAL team test and evaluate Sustainability Management Systems by designing and developing hierarchical models that support software quality analysis using their PIQUE software (https://github.com/MSUSEL/msusel-pique). An example of a quality model built using PIQUE Is shown here.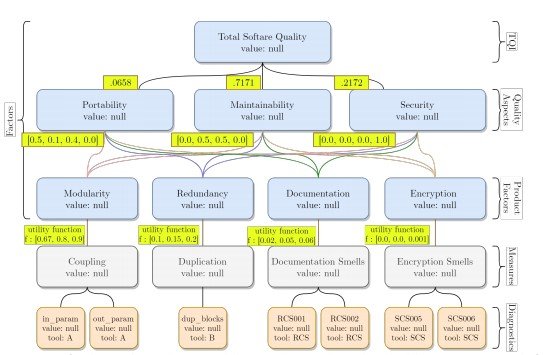 D. Rice, "An extensible, hierarchical architecture for analysis of software quality assurance," M.S. thesis, Montana State University, Dec. 2020