Montana 4-H Alumni & Friends Community
What is the Montana 4-H Alumni & Friends Community?
As an alum or friend of Montana 4-H, you share a unique connection with people from across the state and across generations. We're still the same 4-H that taught you responsibility, compassion and the value of hard work, but just like you, we've grown a lot over the years.
The purpose of the Montana 4-H Alumni and Friends Community is to provide a means of connecting you to others who value the skills learned through 4-H. By joining the community, you will:
Receive a biannual newsletter highlighting Montana 4-H programming and members
Stay up-to-date on Montana 4-H events and volunteer opportunities
Have a chance to connect and re-connect with past Montana 4-H'ers and supporters
Join the Community!
We'd love to catch you up on what's new and share program updates, event information, news and stories. And don't worry, we won't overload your inbox!
denotes required fields.
Featured Alumni: Jovanka Voyich
Dr. Jovanka Voyich is a product of Montana 4-H. She grew up on a cattle ranch in Livingston and received her bachelors and PhD from Montana State University and joined the staff at MSU in 2006 as professor of microbiology and immunology teaching infectious disease courses to WWAMI medical students and undergraduates. She is the Montana Director of the American Indian/Alaska Native Clinical Translational Research Program. And, in 2018, Jovanka was recognized as a member of an elite group - 125 Extraordinary Ordinary Women of Montana State University.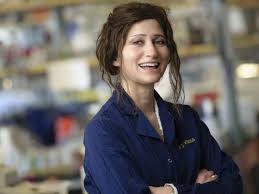 We want to hear from you!
Do you have a great story from your time as a 4-H'er? Or perhaps you know a current or past member that has had a big impact on their community. Please share your story and pictures with us! Contact Christine at [email protected] or +1(406)994-6241.