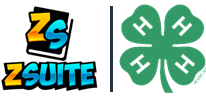 ONLINE RECORD BOOKS WITH ZSUITE
ZSuite is a mobile-friendly website that mirrors the Montana 4-H record sheets. Note that it is not an App.
After entering all of your record keeping for My 4-H Year, Non-Animal Projects or Animal (Market or Non-market) Projects you can download a printed version that looks nearly identical to the Montana 4-H Record Sheets found here.
This site is in no way tied to 4honline and enrollment. It is only being used for record keeping/record book purposes.
Where to Start
Learn how to create a family ZSuite account and get starting completing your record book sheets online by watching this video tutorial.
You can also use the family account help sheet.
Set up a member profile within that family with this member profile help sheet.
For further assistance,contact Zsuite using the live chat or email. https://4h.zsuite.org/
What will the printed record sheets look like?
The Zsuite records are designed to mirror the adobe PDF record sheets as closely as possible. The information entered is exactly what a member would write or type on their sheet.
Here is a sample of a completed Zsuite record book: