Upcoming Dates
May 4: GPS & Drone Aerial Mapping Live Webinars
May 14: Shooting Sports Volunteer Training- Three Forks
June 1: Outstanding Award Nominations Due
June 15: Ambassador Officer Team Application Deadline
July 1: 4-H State Horse Show T-Shirt Design Deadline
July 11-13: Ambassador Selection
July 13: 4-H Camp Congress
2020-2021 Shooting Sports Volunteer Training Dates & Registration
Registration Due May 5th
Manhattan Wildlife Association: May 14 & 15, 2021 at 337 Logan Trident Road, Three Forks, Mt. For more information and registration please visit Montana 4-H Shooting Sports Page.


Outstanding Lifetime Volunteer Award and the Volunteer of the Year Nomination
Application Due June 1st
4-H is made possible through the outstanding support of adults who provide their time, resources, and support to improve the lives of Montana 4-H youth and strive to constantly make the best better. Each county may nominate one individual of each category to be considered for awards. Applications are due June 1, 2021. Please visit the Montana 4-H Page for more information and application to nominate.

Montana State 4-H Horse Event
Mark your calendars and plan to attend the Montana State 4-H Horse Events this year. Don't' forget to check your County Extension Office for the registration packet on June 1, 2021 and don't delay getting registered. They will also be posted and available to print on our Facebook Page "Montana 4-H State Horse Events". The 4-H Center will also provide monthly updates.
Meet the 2021 State Horse Show Judges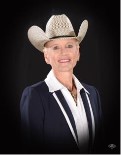 Ms. Gloude is from Denver, Colorado. She started her horse career in 4-H with a hand me down horse from her brother and competed in barrels. She has been training and showing quarter horses for over 40 years. She spends a lot of her time teaching youth who either want a show career or just learn and enjoy their horse outside of showing. She has a successful career mentoring youth and amateurs at many world championships. She looks forward to judging the State 4-H Horse Show and meeting the 4-H youth that represent Montana.
"I enjoy watching youth show at all levels and seeing the love they have for their horse. I strongly believe you have to be the advocate for your horse".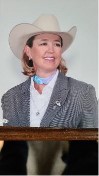 Ms. Williams is from Erie, Colorado. She is married with two grown children. She started her horse career with 8 years of 4-H and learning a lot about sportsmanship and horse care. This was the beginning of her carrier of 25 years training and showing horses. She has been blessed with much success and many world championships. She is a huge fan of 4-H and loves to see how youth work with their horses. She is looking forward to sharing her knowledge with the 4-H youth in Montana.
"Always take pride in the horse you have, win or lose participating always means you're a winner. I believe in two levels of riders, those that compete and want to learn and excel with their horse and those that compete just because".
If you aren't excited yet, you should be now. The judges selected are professionals with a solid understanding of what showing your horse in 4-H is all about.
Come experience what 4-H has to offer at the State level!
Dates to remember:
Working Ranch Horse Finals- August 28-29: 406 Arena in Vaughn, MT
Montana State 4-H Horse Show- September 24-26: Cottonwood Event Center in Joliet, Mt
Registration for Events Opens June 1st
Keep a watch out for:
Information on a Photo Contest (of your 4-H Project Horse) to be exhibited at September Horse Show.
Information about contributions of Silent Auction items/gift baskets for events from Counties and/or Clubs.
Come experience what 4-H has to offer at the State level
"Champions do not become champions when they win the event, but in the hours, weeks, months and years they spend preparing for it. The victorious performance itself is merely the demonstration of their Champion Character". -Unknown
4-H State Horse Show T-Shirt Design Contest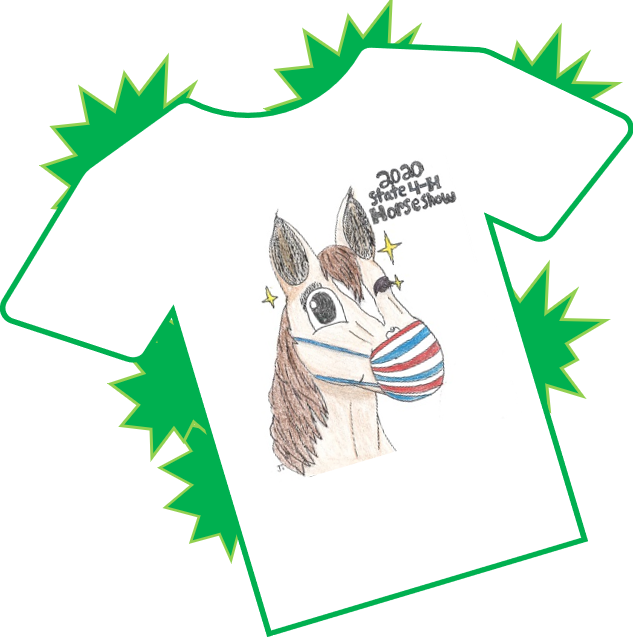 Help us design the T-Shirt for the 2021 State 4-H Horse Show. Send your design or photo by July 1st to Ben Hauptman: [email protected] and Karen Palmer: [email protected] Resolution preferred is 300 PPI in a JPEG format. Winning design may be altered to fit T-shirt.
Shirt seen here is the 2020 winning design by Jasmin Teter of the Project Rockin Wranglers Club in Yellowstone County.
July 13-16, 2021 on MSU Campus-Bozeman
Join us for Camp Congress! We won't be sleeping in tents or cabins, but we will be focusing on all the things that make 4-H Camp great, like being outdoors, friendship and getting to know people, fun food and just spending time being together with your 4-H peers. 4-H Congress will not look too different this year, but we are making some adjustments just to make sure everyone stays safe. You can expect sleeping in your own room in the Yellowstone dorm, spending a little more time outside than we have in the past, a more casual environment with less sitting at tables and in chairs in a ballroom, working together in small groups and wearing a mask and social distancing. What is important is we will be together and be able to learn, compete and build lasting relationships.
Registration for 4-H Congress will be done through ZSuite this year. To participate in this event, please contact your MSU Extension county office as soon as possible for county specific dates, deadlines, and participation requirements. Look for registration to open on your ZSuite dashboard in May, 2021.
GPS & Drone Aerial Mapping
May 4th at 6:30 PM Mountain Time via Zoom
An Introduction to the Global Positioning System (GPS) and Drone Aerial Mapping Technologies and how they are used in agriculture and natural resource applications. The wide range of practical applications provide 4-H youth and clubs with many options from which to pursue their interest and projects - from military, farming/ranching, natural resources, history, geo-spatial, story-telling, outdoor activities, and so much more. Next meeting will be May 4, 2021 at 6:30 MT. For more information ask your local county Extension Office.