IN THIS ISSUE
New Enrollment Year on the Horizon
We Want YOUth! Montana 4-H Foundation Board Youth Representative
22-23 Ambassador Officer Team
Montana 4-H Working Ranch Horse Show
Montana 4-H State Horse Show
State Horse Show Photography Contest
Montana 4-H Congress
2022 National 4-H Western Heritage Conference
2022 4-H Shooting Sports Hall of Fame Award
Montana 4-H Foundation Scholarships
New Agents
Volunteer Spotlight
Special Thanks
Montana Harvest of the Month
UPCOMING DATES
August 15, 2022: Last day to enter into the State Horse Show Photo Contest
August 18, 2022: Registration Deadline for Working Ranch Horse Finals
September 1, 2022: Montana 4-H Youth Leadership Application Due
September 3-4, 2022: Working Ranch Horse Show
September 6, 2022: Registration Deadline for State Horse Show
September 9-11, 2022: Montana 4-H State Horse Show
October 1, 2022: New 4-H Enrollment Year: October 1, 2022
October 2-8, 2022: National 4-H Week
October 20-21, 2022: 4-H Fall Leadership Training for Teen Leaders & Ambassadors
February 17-19, 2023: Volunteer Institute, Billings, MT
News
New Enrollment Year Begins October 1
st
.
Every 4-H member must re-enroll in Z-Suites for the new year, starting October 1. Please ensure all club members and families are informed.
We Want YOUth! Montana 4-H Foundation Board Youth Representative
The Montana 4-H Foundation, which raises and manages funds for the 4-H program, is seeking 4-H youth members 15 years of age or older to apply for the youth representative position on the Montana 4-H Foundation Board. The youth representative has a role in providing insights and perspectives. The Board typically meets four times per year and has funds to assist with travel so that there is not a financial burden to the youth delegate for their service. Meetings are held in various locations in Montana and will be accessible through video conference formats. There may be additional meetings if the youth representative serves on committees.
The application and requirements can be found at mt4hfoundation.org under the resources tab. For more information, please contact Jane Wolery at 406-590-2492.
2022-2023 Ambassador Officer Team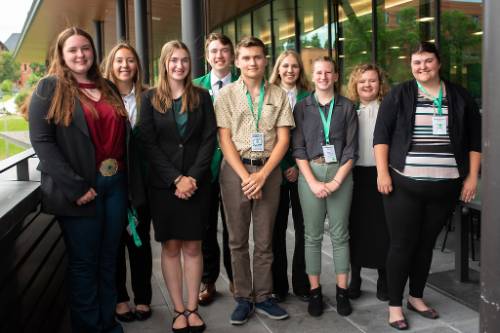 2022-20223 Montana 4-H Ambassador Officer Team (left to right): Layne Meek, Council Representative from Dawson County; Abigail Curtis, Publicity Chair from Madison/Jefferson Counties; Gus Turner, Foundation Trustee from Missoula County; Mikiah Cook, Team President from Sanders County; Ammarie Sowers, MEAC Representative from Missoula County. Previous year team pictured in the back row.

Contact information for the new Montana 4-H Ambassador officer Team can be found on the Team Webpage.
Team members are doing their best to visit county fairs around the state. If you would like a member or members of the team to attend your fair, please reach out to them by email or contact me for their direct numbers. When you email them, please copy [email protected] and [email protected] so we can follow-up with them and make sure they are working with you in a timely manner.
Photo Credit: Tom Aldrich
The 4-H Ranch Horse Competition will be Saturday, September 3rd starting at 9:00AM and the Versatility Ranch Horse Show will be on Sunday, September 4th starting at 8:30AM.
Learn more about the event and obtain the registration form here.
Montana 4-H State Horse Show: September 9-11 in Joliet, MT at the Cottonwood Arena.

The State 4-H Horse Show page will also be updated this week, so look out for the new rules and patterns.
Registration Deadline: September 6, 2022
Location: Cottonwood Equine Center, 11CC Lane, Joliet, MT - https://cottonwoodequinecenter.com/
Questions about the event details, registration, or issues with Fair Entry? Contact Montana 4-H staff: 406.994.3501 or email Emma Tracy at [email protected].
Entry Cost: $75 per contestant (15% discount for 4-H'ers who participated in Horse Judging or Hippology Contests at Congress)
Required Forms: There are 3 required forms for exhibitors and horses.
Media Release Form (for each exhibitor)
Medical Form (for each exhibitor)
Certificate of Veterinary Inspection (for each horse)
***You must bring these completed forms to Check-In or email in advance to [email protected] in order to compete. Horses without a valid CVI will not be allowed on the premises***
Important Rule Changes and Announcements for 2022 Montana 4-H State Horse Show
All Level 1 riders will be allowed to use two hands All Level 1 is Walk/Trot
All Level 1 riders will be allowed to use approved snaffle bits regardless of the age of the horse. Please refer to the Montana 4-H Horse Program : Bit Rules and Equipment Guide for approved tack

http://montana4h.org/projects/animal_science/horse_docs/Updated%20Bit%20Guide%206_4_2019.pdf
**New Classes for 2022** we will be offering Mini horse classes for Trail and Jumper in Hand as well as Level 1 Driving in hand. In order to enter either of these classes you need to be currently enrolled in the Mini Horse or Driving Self Determined Project
This year we will be dividing all Rail and Trail classes by Level rather than age. If a certain Level has a wide range of ages, it will be at the discretion of the State Horse Show committee to split a class into further divisions
Showmanship classes will still be divided by 4-H age, participants who wish to compete in Showmanship with a Mini Horse will be included with all other contestants
We will be hosting a costume contest for all participants this year. Please consider registering for this fun event.
Special Announcements for Level 7 Horsemanship classes

We will not

be allowing costumes this year for the Horsemanship classes, please consider entering the separate costume contest to show off your creative ability
Please submit your written pattern and music when you check in

Freestyle Reining contestants do not need to submit their patterns, but they do need to submit music upon check in
We will be verifying all registrations with county agents to confirm participants have registered for the correct classes
Saturday Night BBQ:One BBQ ticket will be included with each exhibitor entry, additional BBQ tickets can be purchased when registration or by emailing Elisa Henry Elisa.Henry
More information can be found on the Fair Entry Landing Page for the State Horse Show
State Horse Show Photography Contest
Registration is on Zsuites and youth can upload their photos in registration. There are categories and more information on Zsuites. Please contact Elisa Henry if help is needed.
On the horizon....
October 1: Start of the new Montana 4-H year
October 2-8: National 4-H Week

October 20-21: 4-H Fall Leadership Training for Teen Leaders & Ambassadors

Dates determined by County: Countywide New Family Orientations
Celebrations
Montana 4-H Congress Continues to Bring 4-Hers Together
By far the greatest impact 4-H Congress makes is giving youth the opportunity to form relationships: Relationships with peers from around Montana, relationships with new ideas and faculty that present those ideas, and a relationship with higher education and college life.
Many aspects of the Montana 4-H Congress experience impact our youth. Pre-Congress activities allow youth to learn by doing, build confidence, and work together as a team in real time to see their work come together on stage. State competitive events allow for youth to work towards their goals and grow from the results. Educational opportunities and national speakers help youth to see and experience ideas they may have never encountered before or even know existed.
But above all else, the youth overwhelmingly tell us that the number one impact this event has on their lives is the widening of their network and the opportunity to meet people. The event at its core is designed to bring people together. From the welcome activities to the meals and workshop attendance, youth are not often with the people they arrived with. Instead they are surrounded by new people.
Why is this important? In a world of virtual meetings and social media, the forming of relationships has changed. While these are amazing tools to help us stay connected once we have made friends, Montana 4-H Congress and other statewide activities like it give our often-vulnerable teens an opportunity to form healthy and safe relationships with their 4-H peers. These relationships have the ability to last a lifetime.
Without a doubt the 2022 Montana 4-H Congress event was a great success. The Montana 4-H Center for youth development thanks all of the MSU Extension staff, 4-H volunteers, parents and youth that helped with countless aspects of the event, from chaperoning to contest chairs and judges, workshop presenters, and much more.
We look forward to the Event in 2023, July 11-14. Pre-Congress will be July 9-11. Please mark your calendars!
Learn more about Montana 4-H Congress
See great photos from this year's event
Read about our Contest Winners.
Celebrating 2022's National 4-H Western Heritage Conference

The 2022 National 4-H Western Heritage Conference was held in Great Falls, Montana, August 26-28, 2022, at the Heritage Inn. The accommodations and the shooting facility were superb. The conference was a great success with five states represented. The States participating were Colorado, Oklahoma, Missouri, Utah, and Montana. There were 47 competitors in the three divisions, (junior, intermediate, and senior).
This conference would not have been so successful without the assistance of many people:
A special thank you goes out to Elisa Henry, Andee Baker, and Christine Hodges from the Montana 4-H Center.

Thank you to Ginny Francis for supervising the t-shirt sales and clothing swap.

Jeff and Tammy Lindley from Cascade County secured dinner locations to the various eateries in Great Falls.

The Black Horse Shooting Range in Great Falls was a fantastic host for the shooting competition.

Chandee Bomgardner served lunch on Wednesday and Thursday and the meals were excellent.

The Education Tours at the Lewis and Clark Interpretive Center and the CM Russell Museum were enjoyed by all.
A sincere thank you goes out to the range officers that ran the various stages:
Jeff Lindley – Montana

Dr. Wagner – Missouri

Josh Mann – Utah

Laurie Prati – Montana

Jim Easthouse – Colorado

John Farnham – Colorado
Thank you to the other adults that scored, ran the unloading and loading tables, and provided great assistance for the fantastic event.
Results will be posted on the Western Heritage Website.
Thank you to all that attended.
– Todd Kesner and Scott Francis, Montana 4-H Western Heritage.
2022 4-H Shooting Sports Hall of Fame Award:
The 2022 Montana 4-H Shooting Sports Hall of Fame Award winners are Les Muchler from Lake County and Todd Kesner from Gallatin County. Les is a longtime shooting sports leader in Lake County, and is a Shotgun and Archery Leader. He helps to run the Shotgun and Archery Programs for Lake County. Les is also a member of the State Shooting Sports Committee. He is a Nationally certified archery instructor for the State of Montana. Through his expertise, guidance, and passion for youth, he helps to maintain the highest standards of our State Shooting Sports Program. Congratulations Les.
Todd Kesner is Director of the Montana 4-H Center for Youth Development. He is a veteran leader for Gallatin County. Through his vision and guidance, the 4-H Western Heritage Program has grown from a county project with the 10 original members to a national project involving ten states and over 1000 members. Todd is currently one of the Co-Chairs of the National 4-H Shooting Sports Committee. Under Todd's leadership, the 4-H Shooting Sports Program enrolls nearly 500,000 youth yearly in most of the states in our country. We are fortunate to have people like Todd in leadership of our program. Congratulations, Todd.
The Montana 4-H Shooting Sports Hollister P. "Pat" McVay Hall of Fame Award was started in 2017. This award is in recognition of the dedication and contributions of a person to youth development through 4-H Shooting Sports. It is named for its inaugural member, Hollister P. "Pat" McVay. Since receiving his first .22 rifle at age six in 1926, Pat has had a continuing interest and involvement in the shooting sports. In the early 1980's, Pat was one of the several individuals who traveled to Douglas, Wyoming for leadership training in what would become the Montana 4-H Shooting Sports Project. He was the only remaining "semi-active" member of that original cadre. From a handful of youth in Flathead County, and 40 – 50 statewide, the program currently has an enrollment of some 3300 youth and 450 certified leaders in the state. Pat's basic philosophy has always been, "Time spent with a kid is never wasted". April 2017
The Montana State 4-H Shooting Sports Committee recognizes and celebrates the outstanding individual (or couples) with this annual Montana 4-H Shooting Sports Hall of Fame award. These are the pioneers and dedicated individuals who have made a lasting and significant contribution to youth development through the Montana State 4-H Shooting Sports program.
Examples of qualified individuals:
A Montana 4-H Shooting Sports Pioneer.

A long time, dedicated Montana Shooting Sports volunteer who has made a positive impact on local or Montana State 4-H Shooting Sports programs.

A dedicated Montana State 4-H professional or support person who has furthered positive youth development for Montana State 4-H Shooting Sports.

A representative from business, industry, state, local, national government, or main street Montana who have aided the cause of youth development through Montana 4-H Shooting Sports.
Examples of criteria for selection include:
Character as exemplified by the positive influence of 4-H Shooting Sports training, safety, and the well-being of the youth in Montana State 4-H Shooting Sports.

Leadership by contributions to other civic, community service, professional or business-related activities that are beneficial to Montana State 4-H Shooting Sports.

Citizenship by positive participation in local, state, or national government to enhance Montana State 4-H Shooting Sports youth development.

Career accomplishments and successes in the individual's chosen career that add positive value as a mentor or role model for youth development.
The previous winners are:
2017 – H.P. "Pat" McVay
2018 – Bill Ott
2019 – Mike Cavey
2020 – Bill & Marsha Voermans, Don Anderson, and Dennis Urban
2021 – Ken Loucks
Back to School
The Montana 4-H Foundation has the privilege of managing almost $25,000 in scholarship donations that are given to approximately 30 4-H members and alum yearly. The 2022 donors and recipients are listed below.
AMTOPP Scholarship - Lillian Wages - Ravalli County

Anton and Helga Sundsted Pioneer Scholarship - Hayley Stahl - Fergus/Petroleum

Barbara Edens Memorial Scholarship - Grace Donnelly - Gallatin

Bob & Margaret King Memorial 4-H Scholarship - Lydia Vermulm - Pondera

Bud Dawson Livestock Scholarship - Brooke Binando - Carbon

Bud Dawson Livestock Scholarship - Brighton Lane - Yellowstone

Carson Christensen Memorial 4-H Scholarship - Rory Shay - Stillwater County

Cedric and Elfriede Maurer Memorial Scholarship - Victoria Kirby - Cascade

Co Bank Farm Credit 4-H Scholarship - Marie Stott - Yellowstone

Douglas A. & Nancy W. Dear Memorial Scholarship - Asa Jassen - Cascade

First Security Bank Foundation 4-H Scholarship - Raya Carlson - Fergus/Petroleum

Hubbard Feeds 4-H Scholarship - Mackenzie Serrano - Musselshell

MABA/MGEA Agri-Business 4-H Scholarship - Taylor Noyes - Broadwater County

Montana 4-H Council Scholarship - Sage Zook - Custer

Montana 4-H Shooting Sports Scholarship - Mariah McPhee - Gallatin

Montana Farm Bureau Foundation Scholarship - Nyssa Schairer - Ravalli County

Murdoch's Ranch & Home Supply Scholarship - Mariah McPhee - Gallatin

Murdoch's Ranch & Home Supply Scholarship - Wyatt Berkram - Glacier

Murdoch's Ranch & Home Supply Scholarship - Olivia Fletes - McCone

Murdoch's Ranch & Home Supply Scholarship - Molly Eaton - Prairie

Murdoch's Ranch & Home Supply Scholarship - Raegan Nansel - Yellowstone

N.A. Jacobsen Scholarship - Andee Baker - Yellowstone

Nutrien Ag Solutions 4-H Scholarship - Ryan Yeske - Lewis and Clark

Steer In Trailer Sales 4-H Scholarship - Bailey Binando - Carbon

Steer In Trailer Sales 4-H Scholarship - Maria Stringari - Carbon

Steer In Trailer Sales 4-H Scholarship - Maci Moore - Custer

Steer In Trailer Sales 4-H Scholarship - Elizabeth Hickey - Judith Basin County

Steer In Trailer Sales 4-H Scholarship - Logan Sites - Park County

Trailwest Leadership Scholarship - Katelyn Christensen - Sanders

W. Doyle Stocks Scholarship - Amara Bodkins - Teton

Wilcox Family Scholarship - Mackenzie Serrano - Musselshell
New Agents
A warm welcome to Jennifer Swanson, Lisa Terry, Tobias Wilson, Andrea Berry, and Teodora Falkner. Welcome to Montana 4-H!
Garfield County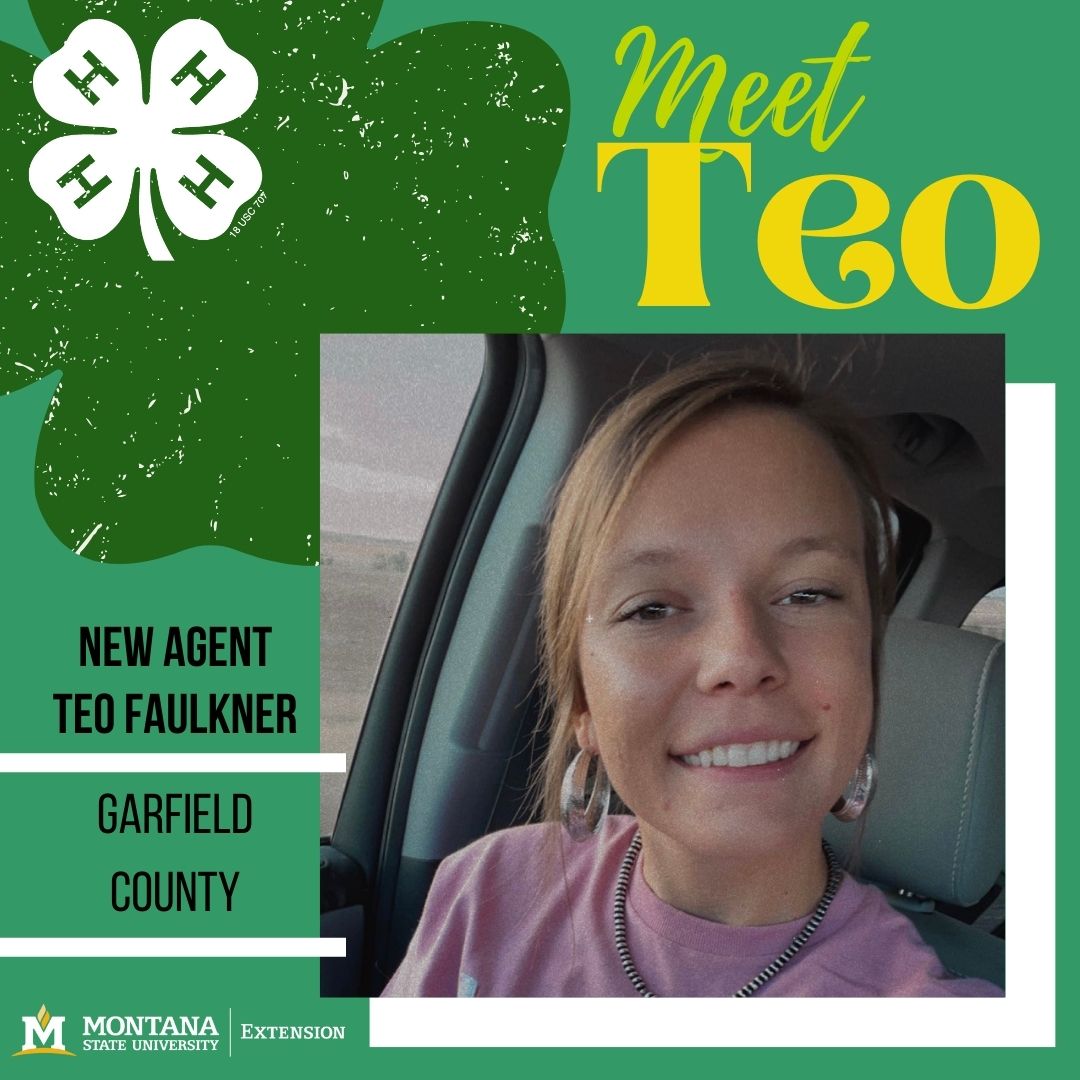 Big Horn County
Glacier County
To Larger Service
Volunteer Spotlight: Shout-out to Theresa Zook!
Theresa has served Custer County 4-H as a 4-H leader, on the 4-H Council, and on various committees. She currently is the county's main teen leader, always encouraging youth to strive to make the best better and to give back to the younger members and community! Theresa is one of the best!
Special thanks to our workshop presenters at Congress 2022. We appreciate you sharing your time and expertise! With gratitude to:
Alison Brennan and Staff – Health & Human Development, Extension Specialist

Allyssa Peak and Staff – Cascade County 4-H Agent

Dave Baumbauer – Plant Grow Center Manager

Emma Tracy – 4-H Center for Youth Development, Agriculture & Natural Resources Specialist

Hannah DelCurto-Wyffels and Staff – Animal & Range Sciences

Heather Rauser and Staff – Electrical & Computer Engineering

Jeanne Rankin – Ranch Veterinarian, Livestock Emergency Specialist

Paul Heitt-Rennie and Staff – Montana PBS

Suzi Taylor – Director, Science Math Resource Center

Tyler Noyes – Broadwater County Extension
To Better Living
From Montana Harvest of the Month
August's Montana Harvest of the Month is cherries! Did you know, Flathead Cherries are not a variety of cherry, but the name refers to all sweet cherries grown in that region of Montana? Check out this Yogurt Parfait recipe card and video, featuring cherries!
Link to recipe card: HOM22Cherries_RecipeCard.png
Link to recipe video: https://www.youtube.com/watch?v=xvpl3LY1CMY
For more information on healthy eating, Check out the Montana Local Food Guide. https://abundantmontana.com/localfoodguide/