Montana State University Extension Survey
Montana State University Extension is gathering feedback from community members to inform and improve programs for Montanans. Please take this survey and tell us what you think. At the end of the survey, enter for a chance to win a $50 Visa gift card. Thank you in advance for your time. We want to hear from everyone and encourage you to share this with your Montana communities. Click here to take the survey.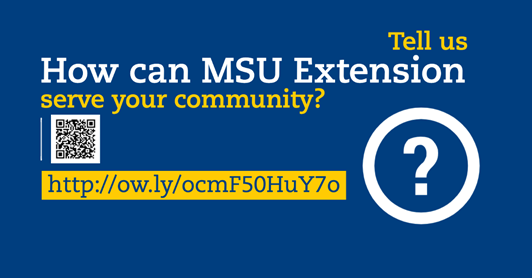 Deadline: April 1, 2022
Application for the Montana 4-H Scholarships are now open. The deadline for applications is April 1st. The Montana 4-H Foundation supports 4-H initiatives that focus on healthy living, citizenship, leadership, science, engineering, and technology, to name a few. The mission of the Montana 4-H Foundation is to "help 4-H youth by raising private funds, managing financial resources and partnering with the MSU Extension Service to fund educational opportunities for Montana 4-H youth, volunteer leaders and staff."

Scholarships and grants provide opportunities for youth and adults to strengthen their skills and maximize their positive impacts on the communities in which they live.

Applications for scholarships should be completed using the link below on or before April 1 (unless otherwise noted). Interested persons need only complete one Montana 4-H Scholarship application to apply for multiple scholarships. Awarding of Montana 4-H scholarships is based on the availability of funds. Application.
Montana 4-H State Shoot Results
Thank you for attending the State 4-H match in Bozeman Thank you to the State Shoot Committee for putting a fantastic event, as it was a huge success. Congratulation to all competitors and coaches. The results for the State Shoot are available on Orion & Bowscore. Airgun & Smallbore | Target Archery | 3D Archery |
4-H International Exchange Host Family
We are seeking host families for the AYP at this time. Host family recruitment for the summer, month-long inbound exchanges will be announced at a later date. Please contact Dave Brink for more information or visit the website for more information, and flyers.
Join the Montana 4-H Leadership Academy workshop on Sunday afternoons in 2022. The leadership academy is a network of Montana 4-H members interested in exploring and developing their own leadership skills while serving their county 4-H program in new ways.
Local county leadership groups will have an opportunity to join with groups from around the state as well as the Montana 4-H Ambassador Officer team, virtually and in person, when possible, to work on skill building, planning and mentorship.
Each month the officer team members will be presenting a different workshop topic that they have found to be important as they have grown their own leadership abilities. This workshop should be paired with a local county leadership meeting to work on county projects that serve the local 4-H program and community.
County Leadership groups should plan to meet face to face whenever possible and engage in the virtual statewide workshop together.
This time can be viewed as a leadership club meeting. County ambassadors can aid in planning and facilitating these local workshop meetings. All workshops are Sunday afternoons from 2:30 to 3:45.
April 10: Lead with a Purpose
To receive the zoom meeting link and info for this workshop series please complete the short registration by clicking the "Register Now" on this Montana 4-H Page This can be completed by one adult volunteer or MSU extension staff that is hosting an entire county group or by individuals participating on their own. Once the form is complete an email containing the zoom meeting link for all 4 workshops will be sent automatically.
State Awards
Youth State Award Applications due: May 1, 2022
Who should apply for a state award?
youth who have put a considerable amount of effort into any of their projects
youth who have demonstrated leadership in their project area
youth who have demonstrated leadership in their club and community
youth who want the chance to attend National 4-H Congress in Atlanta, GA this November!
Who should be nominated for an adult award?
volunteers who have made a positive impact on their community with their 4-H Volunteer efforts
volunteers who deserve to be recognized for their hard work and dedication on a state level
volunteers who inspire other youth and adults to become involved with 4-H
volunteers who go above and beyond the basic expectations to better the 4-H program
If you, or someone you know, fit the above criteria apply or nominate them today! Don't delay!
Click here for more information about state awards
The future decisions of how our natural resources will be managed will be made by the youth of today.
For 35 years, the Montana Natural Resources Youth Camp has provided youth an opportunity to study in an outdoor classroom the scientific principles, economic realities, historical heritage, and social perspectives of today, to help these future leaders in their quest to gain a natural resources perspective that is informed and progressive.
We invite youth ages 14-18 and 13 (if graduated from eight grade) to spend one week in the rustic setting of Lubrecht Experimental Forest east of Missoula and learn about Montana's natural resources. The accommodations are comfortable, the food is great, and the instruction and friendships are the best.
Campers learn about forests, streams, soils, geology, range land, wildlife, and recreation, and spend a half-day rafting the Alberton Gorge of the Clark Fork River. In between the field sessions, taught largely by professionals that volunteer from a variety of natural resources-based agencies and industries, specialty evening programs, guest speakers, hands-on learning-through-discovery, and campfires provide for a lasting summer camp experience.
Flyer. Questions? Please call (406) 243-2773
Gallatin Pollinator Initiative
It's April which means it's Earth Month and the Gallatin Conservation District (GCD) wants to celebrate by amping up the Gallatin Pollinator Initiative just in time for spring planting!!
The aim of the Gallatin Pollinator Initiative is to promote pollinator health by creating habitat with our FREE seed mixes available to landowners across Gallatin County. We also hope to educate the community on the importance of pollinators through workshops, tabling, and events!
Our first in person event of the year will be a Site Prep Workshop on April 28th from 6-7pm! We encourage all new and current participants to come and ask questions to gear up for spring planting and plot maintenance. This event can also serve as a way to meet people in your community who share your love for pollinators and pick up seeds from the GCD office!
Wewill host the workshopboth in person at the GCD office as well as over zoom. If you are unable to attend the event live we are planning to record the workshop and post it on our website. Scan the QR code below or visit our website at gallatincd.org to register for FREE!
Moving forward the GCD plans to offer Pollinator Jeopardy, social media giveaways, pollinator summer film fest, art in the garden, educational workshops and MORE to all our Gallatin County residents and pollinator initiative participants!
Feel free to reach out to Gillian Rowe ([email protected]) with questions on the Pollinator Initiative! You can also find the GCD on Instagram and Facebook (@gallatincd) to get the most up to date information on future programs and events!