4-H Shooting Sports in Ravalli County
To enroll in 4-H shooting sports, youth must be nine years old on Oct. 1 of the current 4-H year.
Shooting Sports is a safe, fun and challenging activity that can become a lifelong passion to be shared with the entire family. The safe and responsible use of firearms and archery equipment is the primary focus of the 4-H Shooting Sports program. Members will improve their marksmanship skills, have the opportunity to compete, and learn self-discipline and personal responsibility. All 4-H shooting sports leaders must attend a state training workshop and become certified in their shooting discipline before serving as project leaders.
All 4-H Shooting Sports curriculum is only to be used by a 4-H member enrolled in County Shooting Sports programs led by a 4-H certified Shooting Sports leader. No Shooting Sports projects that involve firearms, airguns or archery equipment may be taken independently without a certified leader.
4-H ARCHERY
Season: 2021-2022
Archery sign-ups will

ONLY

be on November 15 from 6-8 pm at the Cooper Firearms Quonset. 3662 Hwy 93 North, 1 mile south of traffic light in Stevensville.

No registrations will be accepted outside of this time, including at the Extension office. Space is limited to 40 total Archers. Registration is required to participate and members must be a part of a 4-H club. Please watch your e-mails for additional information.

Mandatory safety class:

November 29

Sign up date:

November 15

Time:

6-8 PM Cooper Firearms Quonset.

Start shooting date:

Dec 6

Times:

Every Monday (except Dec. 27)

Class 1: 5:00-6:30 PM;

Class 2: 7:00-8:30 PM.

Project Fee:

$45 (includes bow, arrows, and other equipment to participate in the project).


Contact: Hope Earp, 961-4615
4-H AIR RIFLE & PISTOL
Season: 2021-2022 season pending due to vacancy of Certified Shooting Sports Leaders.
Are you interested in helping as a Certified Leader with Air Gun? Please contact Annie for more informaiton and training dates.

Contact: Annie Bauer, 406-375-6611
4-H SMALL BORE RIFLE & PISTOL
Season: June - August
check back later for the 2021-2022 season

Registration dues include equipment, supplies, 4-H manual and record books
Are you interested in: 4-H BB Gun Safety, Muzzleloading and Hunting/Wildlife?
We need adults to become certified at a 4-H Shooting Sports training and become a 4-H Leader to offer these additional opportunities in 4-H. Contact your MSU Extension Office for details!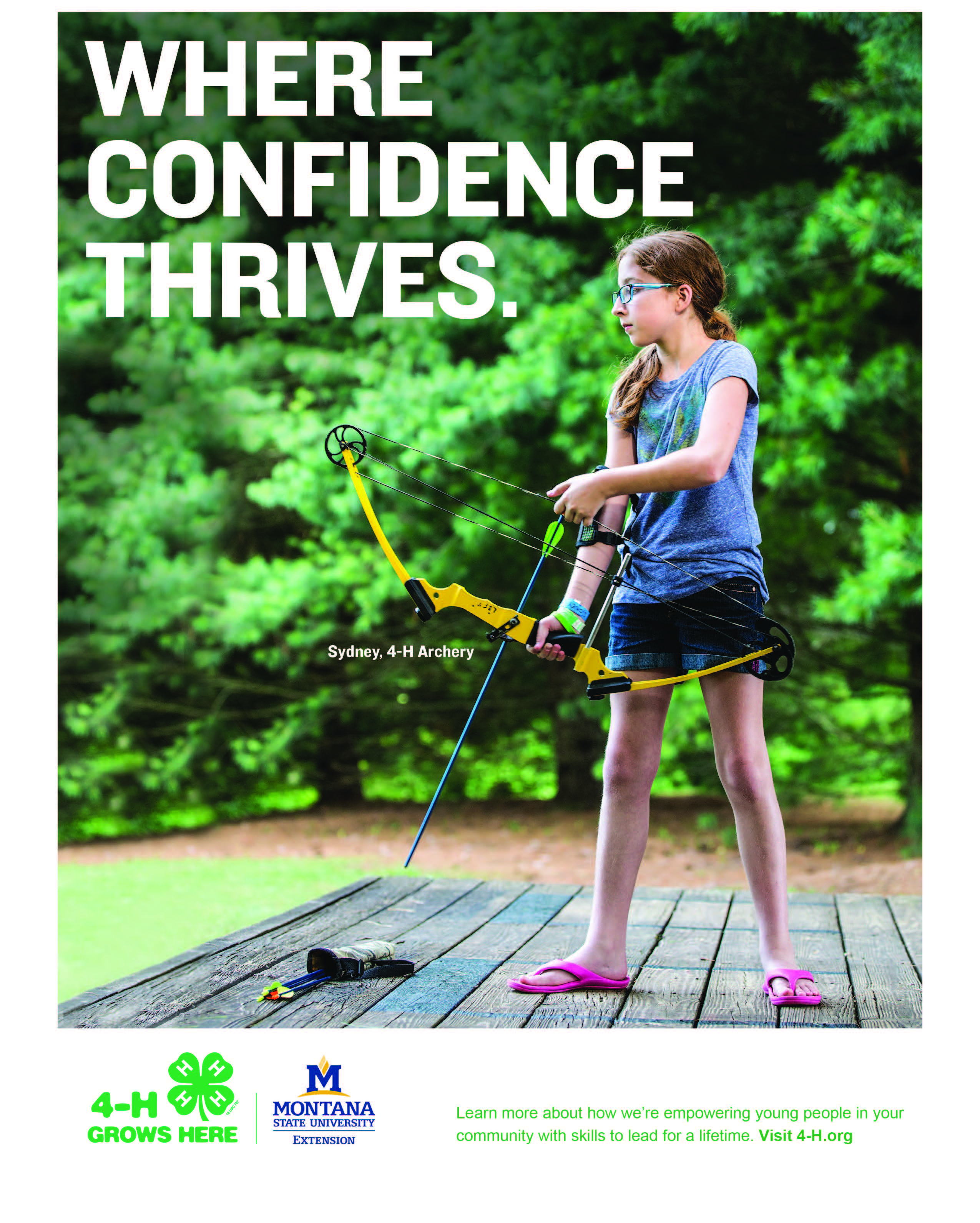 The U.S. Department of Agriculture (USDA), Montana State University and Montana State University Extension prohibit discrimination in all of their programs and activities on the basis of race, color, national origin, gender, religion, age, disability, political beliefs, sexual orientation, and marital and family status. Issued in furtherance of cooperative extension work in agriculture and home economics, acts of May 8 and June 30, 1914, in cooperation with the U.S. Department of Agriculture, Cody Stone, Director of Extension, Montana State University, Bozeman, MT 59717.