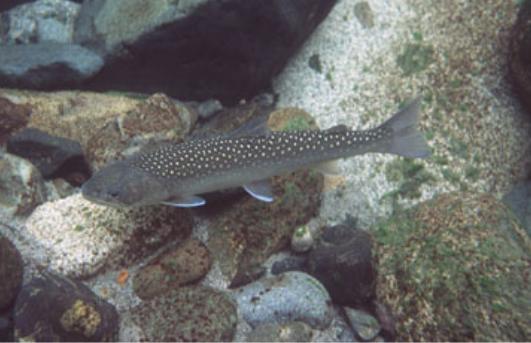 Bitterroot bull trout, M. Jakober photo
Research Interest
Fish ecology and management. My graduate students and I conduct applied research to assist in answering current questions in fisheries management as well as testing of ecological principles on which fishery management is based.
Interest Areas
Salmonid Ecology and Management
Conservation of Native Fishes
Life history/otolith microchemistry
Fish passage and movement behavior
Winter ecology
Current/Recent Projects
Improving Conservation Status of Arctic Grayling, USGS--Assessment of the effectiveness of Denil fish ladders for grayling passage in the Big Hole watershed, Montana. CoPI with Kevin Kappenman, USFWS
Managing a New Threat: Rainbow Trout Invasion of the Lamar River Drainage in Yellowstone National Park, Identification of Hybrids and Hybrid Sources, Jackson Hole One Fly Foundation. CoPI with PhD student Kurt Heim
Life History and Population Genetic Structure of Yellowstone Cutthroat Trout in the Lamar River Watershed, Yellowstone National Park.
Winter Habitat and Survival as Potential Limiting Factors for Arctic Grayling in Red Rock Lakes National Wildlife Refuge – Implications for Management of a Rare and Declining Species USFWS
Assessment of Nonlethal Microelemental Methods to Determine Life History and Movement of Native Salmonids, Montana Fish Wildlife & Parks.
Use of Otolith Microchemistry to Assess Spawning Tributary Contributions of Yellowstone Cutthroat Trout in Yellowstone Lake. Yellowstone National Park.