The program will be offered to 10 teachers per summer for three years starting in 2022. The 2023 program will take place from Monday, July 1 through Friday, Aug. 9, 2024. Week 1 is virtual; Weeks 2-6 are in-person in Bozeman.
Participants receive a $6,000 stipend and classroom resources.
Housing and meals are provided, and all program and research costs are covered.
Travel funding is available, as well.
In the energy-themed program, teachers gain hands-on experience in state-of-the-art engineering research labs and will visit multiple energy facilities such as hydroelectric dams and oil refineries. The field trips include visits to nearby American Indian cultural sites and discussions about Indigenous perspectives in engineering, with a focus on integrating STEM with Montana's Indian Education For All curriculum.
Research and field trips touch on energy topics including building energy systems; biomass energy conversion; fluid flow processes in oil refineries and hydroelectric dams; materials for energy conversion systems like fuel cells, batteries, wind turbines and solar cells; and, sustainable infrastructure materials and transportation systems.
For more details, visit the Program Information page.
RET in the news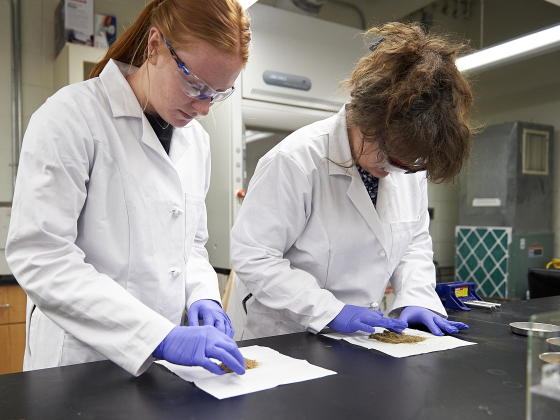 Our Summer 2023 cohort ended on Aug. 3, 2023.
Read this MSU news article
about recent Department of Education alumnus Savanna Wolff, soon to be teaching in her hometown of Roundup, and her research partner, Mandie Steele of Polson. Savanna and Mandie worked
closely with MSU doctoral student Villő Bécsy-Jakab on biomass in David Hodge's Lab.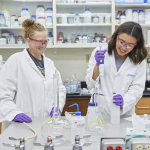 Our summer Research Experience for Teachers ended on July 28, 2022. Our cohort included seven in-service teachers from around Montana and four pre-service teachers. They spent six weeks on campus, working in laboratories and considering how to incorporate Indian Education for All with engineering and energy concepts; then presented their work at MSU's annual STEM Summer Institute for K-12 teachers.
Read more about the 2022 RET program in this article from MSU News.
Thank you NEED - National Energy Education Development.
NEED trains and assists teachers in harnessing the energy of the classroom - the energy of students. NEED visited the Montana State University RET program in June 2023, sharing information on fossil fuels, nuclear energy, renewable energy, energy storage, ocean energy, efficiency and conservation and much more! Teachers learned many energy-related activities that they can bring home to their classrooms. Thank you, NEED!