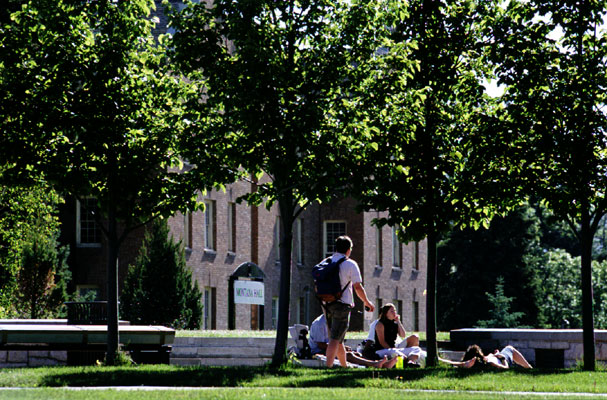 The mission of MSU's core curriculum is to enhance students' use of multiple perspectives in making informed critical and ethical judgments in their personal, public and professional lives through inquiry and research experiences. Click here for details regarding the core curriculum.
For incoming freshmen and current high school students accepted into the Early Admission Program, Summer Session core courses offer a jump start on a college career as well as an introduction to the level of work that is expected as a student at MSU. The courses also serve as a catch-up opportunity for continuing students who need to progress toward or complete their core requirements.
Core courses are designated by a letter following the course number, e.g., WRIT 101W. The following letters are used to specify the core groups:
The following courses offered for Summer Session are listed by core groups. For information regarding dates, times and location of offerings, refer to the Class Schedule.
US-UNIVERSITY SEMINAR
CLS 201US
Knowledge and Community
COMX 111US
Introduction to Public Communication
LS 101US
Interdisciplinary Ways of Knowing
UC 121US
Leadership Foundations
W-COLLEGE WRITING
WRIT 101W
College Writing I
Q-QUANTITATIVE REASONING
M 105Q
Contemporary Mathematics
M 121Q
College Algebra
M 151Q
Precalculus
M 161Q
Survey of Calculus
M 171Q
Calculus I
M 172Q
Calculus II
M 273Q
Multivariable Calculus
STAT 216Q
Introduction to Statistics
STAT 217Q
Intermediate Statistical Concepts
D-DIVERSITY
AMST 101D
Intro to American Studies
ANTY 101D
Anthropology and the Human Experience
ANTY 242D
Contemporary Japan
BGEN 242D
Introduction to International Business
FRCH 102D
Elementary French II
GPHY 141D
Geography of World Regions
HSTA 160D
Introduction to the American West
LIT 285D
Mythologies
NASX 105D
Introduction to Native American Studies
NASX 232D
Montana Indian Cultures, Histories, Current Issues
PSYX 235D
Contemporary Issues in Human Sexuality
RLST 100D
Introduction to the Study of Religion
RLST 203D
Buddhist Traditions
SPNS 102D
Elementary Spanish II
CS-CONTEMPORARY ISSUES IN SCIENCE
BIOE 103CS
Environmental Science & Society
CSCI 215CS
Social and Ethical Issues in Contemporary Science
HSTR 205CS
World Environment
NUTR 221CS
Basic Human Nutrition
PHL 278CS
Origins of Life
PSYX 263CS
The Psychology of Film
TE 250CS
Technology and Society
IA-ARTS INQUIRY OR RA-ARTS RESEARCH
ARCH 121IA
Introduction to Design
ARCH 152IA
Design Fundamentals II
ARTH 200IA
Art of the World Civilization I
ARTH 201IA
Art of World Civilization II
MUSI 101IA
Enjoyment of Music
MUSI 203IA
American Popular Music
MUSI 307IA
World Music
PHOT 154IA
Exploring Digital Photography
THTR 122IA
Acting for Non-majors
IH-HUMANITIES INQUIRY OR RH-HUMANITIES RESEARCH
FILM 101IH
Understanding Film and Media
HSTA 101IH
Western Civilization I
HSTA 102IH
American History II
HSTR 101IH
Western Civilization II
LING 210IH
Intro to Language/Linguistics
LIT 110IH
Introduction to Literature
LIT 169IH
Literature as Popular Culture
ML 100IH
Introduction to World Cultures
PHL 101IH
Introduction to Philosophy: Reason and Reality
PHL 110IH
Introduction to Ethics: Good and Evil
SPNS 335IH
Travel in Latin American Literature and Film
WGSS 201IH
Introduction to Feminist Theories
IN-NATURAL SCIENCE INQUIRY OR RN-NATURAL SCIENCE RESEARCH
ASTR 110IN
Introduction to Astronomy: Mysteries of the Sky
CHMY 121IN
Introduction to General Chemistry
ERTH 101IN
Earth Science Systems
IS—SOCIAL SCIENCE INQUIRY OR RS—SOCIAL SCIENCE RESEARCH
BMGT 240IS
Business Research Methods
ECNS 101IS
Economic Way of Thinking
ECNS 204IS
Microeconomics
HDFS 101IS
Individual & Family Development and Well-Being: Lifespan
PSCI 210IS
Introduction to American Government
PSYX 100IS
Introductory Psychology
SOCI 101IS
Introduction to Sociology
SOCI 221IS
Criminal Justice System
R-ADDITIONAL RESEARCH AND CREATIVE EXPERIENCE COURSES
EGEN 310R
Multidisciplinary Engineering Design

GEO 429R
Field Geology
HDFS 465R
Family Law & Public Policy
PSYX 499R
Senior Thesis Capstone
SFBS 445R
Culinary Marketing: Farm/Table
USP 290R
Undergraduate Scholars Program
For a complete listing of "R" core courses, refer to the Summer Schedule of Classes.
Click here for more information about summer online courses.