Summer Master's Degree Programs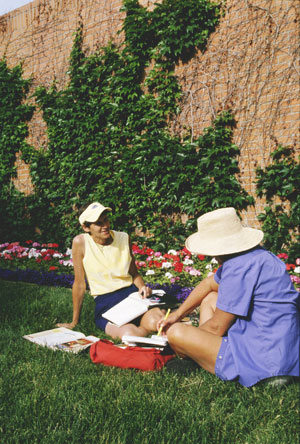 Mathematics Education
The Master of Science Degree in Mathematics under the Mathematics Education Option is designed for practicing high school mathematics teachers. The degree consists of 30 semester hours of course work.
Designed specifically to meet the needs of secondary mathematics teachers, the core courses and electives are drawn from common core content including mathematical modeling, statistics, algebra, geometry, analysis and discrete mathematics, as well as pedagogy courses focusing on technology, standards, curriculum and assessment. The program of study emphasizes inquiry-based learning and use of technology in the context of the Common Core State Standards for mathematics. Classroom research projects give teachers the opportunity to try new ideas for improving mathematics teaching and learning in their schools.
Courses are offered on the Bozeman campus each summer. Additionally, two Internet-based courses are offered each summer, fall, and spring.
All course credits may be applied toward teacher recertification.
More Information
For more information about the Master of Science in Mathematics – Mathematics Education option. Consult our website or contact:
Jennifer Luebeck
Dept. of Mathematical Sciences
Montana State University
Bozeman, MT 59717-2400
(406) 994-5341
[email protected]
Science Education (MSSE)
The Master of Science in Science Education Degree is designed for practicing science educators. The degree consists of 30 semester hours offered online and on-campus.
MSSE is an intercollege, interdisciplinary effort. Customized study plans offer courses in all science disciplines and are designed to take into account the student's background, interests, and career goals. Courses may be taken for professional development or to earn a graduate degree.
The program of study may begin with online courses in any semester (fall, spring and summer), or summer campus-based field and lab courses that utilize the diverse environment of Montana to teach scientific principles and provide models of field-based instruction. Study continues with online courses that students take from their homes or workplaces, and ends with a final campus visit for presentation of the results of a personalized science education capstone project.
Interdisciplinary efforts and incorporation of both science content and pedagogy have been encouraged during the development of courses. Each student seeking the degree is advised by a three-person faculty committee.
More Information
For more information about the Master of Science in Science Education (MSSE) Program. Visit our website or contact:
Madeline Felts
Assistand Director
MSSE Program
451 Reid Hall- Box 172805
Bozeman, MT 59715
406-994-5679
[email protected]