VPN - Secure Remote Access
EFFECTIVE 5/22/2023 You must go through the DUO process to access the VPN
See Info Below for More Details
If you are not working within a service that requires the VPN connection, please disconnect from the VPN to save bandwidth on MSU's network.
If you are connecting to the MSU Library, please reference their Off Campus Access webpage.
VPN Behind DUO
Effective 5/22/2023 you must go through the DUO process before you connect to the VPN.
When you launch the VPN and click "Connect" you will be asked to:
1. Select Your Group
2. Enter username
3. Enter password
Once you enter your password and click OK, the client software will show a yellow circle with an exclamation point.
This yellow circle with an exclamation point means that you will need to go through the DUO Authentication Process https://www.montana.edu/uit/duo/index.html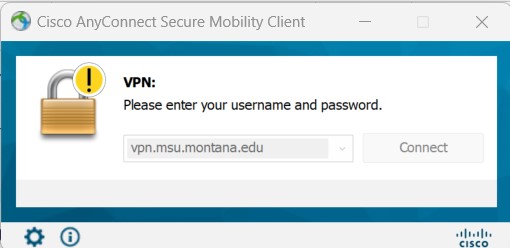 Please note, that you may not get a DUO PUSH when you go through this process. You may need to open the DUO app on your device and then you would have a PUSH / APPROVE delivered to your phone.
Do I need the VPN?
Do you use Banner, Knox or Opal folders, Remote Desktop Connections, Electronic Document Management ? If so, then yes, you will need the VPN.
Cisco AnyConnect VPN
Cisco AnyConnect is MSU's VPN (virtual private network) available to Students, Faculty and Staff. The AnyConnect Secure Mobility Client is required to connect to the VPN. The client is platform and device friendly, enabling employees and students to securely connect to MSU resources anytime and from any device and location.
AnyConnect Secure Mobility Client: Download Instructions
The new VPN requires the AnyConnect client to connect. After installing it, you will always use the AnyConnect app to connect to the VPN. You will not need to go to network settings or use the network connection previously created for the old VPN. Simply open the app and click connect.
Follow the instructions below to download the client and connect to the new VPN.
Desktop/Laptop*
Mobile Devices
* If you don't see the version of your operating system listed above then it is not supported. Please contact the UIT Service Desk with questions.