UIT Marketing and Communication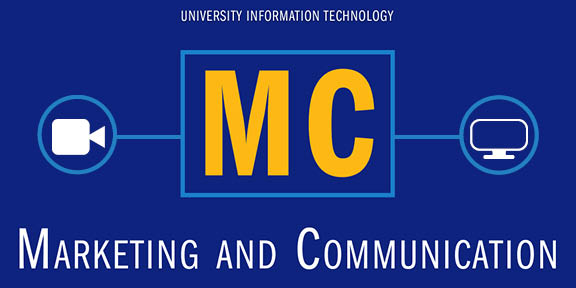 MarCom is a division of the University Information Technology User Services Group that creates and delivers information across the MSU IT communities, as well as raises awareness of UIT's campus offerings. Its mission is to provide a central point of contact for UIT communications, web support and development, and training resources.
Through strategic messaging — such as marketing materials, video training production, and publishing— MarCom'steam creates materials that communicate UIT's duty to assist in MSU's technological needs. From concept to completion and distribution, MarCom can help with all the materials needed to communicate about your service and/or product. To learn more about what UIT has to offer, follow MarCom's What's in IT for me? series.
MarCom provides guidelines for consistent, favorable, and professional content that aligns with the UIT and MSU image.
Services provided
Targeted campus emails

Copywriting

Video tutorials training and creation

Web support and development
MarCom's priority is to provide excellent content that achieves the desired objective. To get started, contact us at [email protected]or click on the Requests and Forms link in the left sidebar.
MarCom produces a variety of communications to articulate specific UITannouncements to MSU faculty, staff, and students. Each communication is written and edited for clarity and to the specifications that are needed for different types of audiences. Different forms of content that MarCom can generate are news releases, emails, print products, calendar events, MSU Today entries, and more.
Forms of communication vary for different audiences. If a communication is meant for faculty and staff, we can suggest if your message is suited for an email sent to a listserv, a release that will appear on the UIT website news feed, an event or announcement featured in the tri-weekly MSU Todayemail and more.
Note that communications that are meant tobe sent toMSU students —mostly emails to the student listserv — must be submitted at least a week in advance to gain approvals for publish through the proper channels.
If you are interested in requesting a communication, visit Communication Request page to learn about the guidelines, information neededand to submit. Guidelines for different channels of communication will be listed.
MarCom is capable of publishing new digitaltraining materials or updating existing materials for interested UIT parties. From filming, recording audio,editingand writing,MarCom's team can assist throughout the entire creative process to help make your website's users be more informed andfeel confident navigating new software, applications and more.
To request a new training materialor for consultation on an existing material, visit www.montana.edu/uit/marcom/training_request.
A cornerstone of MarCom is its ability to create and update webpages to reflectthe dynamic changes in the UIT industry. Simplechanges, like an update in software pricing, grammar edits to copy andinserting hyperlinks, can be easily made and published quickly. More dramatic changes, such as a web redesign, new webpage, graphic creationand all new copy, can take more time to construct and we ask that you submit requests at least a week ahead of time.
For existing web page reconstruction or requests for new web pages,visit www.montana.edu/uit/marcom/forms/webpage to learn about guidelines, information needed and to submit.

Feedback
MarCom appreciates any feedback it receives and strives to be a reliable source for communication.Feedback can be sent to [email protected] orthebriefsurvey below can be filled out