How to Forward your MSU Telephone Extension
When you can't physically access your Cisco telephone, you can set the forward and other options via the web. This requires you to have a VPN connection.
This requires a VPN connection. If you do not have one, please visit the VPN-Secure Remote Access webpage
Click on the following link and login with netID and password:
https://cucmpub.msu.montana.edu/ucmuser/?logoff=true
From there, select "Call Forwarding" on the left side of the window.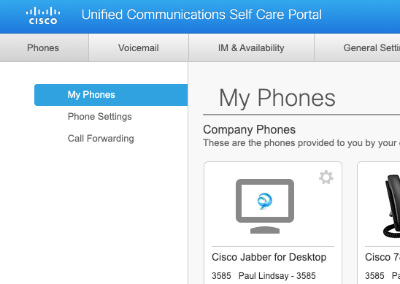 Select the extension you would like to forward by checking the box "Forward all calls to".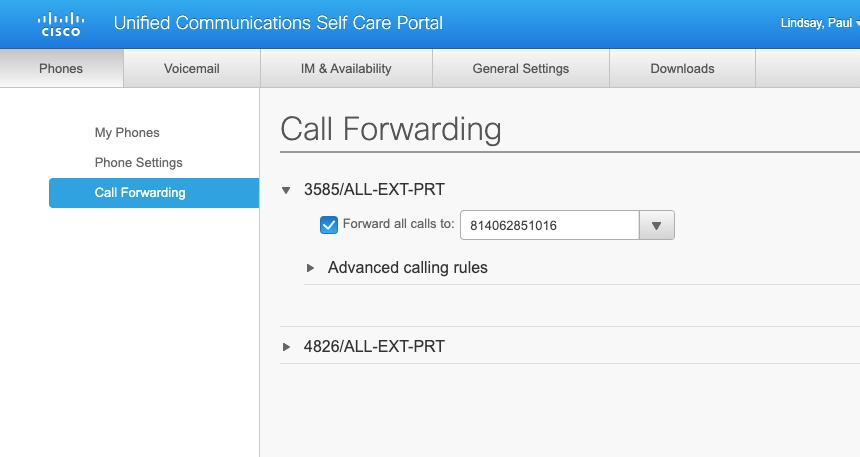 In the box, enter the full number that you would like to be dialed using the following format: 8-1-XXX-XXX-XXXX.



Click Save
Calls should now be forwarded to the external phone number that was entered.
**To turn off call forwarding, uncheck the Forward all calls to: box
Cisco phones can be identified by a label at the top of the device showing "Cisco". In order to forward these phones, take the following steps:
Press the button with the text "FWD All" or "Forward All"
(depending on phone model it will be displayed differently, Phone shown is a 7841 model).
Following the pressing of the button there will be two beeps afterwards and the display will change as reflected below, depending on your model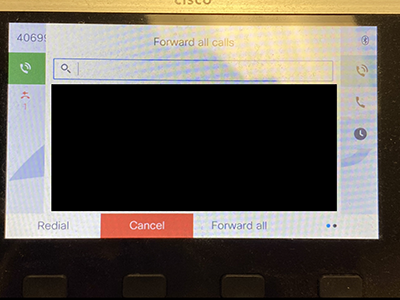 Enter the number you'd like to forward calls to, if it's a 4 digit on campus extension you must enter the 4 digits, if forwarding to an off campus or cell phone you must enter the full number including 8-1. For example, 8-1-406-595-XXXX.

Once the number is fully entered, the screen in step 2 will disappear and go back to looking like your usual display except "Fwd All/Forward All" will change to "Fwd Off/Forward off" and there will be text under the line being forwarded indicating "To *Number that was specified for forwarding*".
**To turn off forwarding simply press the "FWD Off" or "Forward Off" button.
These phones do not have an option to manage via the web. You will need to be at the phone to set the forward. If you cannot physically access the phone, you can send a request to the UIT Service Desk
There are numerous types of Nortel/Avaya phones present on Campus and there are a few hurdles when setting this up. This guide will go through the general procedures of forwarding on these phones. Some phones may not have a forward button present, programmed, or programmed for forwarding for devices off campus.
If you cannot successfully enter a number for forwarding it usually means the phone is not programmed correctly to forward to that number. In these cases, please contact the Help Desk by calling 406-994-1777.