Natascha Nicole Meissner-Pearson, Ph.D.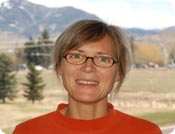 Associate Research Professor,
Microbiology and Immunology
Bio
1993-1996:Postdoctoral Research Associate, Humboldt University, Berlin, Germany; Training in clinical laboratory medicine with emphasis on clinical allergology, immune defect and transplantation diagnostic.
1996-1999: Pediatric Residency, University Hospital for Children in Wuerzburg, Germany, Training in general pediatric, special care for patients with bleeding disorders, allergies and immunodeficiency syndromes [acquired and inherited).
1999-2002: Postdoctoral Research Associate, Veterinary Molecular Biology, Montana State University
2002-2014: Assistant Research Professor, Department of Microbiology and Immunology, Montana State University
2014-present: Associate Research Professor, Department of Microbiology and Immunology, Montana State University

Research emphasis: Immune pathogenesis of Pneumocystis pneumonia (PCP) and investigations into the role of type I IFNs in modulating systemic immune responses to this pathogen.

2016-present: Clinical Instructor University of Washington Medical School, Medical Instructor Block and Thread leader for Histology/Pathology; Infectious Disease & Immunology (Invaders and Defenders) and Blood & Cancer
Publications
Type-I-IFNs act upon hematopoietic progenitors to protect and maintain hematopoiesis during Pneumocystis lung infection in mice. Justin R. Prigge, Teri R. Hoyt, Erin Dobrinen, Mario R. Capecchi, Edward E. Schmidt, and Nicole MeissnerJ Immunol. 2015 Dec 1;195(11):5347-57.
B cells modulate systemic responses to Pneumocystis lung infection and protect hematopoiesis via induction of IL-10 and IL-27 mediate mechanisms. Teri Hoyt, Erin Dobrinen, Irina Kochetkova, and Nicole Meissner. Infection and Immunity, 2015. Infect Immun. 2015 Feb;83(2):743-58.
Modulation of inflammasome-mediated pulmonary immune activation by type-I-IFNs protects bone marrow homeostasis during systemic responses to Pneumocystis lung infection. Steve Searles, Katherine Gauss, Michelle Wilkison, Teri R. Hoyt, Erin Dobrinen and Nicole Meissner. Journal of Immunology, 2013 Oct 1;191(7):3884-95.
Type-I-IFNs are critical regulators of bone and bone marrow (BM) homeostasis during systemic responses to Pneumocystis lung infection. Michelle Wilkison, Kathy Gauss, Yanchao Ran, David Taylor and Nicole Meissner.

Am J Pathol

. 2012 Jul;181(1):151-62.
Pneumocystis elicits a STAT6-dependent, strain-specific innate immune response and airway hyperresponsiveness.Swain SD, Meissner NN, Siemsen DW, McInnerney K, Harmsen AG.

Am J Respir Cell Mol Biol

. 2012 Mar;46(3):290-8.
Pneumocystis infection in an immunocompetent host can promote collateral sensitization to respiratory antigens. Swain SD, Meissner N, Han S, Harmsen A. Infect Immun. 2011 May;79(5):1905-14. Epub 2011 Feb 22
Prevention of bone marrow cell apoptosis and regulation of hematopoiesis by type I IFNs during systemic responses to pneumocystis lung infection.Taylor D, Wilkison M, Voyich J, Meissner N.; J Immunol. 2011 May 15;186(10):5956-67. Epub 2011 Apr 6.
Type-I IFN signaling suppresses an excessive IFN-gamma response and thus prevents lung damage and chronic inflammation during Pneumocystis (PC) clearance in CD4 T cell-competent mice. Meissner N, Swain S, McInnerney K, Han S, Harmsen AG. Am J Pathol. 2010 Jun;176(6):2806-18. Epub 2010 Apr 15.
Type-I-interferon-signaling and B-cells maintain hematopoiesis during Pneumocystis-infection of the lung. Nicole Meissner, Melanie Rutkowski, Ann L. Harmsen, Soo Han, and Allen G. Harmsen. Journal of Immunol., 2007,178 (10) 6604-15
CD8 T-cell mediated lung damage in response to the extracellular pathogen Pneumocystis is dependent on MHC I expression on radiation resistant lung cells. Meissner N, Lund FE, Han S, Harmsen A,. J. Immunol.2005, 175: 8271-8279
Role of type I interferons in pulmonary complications of Pneumcystis Meissner N, Swain S, Tighe M, Harmsen A, and Harmsen A . J. Immunol. 2005, 174: 5462-5471
CD8 T cells modulate CD4 T-cell and eosinophil-mediated pulmonary pathology in Pneumocystis pneumonia in B-cell-deficient mice. Swain SD,Meissner NN, Harmsen AG. Am J Pathol. 2006 Feb;168(2):466-75.
Differential mRNA expression in circulating gammadelta T lymphocyte subsets defines unique tissue-specific functions. Hedges JF, Cockrell D, Jackiw L, Meissner N, Jutila MA. J Leukoc Biol. 2003 Feb;73(2):306-14
Serial analysis of gene expression in circulating gamma delta T cell subsets defines distinct immunoregulatory phenotypes and unexpected gene expression profiles. Meissner N, Radke J, Hedges JF, White M, Behnke M, Bertolino S, Abrahamsen M, Jutila MA. J Immunol. 2003 Jan 1;170(1):356-64.
Combination of von Willebrand disease type 1 and partial factor XII deficiency in children: clinical evidence for a diminished bleeding tendency. Zeitler P, Meissner N, Kreth HW. Acta Paediatr. 1999 Nov;88(11):1233-7.PMID: 10591425
Modified T-cell activation pattern during specific immunotherapy (SIT) in cat-allergic patients. Meissner N, Kochs S, Coutelle J, Kussebi F, Baumgarten C, Løwenstein H, Kunkel G, Renz H. Clin Exp Allergy. 1999 May;29(5):618-25.
Granulomatous cheilitis and Crohn's disease in a 3-year-old boy. Dummer W, Lurz C, Jeschke R, Meissner N, Rose C, Bröcker EB. Pediatr Dermatol. 1999 Jan-Feb;16(1):39-42.
A subset of CD8+ T cells from allergic patients produce IL-4 and stimulate IgE production in vitro. Meissner N, Kussebi F, Jung T, Ratti H, Baumgarten C, Werfel T, Heusser C, Renz H. Clin Exp Allergy. 1997 Dec;27(12):1402-11.
Role and modulation of T-cell cytokines in allergy. Daser A, Meissner N, Herz U, Renz H. Curr Opin Immunol. 1995 Dec;7(6):762-70.
Influence of cadmium ions on endothelin-1 binding and calcium signaling in rat glioma C6 cells. Koschel K, Meissner NN, Tas PW. Toxicol Lett. 1995 Nov 15;81(2-3):189-95
Downregulation of endothelin receptor mRNA synthesis in C6 rat astrocytoma cells by persistent measles virus and canine distemper virus infections. Meissner NN, Koschel K. J Virol. 1995 Aug;69(8):5191-4.