Montana Admissions Interviews
CONGRATULATIONS ON YOUR INTERVIEW!
Interviews and interview activities for Montana WWAMI applicants will be held virtually during the week of January 23, 2023. The faculty, students, and staff of the University of Washington School of Medicine look forward to introducing you to Montana WWAMI and all it has to offer. The purpose of this website is to help you locate the information you need to make the most of your interview.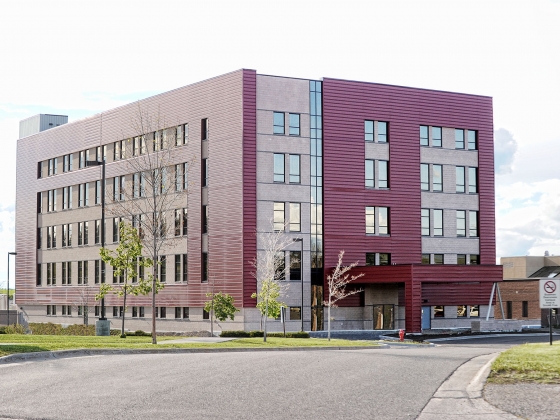 Photo courtesy Bozeman Health
Interview and Information Session Schedule
We will be hosting evening information sessions with Martin Teintze, Ph.D., MT WWAMI Director, and with Jay Erickson, M.D., Assistant Dean MT WWAMI Clinical Phase followed by an informal Q&A with current MT WWAMI students on Sunday, Monday, Tuesday, and Wednesday evenings on Zoom. Please attend the evening before or the evening after your interview and RSVP to [email protected]. Zoom information and start time is available on the Admissions website, UWSOM will provide the login information.
Please follow the instructions in your email from University of Washington School of Medicine Admissions for connecting to your virtual interview.

Bozeman Admissions Website: https://sites.uw.edu/mdintrvw/bozeman/ (Username and Password is provided by UWSOM Admissions)
The Interview
You will meet with 3 interviewers simultaneously and the interview will last approximately 30 minutes. One of the interviewers is a member of the Executive Committee on Admissions (EXCOM) and will represent you during the decision making process. The Executive Committee member has access to your entire file, including previous applications. The other members of the interview panel are faculty members from throughout the WWAMI region. These interviewers see only your current application - without your grades and MCAT scores. This format can vary depending on availability of interviewers and reapplications (Re-applicants are screened and interviewed by committee members who have not seen the applicant's earlier application(s)).
Each interviewer rates you independently and submits his or her evaluation. The 3 interviewers then discuss their opinions and the EXCOM member submits an overall evaluation. If one interviewer has a significantly different impression from the others, you MAY be invited for a second interview with a different group of interviewers. All of these evaluations are subsequently available to the Executive Committee during the meetings at which decisions are made.
The interview is not rigidly structured. Members of the Admissions Committee know how much rests on this meeting, and many of them have gone through this process before you. They are not "out to get you", but want more in-depth information about who you are and how much you know about what you are getting into.
Specifically, the interviewers will try to determine the following:
What has motivated you to pursue a career in medicine?
How well do you communicate with others? This includes listening skills as well as skills in transmitting information to others.
Can you put yourself in the place of a patient; are you empathetic?
What do you know about the practice​ of medicine and issues in delivery of health care?
How well do you think "on your feet" to analyze problems and present alternative solutions?
The Final Decision
At the end of the interview week, candidates are presented by the Montana Admissions Committee to the UWSOM Executive Committee (EXCOM). EXCOM is comprised of voting members from all WWAMI states. At this meeting, applicants are accepted to fill the positions available in the Montana WWAMI class, additional applicants are placed on an unranked alternate list, and the remainder are not accepted.
Final decisions are emailed after the EXCOM meeting with an applicant's status. Applicants are advised to monitor their email carefully after the interview. Any applicant wishing to appeal their decision may email the Office of Admissions to request a review.
If an applicant is accepted, they will receive an email with instructions to respond to the offer on the Application Portal. If applicants decline an offer of admission, additional students are accepted from the unranked Montana alternate list.
For a more in-depth description of the entire UWSoM admissions process as well as Seattle interview information, please click here:
Admissions|UW Medicine
.
For additional information about our TRUST Program, please click here:
UW TRUST.
Effective Entering Class of 2020: Thank you cards, letters, and notes will no longer be accepted following your interview. We appreciate your adherence to this policy.
Preparing for Your Interview
The following are questions to think about while preparing for the interview. Also. they may reinforce or make you question your decision to pursue a career as a Medical Doctor:
Motivation
What excites you about a career in medicine?
What concerns you about a career in medicine and how do you get past your concerns?
How did you decide that being a doctor was the right career for you?
How have your experiences prepared you for a career in medicine?
What personality characteristics do you have that will make you a good doctor?
Communication Skills
Can you express an idea or thought concisely? (in less than 1-2 minutes)
Do you rephrase what someone has just told you to make sure you understood it correctly?
Do you look for body language signifying emotional reaction such as agreement, disagreement, annoyance, happiness, fear, anger, excitement, disappointment, or despondency?
Do you interrupt someone when they are speaking to you?
Empathy
Can you imagine yourself in someone else's position?
Do you consider how someone else might feel about a situation given their experience, culture, and/or social context?
Can you replace your hopes and plans for someone with their own hopes and plans?
Can you understand, accept, and value someone else's opinion when it is different from yours?
Knowledge of the Field of Medicine
What personal attributes do you consider most important for success in research?
What do you consider markers of success for a physician?
What personal attributes do you consider most important for success as a physician?
What attributes do you feel are necessary to elicit hope and trust in patients?
What medical error(s) have you seen and what did you learn?
Why do you think community service is a category on the AMCAS application?
If you were putting together a health care team, who would be on it?
How is the role of the physician changing?
What does it mean to be a professional?
Choose one of the issues facing health care today and describe how you might go about addressing it.
What do you think people in the US are most concerned about? How might this affect their health (or not)?
Analytical Thinking/Problem Solving
If you had all the money in the world and could snap your fingers, what problem would you solve? How?
You are on a committee to solve a particular issue. You disagree with the direction being set by the chair of that committee, and strongly feel that it is incorrect. What would you do?
How do you resolve conflict at work, home, in the classroom?
A patient brings you a very expensive gift. What would you do?
A patient writes you a love letter. How do you handle this situation?
You are called to the ER to see a patient that has a problem supposedly in your area of expertise. When you arrive it becomes obvious that this patient has a completely different type of problem. What do you do?
You catch a fellow student cheating on an exam. What do you do?
Describe a moral or ethical dilemma that arose out of an interpersonal relationship. How did you handle it?
There is a new drug to cure a certain type of cancer, but it is extremely expensive. How do you decide who should get the drug?
Interested in seeing our Montana WWAMI space?
We are tentatively planning a Second Look event on Friday, March 31st! Exact time will be announced at a later date.
Panel with WWAMI faculty
Lunch with current students and WWAMI faculty
Attend a class during Second Look

Our students have class from 1-5 PM Monday, Wednesday, Thursday, and Friday in our Lecture hall. Hours 1 & 2 are dedicated to didactic learning while hours 3 & 4 are reserved for small group learning sessions. Since you are only able to attend the lecture portion of the classes (from 1-3 PM), please plan to enter and exit the room at the top of the hour to keep disruptions to a minimum.Seating is reserved for you at the back of the classroom so we recommend entering from the back of the room as well.

MSU Campus
Check out Bozeman
Directions to Montana WWAMI Space:
From I-90:
Take exit 309 to merge onto US-191 S/E Main St
Continue onto E. Main Street, and take a Left at the light, Highland Blvd.
Continue along Highland Boulevard and park in patient/visitor parking near Entrance 5
Using Entrance 5 (937 Highland Boulevard/Maroon and Tan Building) come up to the 2nd floor
Enter through the WWAMI doors and follow the hallway to the reception area for check in 5-10 minutes prior to your interview
Questions? Please contact us!
Kayla Ouert: WWAMI Program Manager
Phone: (406) 994-4411
E-mail: [email protected]