The Jabs Entrepreneurship Center
Business Alum Wins National Entrepreneurship Pitch Competition
Alex Crosby '13, took first place in a recent national entrepreneurship pitch competition for a mobile app he is developing to help curb drunken driving.
His HERO app won the top prize in the competition, which was sponsored by the Blackstone LaunchPad and held in Boston as part of the prestigious Forbes Under 30 Summit. Top ventures from 20 schools within the Blackstone network participated in the competition.
Women's Entrepreneurship Night for students and grads on Feb 28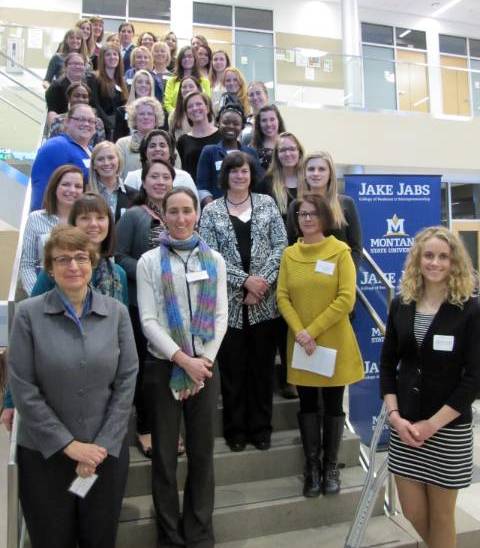 Want to learn how some successful businesswomen have nailed it in the tough high tech world of Google, started one the first women's adventure travel companies, and prevailed in the professional services and health care world?

You are invited to a wonderful evening for MSU women students and graduates on Tuesday night, February 28th, 5:30 pm in Jabs Hall. 5:00 check in. You do not have to have a business or business idea, but perhaps you can see yourself in this role in the future or you might be an "Intrapreneur" and work for a company. It opens with keynote; Alysia Andrikopoulos (formerly Google Maps, Apple, PayPal and more) followed by a panel of successful women entrepreneurs from women's health, professional services, retail and manufacturing, and women's adventure travel. Topping the evening will be networking time with 30 + successful business and some elegant food and drinks. The extensive list of mentors will be sent to you after registration.
Please view the invitation below and click
here
by February 14
th
to reserve your spot! We are looking forward to seeing you at our second MSU women's entrepreneurial evening.
FAST FACTS
1260+ students have participated in the consulting courses.
The students have provided well over 20,000 hours of pro-bono business analysis
More than 300 clients (businesses, organizations, and non-profits) in Montana have been served including: Bozeman Public Library, Foundant Technologies, Shakespeare in the Parks, PrintingForLess.com, and Zoot Enterprises
Students participating in the Entreprentice Challenge have raised more than $25,000 for local non-profits over the past six years.
The program was one of 19 recognized by the SBA in 2005 and 2007 for demonstrated market-based results.


IN THE NEWS!
More Student and Alumni Highlights:
Students raise more than $5,200 for local non-profits through Entreprentice Challenge
Business student's entrepreneurship blog article featured on Huffington Post
Alum's app for reducing drunken driving accepted into prestigious accelerator program
Business alumni support entrepreneurial education at MSU with $570,000 gift
MSU alum Ryan Rickert advises budding entrepreneurs to try, try again
MSU alum and successful businessman gives more than $3 million to College of Business