2014 Catapalooza Map
All locations on this map are subject to change without notice! For the most accurate booth locator, visit Catapalooza on the Mall, meet new people, have a slice of pizza and enjoy other free swag, and wander until you find what you are looking for.
Push Ctrl and + to zoom in.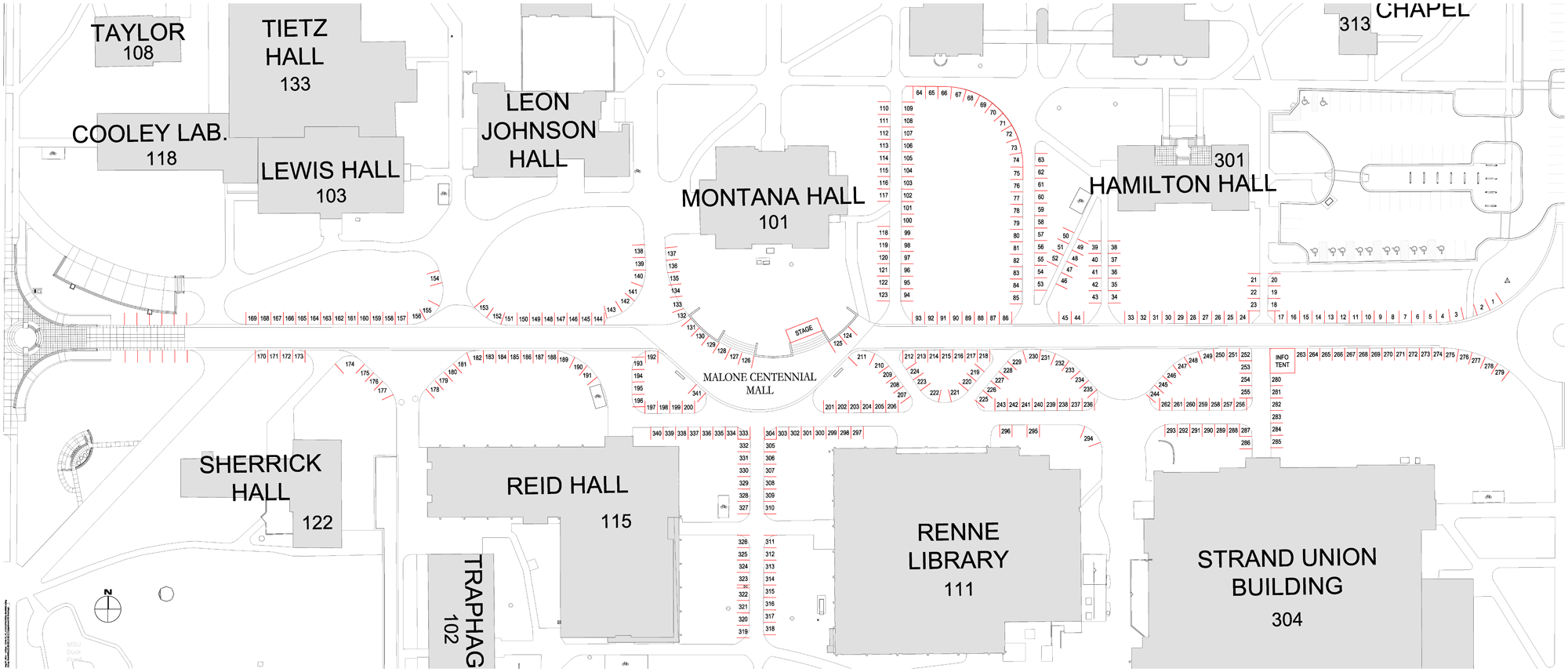 Key
| | |
| --- | --- |
| 1 & 2 | Montana State University Police Department |
| 3 | MSU Dental Clinic |
| 4 | MSU Health Promotion |
| 5 | VOICE Center |
| 6 | SASA (Students Against Sexual Assault) |
| 7 | PiKe |
| 8 | Colleges Against Cancer |
| 9 | Chi Alpha Kappa |
| 10 | Alpha Omicron Pi |
| 11 | Bridgercare |
| 12 | Diversity Awareness Office |
| 13 | Office of Activities & Engagement |
| 14 | Owenhouse Ace Hardware |
| 15 | Owenhouse Bicycling & Fitness |
| 18 | National Society of Leadership and Success |
| 19 | MSU Institute of Industrial Engineers |
| 20 | Be The Match On Campus at MSU |
| 21 | 2nd Annual DyeHard Bobcat Color Run |
| 22 | Montana State University Student Alumni Association |
| 23 | Big Sky Volunteer Ski Patrol Club at MSU |
| 28 | Office of Institutional Equity |
| 29 | WealthVest |
| 30 | Sigma Chi |
| 31 | MSU Writing Center |
| 32 | Gallatin Valley Mall |
| 33 | First Security |
| 34 | ASMSU Outdoor Recreation |
| 35 | Montana Alpine Adventures--Bell Lake Yurt |
| 36 | Youth Dynamics |
| 37 | Pre-Law Club at MSU |
| 38 | S2Nutra |
| 39 | SwingCats |
| 40 | Residence Hall Association (RHA) |
| 41 | Pink Gloves Boxing/Rec Sports |
| 44 | Museum of the Rockies |
| 45 | Sigma Phi Epsilon |
| 46 | MSU Exponent |
| 47 | Family Promise of Gallatin Valley |
| 48 | Sport Clips Bozeman |
| 49 | Boy Scouts of America |
| 50 | Montana406 |
| 51 | Synergy Spa |
| 52 | Strand Union Rec Center |
| 53 | Association of Women in Computing |
| 54 | Montana State University Rhapsody A Cappella |
| 55 | ZuZu Rose Nutrition & Holistic Health Coach |
| 56 | Bozeman Family Chiropractic |
| 57 | Club Baseball |
| 58 | Fresh Life Church |
| 59 | Interstate All Battery Center |
| 60 | Star West Satellite |
| 61 | Bozeman Christian Science Church |
| 62 | Students for Life at MSU |
| 63 | Tutoring by Sally |
| 64 | Frog's Tung |
| 65 | Custer Gallatin National Forest |
| 66 | Atheists, Humanists, and Skeptics of Bozeman |
| 67 | Army ROTC |
| 68 | Bobcat Motorsports |
| 69 | Aaron's |
| 70 | Salon Rituals and The Ultimate Body Applicator |
| 71 | NAMI (National Bozeman |
| 72 | Rocky Mountain Credit Union |
| 73 | European Martial Arts |
| 74 | Phi Alpha Theta |
| 75 | MSU Track and Field/Cross Country |
| 76 | True Spirit CrossFit & Yoga |
| 77 | Club Soccer of MSU |
| 78 | Arbonne Intl. |
| 79 | Launch Rodan Fields |
| 80 | Slope Fairies |
| 81 | ASCE (American Society of Civil Engineers) |
| 82 | Hopa Mountain |
| 83 | Big Sky Western Bank |
| 84 | Nations |
| 85 | Bobcat Athletics |
| 86 | Study Abroad - Office of International Programs |
| 87 | Community Food Co-op |
| 88 | College Republicans at Montana State University |
| 89 | Damsel in Defense Independent Pro |
| 90 | Kappa Sigma Fraternity - Delta Lambda Chapter |
| 91 | Bozo Trout bum |
| 92 | Pi Beta Phi |
| 93 | The Fencing Club of Montana State University |
| 94 | Clearwater Physical Therapy and Sports Performance |
| 95 | MERGE at MSU |
| 96 | Montana State Triathlon Club |
| 97 | McNair Scholars Program |
| 98 | Mary Kay Cosmetics-Serah |
| 99 | Hastings Entertainment |
| 100 | AAA MountainWest |
| 101 | Network of Environmentally Conscious Organizations (NECO) |
| 102 | Advocare |
| 103 | Smith's Food and Drug |
| 104 | Gallatin Valley Stock Horse |
| 105 | International Student Ministries |
| 106 | Cafe Courier |
| 107 | Alaska Airlines |
| 108 | Hivemind Tech Group |
| 109 | Cru - Community |
| 110 | Jennifer Pitman Independent Consultant Jamberry Nails |
| 111 | Montana Investment Group |
| 112 | 99.1 THE ONE |
| 113 | Townshend's Bozeman Teahouse |
| 114 | Ultimate Frisbee Club |
| 115 | Sierra Club |
| 116 | MSU BJJ Club |
| 117 | 406 Church |
| 118 | Planet Beach Bozeman |
| 119 | Zinke for Congress |
| 120 | African Society At Montana State University |
| 121 | City of Bozeman-Recycling |
| 122 | Swing/ Country dance club |
| 123 | F-11 Photographic Supplies |
| 124 | Justus Downtown/ Cactus Records |
| 125 | Telemark/Backcountry Club at MSU |
| 126 | World Boards |
| 127 | CenturyLink |
| 128 | Yellowstone Harley-Davidson |
| 129 | Snowboarders and Skiers for Christ |
| 130 | Bozeman Aerial Fitness |
| 131 | Sigma Nu Fraternity |
| 132 | Crux Climbing Club |
| 133 | Colombo's Pizza & Pasta |
| 134 | HeadRoom |
| 135 | Project Archaeology |
| 136 | Intercollegiate Horse Show Association Team (IHSA) |
| 137 | A Thousand Arms |
| 138 | ASHRAE at Montana State University |
| 139 | Thomas Family Chiropractic |
| 140 | Gallatin Solid Waste Management District |
| 141 | Bozeman Whitetail Rugby |
| 142 | Montana State University Rugby Club |
| 143 | Costco Wholesale |
| 144 | Daniel Corbin State Farm |
| 145 | Gallatin Valley Snowdevils |
| 146 | American Indian Council |
| 147 | BioScience Laboratories, Inc. |
| 148 | Mattress King |
| 149 | Henna - Element Tattoo |
| 150 | Orthodox Christian Fellowship |
| 151 | Rook's Comics and Games |
| 152 | iWireless |
| 153 | Bozeman Running Company |
| 154 | RAE/Sourdough Fire Department |
| 155 | Wrestling Club at MSU |
| 156 | Collegiate 4-H |
| 157 | Northern Lights Trading Company |
| 158 | Mary Kay Cosmetics-Penny |
| 159 | University Food Service |
| 160 | Gallatin Valley Chiropractic |
| 161 | Movie Lovers, Inc |
| 162 | Americans for Prosperity- MT |
| 163 | Qdoba Mexican Grill |
| 164 | World Market |
| 165 | REI (Recreational Equipment Incorporated) |
| 166 | US Army, Salt Lake Army Recruiting Battalion |
| 167 | Psi Chi |
| 168 | Conlins Furniture |
| 169 | Human Factors and Ergonomics Club at MSU |
| 170 | Montana Flyfishing Expeditions |
| 171 | EMS Responders on Campus |
| 172 | Salvation Army |
| 173 | Bozeman Folklore Society |
| 174 | Venture Church |
| 175 | Journey Church |
| 176 | Spire Climbing Center |
| 177 | Generation Ministries |
| 178 | Red Tractor Pizza and Sola Cafe |
| 179 | MontanaPBS KUSM-TV |
| 180 | Montana Wilderness Association |
| 181 | Mybullfrog Verizon Wireless |
| 182 | Dairy Queen Bozeman |
| 183 | Bozeman Montana Real Estate.net |
| 184 | Tactical Action Gaming |
| 185 | EYES on Main |
| 186 | Complete Nutrition |
| 187 | Advocare |
| 188 | Malibu Tan |
| 189 | Logger Sports Club |
| 190 | American Indian Science and Engineering Society |
| 191 | Fired-Up Nutrition |
| 192 | PHD SKIS |
| 193 | Best Western Plus GranTree Inn |
| 194 | Office of Sustainability |
| 195 | Chloe Isabel jewelry |
| 196 | Stadium View |
| 197 | Jamberry Nails |
| 198 | Friends of local foods |
| 199 | W7YB MSU Amateur Radio Club |
| 200 | Unitarian Universalist Fellowship of Bozeman |
| 201 | Big Brothers Big Sisters of Gallatin county |
| 202 | Engineers Without Borders |
| 203 | Bobcat Hockey Club |
| 204 | InterVarsity Christian Fellowship |
| 205 | HAVEN |
| 206 | Help Center, Inc. |
| 207 | Transgender Club of Montana State University |
| 208 | Bozeman Creek Family Health |
| 209 | Cru - Campus |
| 210 | MSU Leadership Institute |
| 211 | Chegg The Student Hub/ The Campus Special |
| 212 | Vert-I-Go Mountaineering Club |
| 213 | Montana State Mountain Bike Club |
| 214 | Not In Our House |
| 215 | CrossLife |
| 216 | Schnee's |
| 217 | Sigma Alpha Epsilon |
| 218 | Bozeman Job Service |
| 219 | Thrive |
| 220 | Jake Jabs College of Business and Entrepreneurship Clubs |
| 221 | Women's Club Soccer |
| 222 | Marketing Club |
| 223 | Hope Lutheran Church |
| 224 | Montana State Dell Campus Representative |
| 225 | Kashima Shinryu |
| 226 | Dynamic Defense Studios |
| 227 | ADVANCE Project TRACS |
| 228 | US Bank |
| 229 | Undergraduate Chemistry Society |
| 230 | Chi Omega |
| 231 | Bridger Community College Ministry |
| 232 | Big Boys Toys |
| 233 | ASMSU |
| 234 | Vi Productions/Silver Spur Arena |
| 235 | Alpha Gamma Rho |
| 231 | Chi Alpha Christian Fellowship |
| 236 | Promotions West |
| 237 | USDA-NRCS |
| 238 | Outside Bozeman Magazine |
| 239 | Montana Bible College |
| 240 | The Yellowstone Park Foundation |
| 241 | Jackson Hole Mountain Resort |
| 242 | Gallatin Valley Young Life |
| 243 | American Red Cross |
| 245 | First Montana Bank |
| 246 | Wendy's Of Montana |
| 247 | Tumblewood Teas, LLC |
| 248 | MSU Bookstore |
| 249 | Apple Computers |
| 250 | Play it Again Sports |
| 251 | Eagle Mount Bozeman |
| 252 | Bozeman Magazine |
| 253 | Cats for a Cure |
| 254 | School of Music |
| 255 | United Methodist Campus Ministry |
| 256 | Good Neighbor Committee |
| 257 | Health Professions Club |
| 258 | Pre-Dental Club at MSU |
| 259 | Tandem Life Coaching |
| 260 | International Students, Inc |
| 263 | Montana State University Information Technology Center |
| 264 | Student Community Outreach Project |
| 265 | Papa John's Pizza |
| 266 | Cold Smoke Coffeehouse |
| 267 | MASH (Montana Advocates for Sexual Health) |
| 268 | Panhellenic |
| 272 | Alpha Gamma Delta |
| 273 | 1000 New Gardens Bozeman |
| 274 | KGLT fm RADIO |
| 275 | Counseling & Psychological Services |
| 276 | Argentine Tango MSU |
| 277 | Active Minds |
| 278 | Tabletop Gaming Club @MSU |
| 279 | First Student Inc, BSD# 7 transportation |
| 282 | Queer Straight Alliance |
| 283 | Tri Therapy |
| 284 | Montana State University Cycling Club |
| 285 | Gallatin Valley Food Bank |
| 286 | First Interstate Bank |
| 287 | Habitat for Humanity of Gallatin valley |
| 288 | Model United Nations |
| 289 | Montana Troutfitters |
| 290 | Forensic Science Club at MSU |
| 291 | Inter fraternal council |
| 292 | Presby Cats |
| 293 | The Robotics Club at MSU |
| 294 | Lutheran Campus Ministry--MSU Bozeman |
| 295 | Society of Women Engineers- Montana State University |
| 296 | Student Assistance Foundation |
| 299 | Montana Student Dietetics Association |
| 300 | Arabic Club |
| 301 | Air Force ROTC - Det 450 |
| 302 | MSU College Libertarians/MT Libertarian Party |
| 303 | Montana State University Anime Club |
| 304 | Bridger Bowl Ski Area |
| 305 | Montana State Men's Lacrosse Club |
| 306 | Montana State University Women's Lacrosse Club |
| 307 | E-Free Church of Bozeman |
| 308 | Students for Sensible Drug Policy |
| 309 | Society for the Pursuit of Creative Role-playing Experiences |
| 310 | It Works! |
| 311 | Ultimate Body Applicator (It Works) |
| 312 | National Coalition For Men-Montana State |
| 313 | Lutheran Student Fellowship |
| 314 | Bobcat Mattress LLC |
| 315 | Blue and Gold |
| 326 | American Institute of Architecture Students |
| 322 | Autoimmune Disease Club |
| 323 | Rocky Mountain Wireless |
| 324 | Boot Barn |
| 325 | Resurrection Catholic Campus Ministry |
| 327 | Cellular Plus |
| 328 | United Blood Services |
| 329 | Rocky Mountain Bank |
| 330 | Verizon Wireless |
| 331 | Clark's Fork |
| 332 | ZoeCare |
| 333 | Eagle Flight Service |
| 335 | Alpine Ski Club of MSU |
| 336 | College Democrats |
| 337 | National Society of Collegiate Scholars |
| 338 | Forward Montana Volunteer Team |
| 339 | German Club at Montana State University |
| 340 | Community Bible Study |
| 341 | Coldsmoke Films and Awards |
| 16 & 17 | Wells Fargo Bank, NA |
| 170 & 171 | Inter Mountain Medical Educators |
| 192 & 341 | Seneca Boards |
| 24 & 25 | Big Sky Resort |
| 244 & 262 | TownsquareMedia KISN 96.7 KISSFM |
| 26 & 27 | Charter Communications |
| 269-271 | Allen Yarnell Center for Student Success |
| 280 & 281 | University Communications |
| 297 & 298 | MSU Library |
| 42 & 43 | Recreational Sports & Fitness |