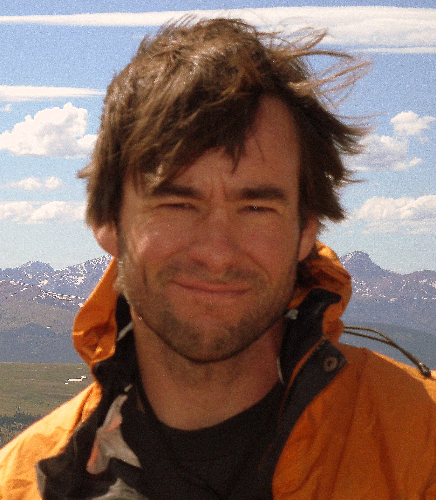 Assistant Research Professor
Undergraduate Scholars Program Director
Contact Information
Office: Traphagen Hall #105
Phone: (406) 994-6760
Email: colin.shaw1@montana.edu
Education
B.A. Macalester College, St. Paul, Minnesota, 1985
M.S. University of Colorado, Boulder, 1995
Ph.D. University of New Mexico, Albuquerque, 2001
Research Interests
Structural geology, continental tectonics, microstructural analysis, rheology of geologic materials, metamorphic petrology, field geology, thermochronology, EBSD analysis, carbon sequestration.
Shear zone and fault kinematics and dynamics. Research focuses on the interaction between brittle earthquake faulting and slow plastic creep near the mid-crustal rheologic transition from brittle to ductile deformation. Recent work has also included processes of strain localization in debris-rick glacial ice. To understand these processes I employ a diverse range of research methods including detailed field mapping, optical petrography and orientation analysis, Electron Backscatter Diffraction (EBSD), metamorphic petrography, fluid inclusion microthermometry, and thermochronology.
Large-scale architecture and evolution of the continental lithosphere. Research is aimed at understanding the origin and evolution of persistent structures in the continental lithosphere and the influence that such structures have on later evolution of the continents. I have worked for years to understand structural trends that originated during Archean to Proterozoic assembly of the North American Lithosphere and have been repeatedly reactivated during subsequent tectonic episodes.
Fluid-rock interactions in fractured CO2 reservoirs. Experimental investigation of chemical reactions between supercritical CO2, brine and reservoir rocks during injection of CO2 for geological carbon capture and storage (CCS) or enhanced oil recovery (EOR). Research employs a unique flow-through rock core reactor and advanced imaging of fracture networks using optical petrography, magnetic resonance imaging (MR), Computed X-Ray Tomography (mCT), laser confocal fluorescence microscopy and other methods.
Structure and rheology of geologic materials. I use Electron Backscatter Diffraction, optical orientation imaging and other laboratory methods to investigate the crystalline structure of natural materials including rock, ice dinosaur eggshell and (potentially) bone.
Current Research Projects
Homestake Shear Zone, Colorado. The HSZ is a Proterozoic shear zone system in the Sawatch Range of central Colorado that formed approzimately 10-15 km beneath the surface. More than a billion years of erosion brought the tectonites of the shear zone allowing us to use these rocks to study processes of faulting that occur deep in the middle crust. The HSZ preserves a record of contemporaenous brittle and ductile deformation and encompasses one of the largest pseudotachylyte-bearing seismiogenic fault systems that has been described to date.
Cordillera Blanca Detachment Peru. NSF-funded project investigating shear-zone-scale processes, crustal strength, and geodynamics of a major active extensional fault in the Peruvian Andes. Collaboration with Dr. Micah Jessup (University of Tennessee, Knoxville) and Dr. Dennis Newell (Utah State University).
Lone Peak Rock Glacier, Montana. Study of strain localization and glacier kinematics of the debris-covered glacier at Big Sky, Montana. Collaboration with Dr. Mark Skidmore (MSU), Dr. Marvin Speece (Montana Tech), Caitlyn Florentine (University of Montana).
Big Sky Carbon Sequestration Partnership. Experimental studies of fluid-rock interactions pertaining to carbon sequestration in the Kevin Dome, Montana.
Research Group
Current
Dr. Omotayo Omosebi. Post-doctoral Research Associate. Experimental investigation of carbon dioxide - fluid - rock interactions with carbonate rock matirix. Big Sky Carbon Sequestration Partnership, Kevin Dome project.
Seth Mangini. Laboratory Technician - Geochemical investigations of CO2- rock interactions.
2017-2018 Michael Laase (MSU) Effects of CO2 injection on carbonate rocks. Bulk reaction experiments.
Former Members
Graduate Students
Michael Frothingham (M.S. 2017). Bedrock mapping of the Homestake Reservoir Quadrangle, Colorado: Geometry and kinematics of mid-crustal shear zones.
Seth Mangini (M.S. 2015). Flow-through experiments to investigate reactive transport of supercritical CO2 – saturated brine in carbonate and siliciclastic rocks.
Evan Gearity (M.S. 2013). Tectonic setting and metamorphic processes of molybdenum porphyry systems in the Rocky Mountain thrust belt, Montana.
Undergradaute Students
Logan Cain (2015-2016 ) Topographic analysis of knickpoint migration along the Cordillera Blanca detachment fault.
Jordan Toles (2015-2016), U-series dating of tectonic tilting events recorded in cave deposits.
Margaret Sizemore (2015-2016 ), GIS-based morphometric analysis of fault segmentation seismicity of the Cordillera Blanca Detachment fault, Peruvian Andes.
Daiane de Fátima Piva, (2014), Experimental investigation of the effects of CO2 injection on anhydrite cap rocks.
James Mauch, B.S. (2013-2014), Fluid inclusion study of pressure, temperature and fluid composition of deformation on the Cordillera Blanca detachment, Peru.
Nathan Stansfield, B.S. (2011-2012 ), Crystal orientations in silica cap and stockwork veins associated with the Bald Butte molybdenum porphyry system, Marysville mining district, Montana.
2011-2012 Eileen Guthrie, B.S. (MSU), Fabric and strain analysis of folds at North Doherty Mountain: Implications for kinematics of the Montana Transverse Zone.
Kyle Murray, B.S. (2010), Preliminary outcrop maps and structural analysis of the newly discovered Savage Peak Shear Zone, Colorado.
Jennifer Giskas, B.S. (2009), Geophysical investigation of Lone Peak Rock Glacier, Big Sky, Montana.
Patrick Dyess, B.S. (2008-2009), Paleomagnetic investigation of pseudotachylyte from the Homestake shear zone, Colorado.
McKenna Alvarez, B.S. (2008-2009), Crystal-preferred orientation in dinosaur eggshells, an EBSD study.
Yamira Adorno-Negron (2008 ), Field and laboratory investigation of quartz textures in seismogenic fault zones. Funding: Leadership Alliance/American Indian Research Opportunities (AIRO).
Selected Recent Publications
* student co-authors
Shaw, C.A., Young, G. 2018. Course-Embedded Research in the lower division at Montana State University. in Course Based Undergradaute Research, Hensel, N., ed. Stylus, Sterling, Virginia, p. 207-221.
*Corthouts, T., Lageson, D.R., Shaw, C.A. 2016. Polyphase deformation, dynamic metamorphism and metasomatism of Mount Everest's summit limestone, east central Himalaya, Nepal/Tibet. Lithosphere, v. 8, p. 38-57, doi: 10.1130/L473.1.
Newell, D.L., Jessup, M.J., Hilton, D.R., Shaw, C.A., 2015. *Hughes, C.A., 2015, Mantle-derived helium in hot springs of the Cordillera Blanca, Peru: implications for mantle-to-lithosphere fluid transfer in a flat slab subduction setting, Chemical Geology, v. 417, p. 200-209, 10.1016/j.chemgeo.2015.10.003.
Shaw, C.A. and Tikoff, B. eds., 2014. Exploring the Northern Rocky Mountains. Geological Society of America Field Guide 37, Geological Society of America, Boulder, ISBN: 978-0-8137-0037-3, 203 p.
*Vogt, S.J., Shaw, C.A., *Brox, T., Maneval, J.E., Skidmore, M.L., Codd, S.L., and Seymour, J.D., 2014. Magnetic Resonance Imaging of permeability enhancement in fast-flow-paths during supercritical CO2 injection in sandstone and carbonate rock cores, Journal of Petroleum Science and Engineering, v. 122, p. 507-514.
*Florentine, C., Skidmore, M., Speece, M., Link, C., and Shaw, C.A., 2014.Geophysical analysis of transverse ridges and internal structure at Lone Peak rock glacier, Montana, USA. Journal of Glaciology, v. 60, n. 221, p.453-462, 21, doi: 10.318921/2014JoG13J160.
Allen, J.L., and Shaw, C.A., 2013. Seismogenic fault-zone processes and heterogeneity recorded by pseudotachylyte: New insights from the Homestake shear zone, Colorado, in Abbott, L.D., and Hancock, G.S., eds., Exploring 125 years of GSA discoveries in the Rocky Mountain region:Geological Society of America Field Guide 33, p. 165–183, doi:10.1130/2013.0033(05).
Jones, J.V., III, Shaw, C.A., Allen, J.L., and *Housh, T., 2013. U-Pb zircon age constraints on two episodes of Paleoproterozoic magmatism and development of the Grizzly Creek shear zone, White River Uplift, western Colorado, U.S.A., Rocky Mt. Geology, v. 48, n. 1, p. 15-39.
*Lee, P.E., Jessup, M.J., Shaw, C.A., and Hicks, G.L., 2012. Strain partitioning in the mid-crust of a transpressional shear zone: Insights from the Homestake and Slide Lake shear zones, Central Colorado. Journal of Structural Geology, v. 39, p. 237-252.
Allen, J.L. and Shaw, C.A., 2011, Seismogenic structure of a crystalline thrust fault: Fabric anisotropy and coeval pseudotachylyte-mylonitic pseudotachylyte in the Grizzly Creek shear zone, Colorado, in Fagereng, A., Toy, V.G., and Rowland, J.V., eds., Geology of the Earthquake Source: A Volume in Honour of Rick Sibson, Geological Society, London, Special Publication 359, p. 135-151, doi: 10.1144/SP359.8 0305-8719/11.
Kirkham, R.M, Streufert, R.K., Cappa, J.A., Shaw, C.A., Allen, J.L., and Schroeder, T.J. II, 2008. Geologic map of the Glenwood Springs quadrangle, Garfield County, Colorado. Colorado Geological Survey Map Series, MS-38, 1:24,000.
Shaw, C.A. and Allen, J.L., 2007, Field rheology and structural evolution of the Homestake shear zone, Colorado, Rocky Mountain Geology, v. 42, no. 1, p. 31-56.
Allen, J.L. and Shaw, C.A., 2007, Proterozoic geology and Phanerozoic reactivation of the newly recognized Grizzly Creek shear zone, Glenwood Canyon, Colorado, in Raynolds, R.G., ed., Roaming the Rocky Mountains and Environs:Geological Society of America Field Guide 10, p. 45-61, doi: 10.1130/2007.fld010(03).