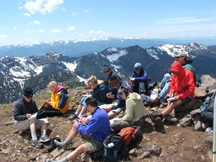 The Department of Earth Sciences at Montana State University offers and undergraduate Bachelor of Science degree program in Earth Sciences with options in Geography, Geology, Snow Science, Paleontology, and GIS/Planning.
Our course listings include general topics, like Physical Geography and Geomorphology, under the Earth Science (ERTH) rubric and specialized courses, like Biogeography and Vertebrate Paleontology, under the Geology and Geography rubrics. Some of our graduates find employment as technicians in fields like Geographic Information Systems and water quality assessment, but most find that a graduate degree (M.S. or Ph.D.) is necessary for a professional career.
The most up-to-date program information can be found on our site and through the links below. For additional information, please contact a faculty member within your area of interest (Faculty List) or the Department Head.