Degrees Held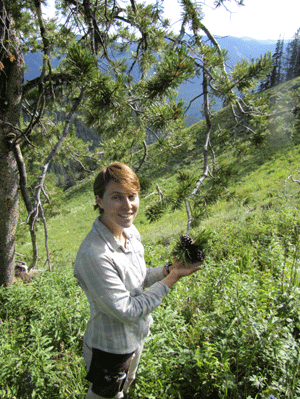 B.S., Environmental Science, University of Oregon, December 2006
B.A., Art, University of Oregon, December 2006
Degree Sought
Ph.D, Ecology & Environmental Sciences
Current Research
NSF Graduate Research Fellowship:
Modeling fire, climate, and vegetation interactions in the Greater Yellowstone Ecosystem to predict impacts of regional climate change
Committee Members
Dr. Ben Poulter (co-chair; NASA Goddard Space Flight Center)
Dr. Dave Roberts (co-chair; MSU, Department of Ecology)
Dr. Andy Hansen (MSU, Department of Ecology)
Dr. Monica Turner (University of Wisconsin - Madison, Department of Zoology)
Dr. Robert Keane (USDA Forest Service, Missoula Fire Science Laboratory)
Recent Publications
(in review) Emmett, K.D., Renwick, R.M., Poulter, B. (2018). Disentangling climate and disturbance effects on regional greening trends. Ecosystems.
(in review) Renwick, K.M., Fellows, A., Flerchinger, G.N., Lohse, K.A., Clark, P.E., Smith, W.K., Emmett, K., Poulter, B. (2018). Modeling phenological controls on carbon dynamics in dryland sagebrush ecosystems. Agricultural and Forest Meteorology.
(in prep) Notaro, M., Emmett, K., O'Leary, D. (2018). Spatio-Temporal Variability in Remotely Sensed Terrestrial Phenology Across Yellowstone National Park.
Contact
Email: kristen.emmett@montana.edu
ResearchGate: https://www.researchgate.net/profile/Kristen_Emmett
LinkedIn: https://www.linkedin.com/in/kristen-emmett-6467b859